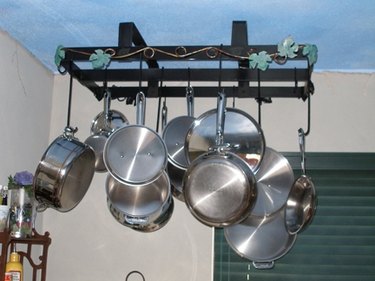 All-Clad and Calphalon are two high-end brands of cookware made in the USA. Both brands have their supporters, and a debate continues to rage over which is better. Both produce several lines of cookware, including some with non-stick coatings.
All-Clad
Accomplished metallurgist John Ulam formed a metal bonding company in 1960 that evolved into All-Clad Metalcrafters. The company has been making cookware since 1971 at the same location in Canonsburg, Pennsylvania, using only American metals. Craftsmanship is the keyword for its products, which are mainly uncoated stainless steel, aluminum and copper products. Other All-Clad products such as lids, electronics and utensils are generally made abroad.
Calphalon
Calphalon, located in Toledo, Ohio, has been making metal cookware since 1968, when it began employing a hard-anodizing method for treating aluminum originally developed by NASA. Rubbermaid acquired the company in 1998. Its cookware is made of nonstick and uncoated stainless steel, cast iron, and copper, and the company's advertising emphasizes stylishness and ease of use.
Availability
Both product lines are widely available in specialty stores such as Williams-Sonoma and Bed, Bath and Beyond. Shoppers also find them at retail shops online such as ChefsCatalog and Amazon.
Differences
Most of the items in both product lines are not dishwasher safe, but Calphalon's new product line, Unison, can be cleaned in a dishwasher. All-Clad has always featured iron handles that remain cool for a long time when the pots are on the stove. In the original Calphalon One line, the handles are highly heat-conductive, but the Unison and Contemporary lines solved that problem.
Also, cooking forums online have reported that Calphalon's anodized aluminum finish tends to react with certain foods, causing discoloration and metallic flavors, whereas All-Clad's cooking surface is non-reactive. In addition, the dark interior color of Calphalon pans makes it difficult to accurately see the color of sauces.
Price
The pricing for both lines as suggested by the makers is in the same range; however, Calphalon's actual selling prices are usually lower than All-Clad's. For example, in 2009 Amazon.com lists the Calphalon One infused anodized aluminum 10-inch fry pan at a manufacturer's suggested retail price (MSRP) of $110, but the actual selling price is $49.95. All-Clad's stainless steel 10-inch fry pan shows MSRP of $99.99, but the actual selling price is $89.98.
Warranty
Both Calphalon and All-Clad offer lifetime warranties on their products and will replace an item defective in workmanship or materials if the consumer has followed the usage and care recommendations.