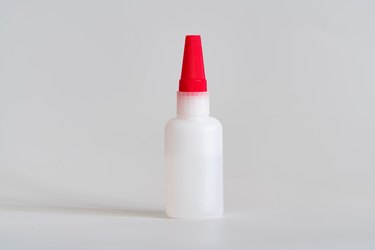 Gorilla Glue is a polyurethane formula that you can use to bind nearly any type of material. It expands as it dries, and once it is cured, it's waterproof and can withstand both hot and cold temperatures. These benefits make Gorilla Glue a popular choice for home improvement projects and repairs, but there are problems and drawbacks to consider before using the product.
Gorilla Glue may be known for its strength, but there are times when it fails. It requires moisture in order to cure, or harden. In addition, the glue expands as it cures. While this can be beneficial, especially when you are binding uneven surfaces, it can be problematic if you are gluing two smooth surfaces together. If you fail to secure the two pieces together while the glue is drying, the expansion of the glue simply separates the two pieces rather than forming a secure bond.
Another concern is that Gorilla Glue can bind to nearly any surface. This means that you must apply the glue and clean it up quickly from other surfaces. Cleaning wet Gorilla Glue is best done by wiping up as much as possible with a dry rag and then cleaning the remaining glue with paint thinner. If the glue is allowed to dry, you will need to manually remove it by sanding or chiseling the hardened glue.
Gorilla Glue also tends to have a shorter shelf life than some other adhesives, and an open bottle may harden and dry out before you use it again. Take steps to prevent this by wiping the nozzle with a dry rag and squeezing out excess air from the bottle before securing the lid.
In addition to the practical problems of using the glue, there are several safety concerns. The glue is flammable. If the product catches fire, avoid using a heavy stream of water to attempt to extinguish it, as this can actually cause the fire to spread. Instead, use a carbon dioxide, dry powder or foam fire extinguisher.
Gorilla Glue can cause irritation or even a more serious allergic reaction if you spill the glue on your skin. If you do get glue on your skin, rinse it with water for 15 minutes and contact your doctor if you experience irritation. If you accidentally bind your skin together, get medical attention right away.
Gorilla Glue can also cause irritation if it gets in the eyes. Rinse your eyes with water for 15 minutes and seek medical attention. The glue is also toxic when inhaled and may cause respiratory irritation and difficulty breathing. Repeated exposure to Gorilla Glue has the potential to damage your organs. Wear chemically resistant gloves, eye protection and protective clothing when working with Gorilla Glue. Make sure the room where you are working is well ventilated.
Dangerous Ingestion of Gorilla Glue
Ingesting Gorilla Glue is extremely dangerous. Not only is the glue toxic but it expands and hardens, causing blockages in the digestive tract. While you know better than to consume the glue, be sure to keep it out of reach of children and pets.
If someone ingests the glue, you can have her rinse her mouth but don't have her drink any water. Contact poison control or your doctor right away for treatment.
Likewise, if your pet consumes Gorilla Glue, this is an emergency situation, and you should contact your veterinarian right away. Do not offer water or home remedies, as the moisture can cause the glue to expand faster. You should also avoid inducing vomiting unless instructed to do so by your veterinarian. Depending on how much glue your pet consumed, surgery may be required to remove the hard mass of glue.