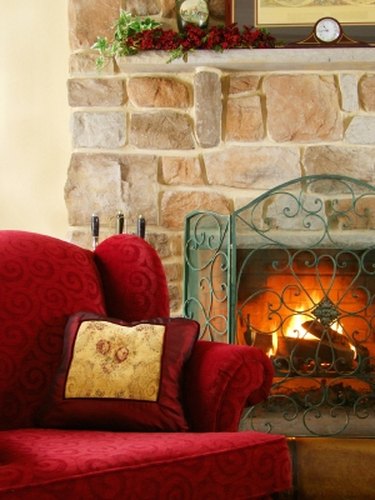 A WoodWick candle functions as a crackling fireplace in a jar, making it an experience for the ears, as well as for the nose. With all the scents and styles available, WoodWick has a product to accommodate every taste, whether your favorite fragrance is fruity, floral, woodsy or spicy.
History & Environmental Responsibility
The Virginia Candle Company, the developer of WoodWick candles, began operations in 1990 from their manufacturing facility in Lynchburg, Virginia. The company operates with the goal of making innovative and pure home interior products.
High-quality and environmentally responsible materials and ingredients go into each WoodWick candle. The Virginia Candle Company carefully formulates their fragrance blends to create consistency in their product lines. The company also prides itself on using and developing renewable and natural resources, including organic wicks, natural wax and fine essential oils.
Features
WoodWick candles are unlike other jar candles, as they provide a few distinct features. WoodWick candles feature a wide, short wick, which is made from organic wood. When the wick is lit, the candle emanates a crackling sound, reminiscent of wood in a fireplace. The Virginia Candle Company claims on their website that their products combine "the soothing sound of a crackling fire with premium fragrances for the ultimate candle-burning experience!" They also guarantee that their products will "nourish your senses and enhance your home decor."
Types
Candle jars range in size from 3.4 oz. to 22 oz. and burn for 22 to 180 hours. Fragrance options are divided into four categories. Popular fragrances within each category include Currant, Almond Orange and Applewood (in the Fun & Fruity category); Linen, Tradewinds and Cashmere (in the Fresh & Floral category); Biscotti, Frosted Cookie and Pumpkin Butter (in the Sugar & Spice category); and Sandalwood Clove, Amber Woods and Fireside (in the Woody & Oriental category).
Additional Products
In addition to the jar candles, WoodWick also offers reed diffusers, wax melts, hand-blown glass candleholders and plug-in scents. Their featured collection, WW Signature, combines a silver jar with a richly scented candle. Fragrances within the WW Signature collection include Chocolate Pepper, Iced Gingerbread and Sparkling Pomegranate.
Identification & Costs
WoodWick candles can be identified by their clear, compressed cylinder jars and labels featuring two Ws. You will also notice the short, wide wicks that the candles are known for.
On the Virgina Candle Company website, WoodWick jar candles range from $9.99 (for a 3.4-oz. candle) to $23.99 (for a 22-oz. candle). Monthly specials and clearance items are also available online. You can access a list of retailers in your area at virginiacandle.com/dealers.
Warnings
Always use caution when burning any sort of candle, especially around pets or children. Never leave a burning candle unattended.