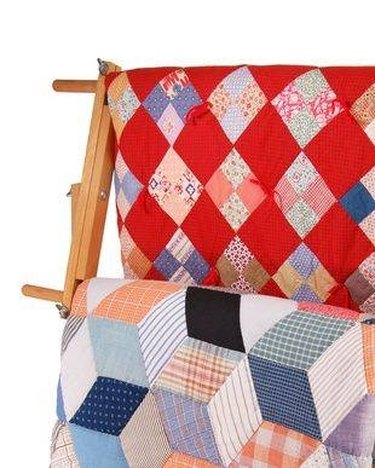 Quilt racks are useful room decorations while holding quilts, blankets, or towels. Quilt racks can be hung from a wall or placed on the floor. There are many different styles of quilt racks that will fit almost any home decor style. Quilt racks can be used for the traditional purpose of holding quilts or they can be used for holding other household objects as well.
History
Quilt racks were invented in the 17th century in colonial America. Two groups who initially invented and utilized quilt racks were the Shakers (Kentucky) and the Amish (Pennsylvania). Today, both of these groups are still actively creating quilt racks that continue to be popular home decor and furnishings for many people.
Function
Place floor quilt racks in spare rooms or guest rooms and fill them with extra blankets and quilts. Situate the quilt rack near the bed so that guests can easily reach the extra warm bedding when they want to snuggle down under the covers in bed. Floor quilt racks add a country touch to any bedroom.
Benefits
Place a floor quilt rack in the bathroom to hold wet towels that have been used and need to dry. A floor quilt rack in the bathroom can also be placed near the shower or bathtub and used to hang clean towels for easy access by family members who are wet and need to dry off.
Prevention/Solution
If you are a quilter who has many quilting projects that you are working on simultaneously, use a quilt rack to help keep your quilting projects organized. Place the current quilt you are sewing on one rod of the quilt rack, place the most recently finished quilt on another rod of the quilt rack, and place the quilt you will be quilting next on another rod of the quilt rack.
Potential
Use a quilt rack as a clothes valet and hang your planned outfit for the upcoming day over a quilt rack in your bedroom before you retire for the night. This will help you be organized, will keep your clothing convenient for grabbing in the morning and your clothes will stay wrinkle-free while they wait for you to get dressed in the morning.
Types
Find a corner or space against a wall in the living room or den and place a floor quilt rack here that has afghans or lap quilts hung from the rungs. There is a certain charm and warmth added to a room when a quilt rack is used to provide useful storage. There are many different types and styles of quilt racks and they can be made from iron, wood, or other metal to compliment any decor.
Unusual Uses
Use a quilt rack to hang herbs and flowers for drying. It is standard practice to hang herbs and flowers in bunches upside down while they are drying and a quilt rack can be the ideal way to hang several different bunches at one time in a small space. Simply tie the herbs and flowers together and then loop the bunches over the rungs of the quilt rack.