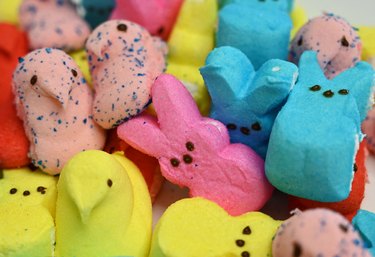 The arrival of Easter Peeps on grocery store shelves signals that spring is just around the bend—and that alone is worth celebrating! But if you're someone who also loves celebrating the slightly crunchy, super sweet nature of marshmallow Peeps themselves, it's truly your time to thrive.
Not only can you stock up on your favorite shapes (we're keen on classic chicks, but Peeps bunnies are just as adorable), you can snack on 'mallows ‌while‌ finding new ways to eat and enjoy them. Social media is filled with examples of Peeps-related ingenuity. From inventive Peeps recipes to colorful decorating ideas to wearable Peeps art, we've rounded up some of the best projects for you to...peep. (We couldn't resist!)
A casserole dish of melted chocolate and gooey, crispy marshmallow Peeps might not be considered a traditional Easter dessert, but we're all for mixing it up! Plus, there's zero real baking skills required for this recipe, which comes to us from @melissaandre on TikTok. All you'll need are butter, chocolate chips and marshmallow bunnies (or standard Peeps) along with graham crackers for dipping. Yum!
If you know how to crochet, watch TikTok crafter @hookedbymone make a jumbo Peeps bunny as inspiration for your next project. A cluster of crocheted Peeps in different colors would make pretty cute Easter decor! There's something so mesmerizing about observing what can be created with just yarn and cotton filler, even if you're new to the world of crochet.
Ever considered covering your walls in edible art? While this aesthetic might not be the most practical for everyone, it sure does look amazing, as evidenced by TikToker @alispagnola, who creates a giant flag display using 1,200 marshmallow chicks and a hot glue gun. Want to try the edible art trend? Consider making a mini version of Peeps art on a canvas or board and hanging it for a few hours during a spring party.
Fun Peeps Facts to Sprinkle Into Conversation
Consider these intriguing Peeps facts, according to Just Born, the producers of the iconic spring treat:
Enough Peeps are made each year to circle the earth twice.
Yellow and white are the most popular colors of Peeps sold, followed by pink, lavender, blue, green and orange.
In 1953, it took 27 hours to produce one marshmallow chick.
Today, it takes just six minutes to produce one chick!
If you're a coffee fanatic who also loves Peeps, prepare to be delighted. TikToker @thethriftwitch demonstrates how to whip up a Peeps-inspired cold foam cold brew complete with a marshmallow-sauce-lined glass, vanilla syrup, coffee, whipped marshmallow foam with pink sprinkles and, of course, a pretty pink Peep on top. Even cuter? She fills the glass with bunny-shaped ice cubes. This brew is almost too adorable to drink. (Key word: almost!)
Love the sugar rush of biting into Peeps but not a fan of the soft marshmallow texture? Dehydrating Peeps in the oven makes them crispy and almost crumbly, as demonstrated in a tutorial by @samanthaspantry on TikTok. Talk about a fun twist on a classic treat! Who knows? This might just be your new favorite way to indulge in sugary goodness each spring.
It just seems wrong that we only build candy houses at Christmastime. This year, build an Easter version of a basic gingerbread house for Peeps chicks and bunnies to live in. You won't actually need gingerbread for this edible home, though: Instagrammer @smartschoolhouse's design calls for vanilla wafer cookies (genius!), icing, jelly beans, sprinkles and faux grass. Take things to the next level by incorporating green coconut flakes or other edible "grass" options. Pop a Peep inside and call it a day!
Need More Peeps in Your Life?
For true Peeps aficionados, snacking on the pastel marshmallow treats simply isn't enough. Shop Etsy for cute ways to incorporate the Easter treats into your life year-round! Here are a few of our favorite Peepstastic ideas for your consideration:
Wear a pair of Peeps bunny dangle earrings made from lightweight polymer clay.
Pick up versatile Peeps silicone molds so you can experiment with DIY candy or bath bombs.
Buy small wooden block signs decorated with Peeps and punny sayings (think "Welcome Peeps" and "Hoppy Easter") to use as spring decor throughout your home.
7. Peeps floral arrangement
Creating a luxe floral arrangement using candy offers a fun way to elevate Easter party decor or make a whimsical gift. Follow @oliviasromantichome's TikTok tutorial to make your own layered vase filled with Peeps and other Easter candy. Tuck a few tulips, daffodils or other spring flowers into the interior vase for a fresh, beautiful finish.
Making homemade cake usually means carefully mixing and measuring wet and dry ingredients and watching the oven like a hawk. But making dirt cake is as easy as layering crushed cookies, pudding and Cool Whip together and calling it cake. This crowd-pleasing dessert is usually topped with gummy worms. For Easter, though, it only makes sense to cover yours with bunny Peeps. The version @athomewithshannon makes on TikTok uses coconut flakes tinted with green food coloring to mimic grass.
The idea of wearing Peeps on your head might sound a little wacky, but Instagrammer @kraftykacen makes it work in the most inspiring way. It probably helps that her Peeps crown matches the pastel streaks in her hair, though that's hardly a requirement for rocking your own DIY candy crown. Just don't be surprised when people try to take snacks off your head!
How many creative ways can you fit Peeps into your life this spring? We hope you have a total blast finding out with plenty of sugary goodness—and don't forget to schedule that dentist appointment soon!