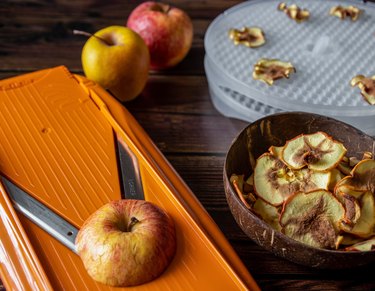 Cooking is fun. Cutting off a chunk of your finger? Not so much. Even highly experienced cooks can experience mishaps while slicing, dicing or chopping with a kitchen knife—particularly if they're prepping something like, say, a tough, bulbous ginger root.
And then there are mandolines. Awesome kitchen accessories for quickly and uniformly slicing, shredding, and more. But it's not hard to slice a bit of your fingertip off amidst those zucchini rounds. Or, did you ever shave your knuckle while using a grater or Microplane? Peel your finger along with a carrot or potato? Gouge your flesh while shucking oysters? Start processing yourself while cleaning food processor blades? Nearly add your hand to the kebob lineup on a metal skewer?
The point—pun intended—is that there are lots of ways to hurt yourself with sharp and pointy kitchen tools. That's not fear mongering. It happens all the time. So, there are lots of times when it makes sense to protect yourself with cut-resistant gloves, which modern technology and materials have made a practical, affordable (especially compared to an ER visit) reality.
What to Consider When Purchasing Cut-Resistant Gloves
‌Size:‌ Ideally, you want a cut-resistant glove that—sorry, can't resist—fits like a glove. Gloves that are too tight are uncomfortable and limit mobility; gloves that are too loose limit dexterity and make it hard to work. As with anything you wear, it's always a bit of a gamble buying without trying on. However, most leading manufacturers include sizing guides with product listings that show you where to measure your hand and how that translates to their sizes. Follow the guide, and you should end up with a properly fitting product.
Also, some cut-resistant gloves are designed to be ambidextrous. Since you usually only need to wear one, that means a single pair actually provides one backup.
‌Rating:‌ You'll see a rating on cut-resistant gloves that indicates their level of cut resistance. These ratings are set by ANSI (American National Standards Institute) and indicate how many grams of cutting weight the product can withstand before being penetrated. Which is probably pretty meaningless to you.
ANSI ratings run from A1 to A9 as of 2016, with A1 offering the lowest level of protection and A9 the highest. Prior, the ratings went from 1 to 5. All you need to know is, choose cut-resistant gloves with a rating of 5. That's top-level protection for kitchen use; higher ratings are primarily for construction and industrial uses.
Some products may also specify puncture resistance. It's good to know, but less of a concern for kitchen use. A high-quality cut-resistant glove offers reasonable protection against accidental pokes. And remember, most cut-resistant gloves are not heat-resistant. But you can find some that are (there's one on the list below); note the temperature rating on these products.
‌Material:‌ Most cut-resistant gloves are made of a combination of synthetic fibers like polyethylene, nylon, spandex, and fiberglass. They're sometimes sold under patented brand names like Spectra and Dyneema. These should have a tight weave while still having enough stretch for easy, controlled movements. Other products are made from stainless steel mesh, if you prefer to feel like you're wearing actual armor and are looking for cut protection beyond level 5. Stainless steel products may run you a few more bucks, but most pairs of cut-resistant gloves cost about $8 to $15, so price isn't a major consideration.
You'll also see materials like silicone and Kevlar, particularly in heat-resistant products. Whatever the material, confirm that it's food-safe, though you're highly unlikely to find a product that isn't if it comes from any reputable manufacturer. Check out the cleaning and other care requirements, too, which are largely dictated by the material. However, most cut-resistant gloves today can simply be tossed in the washing machine and hang-dried.
These factors will help you pick out the best cut-resistant gloves for you.
These food-grade, cut-resistant, abrasion-resistant gloves are made from a lightweight synthetic fiber blend that offers ANSI level 5 protection, excellent breathability, and exceptional comfort and flexibility. With five sizes to choose from, you'll get a great fit. And with their second-skin design, it's so easy to work in them. They're conveniently ambidextrous and machine washable—but let them air dry—and they have the durability to last a long time.. Plus, if you have a child who loves to help you cook, you can get the same great product for kids.
2. Semboh Cut-Resistant and Heat-Resistant Gloves
Looking for cut-resistant gloves that are also heat-resistant? These ambidextrous gloves provide level 5 cut protection and impressive heat resistance up to 932 degrees Fahrenheit. With their snug fit, considerable elasticity, and breathability, you can comfortably prep in them and continue wearing them while you cook inside or out. The outer of three layers is made from food-grade silicone and offers a nonslip grip, while extended wrist and forearm protection make it easier to get close to the grill or reach into the oven. They're machine-washable and should be hang dried.
3. Dex Fit Cut-Resistant Gloves
Protect yourself against scratches, lacerations, knicks and punctures with these level 5 cut-resistant gloves that feature a highly effective nonslip grip. The foam nitrile coating provides anti-slip action against water and oil. And these lightweight, breathable gloves have a tight weave that still has all the stretchiness you need for nimble movements. They come in five sizes, comfortably accommodating any home cook, professional chef or butcher's hands. And they're touchscreen-friendly too, so you can check your phone or scroll down a recipe on your tablet unhindered while you cook.
4. TELION Cut-Resistant Gloves
Here's a pair of polyethylene, spandex and fiberglass ANSI level 5 food-safe, cut-resistant work gloves that are some of the most comfortable on the market. An innovative weave technique offers just-right conforming to your hand with superior flexibility and breathability. And if you want his-and-hers pairs for your kitchen—and you're OK with stereotypical color generalizations around gender—these are available in gray and pink. You can also upgrade for a dollar to get them with a touchscreen-compatible coating on the tips of the thumbs, index fingers and middle fingers.
5. Schwer Cut-Resistant Gloves
Would you prefer stainless steel mesh cut-proof gloves to protect you against sharp tools and other sharp objects in the kitchen and beyond? These food-grade stainless steel and high-performance polyethylene (HPPE) safety gloves are a great piece of personal protective equipment (PPE), with an ANSI A9 cut-resistance rating—the highest possible. Stainless steel is stronger than other metal mesh on the market, and it maintains its appearance well over time thanks to its rust and corrosion resistance. These breathable, ambidextrous gloves have ample wrist protection too, plus an adjustable wrist strap for a secure, customizable fit. And they're even dishwasher safe.
6. Fortem Cut-Resistant Gloves
This is another excellent option for hand protection in the kitchen, providing level 5 cut-resistance from a breathable, comfortable, easy-to-work-in product. They're ambidextrous and made from a seamless knit of nylon and HPPE, with the same gray coloring typical to the category. It's a particularly budget-friendly option, as you get two pairs (four gloves) for the same price as most single pairs. There are four sizes to choose from to help ensure a snug fit, and the gloves are conveniently machine-washable and air dry-friendly.
7. Dowellife Cut-Resistant Gloves
If you're looking for different color options besides the standard gray (though you can get this product in that color, too), check out these cut-resistant gloves. Not only are they sold in a variety of sizes and package quantities, they're also available in an attractive blue or green. Plus, you can opt to buy any of the three colors with a nonslip coating on the palms and the underside of the fingers that provide a sure grip on wet or oily food and implements. You get level 5 protection against cuts and level 2 protection against punctures. These machine-washable gloves are comfy and breathable, they have a snug fit and ultra-thin makeup that allow for maximum dexterity, and they have generous wrist protection.