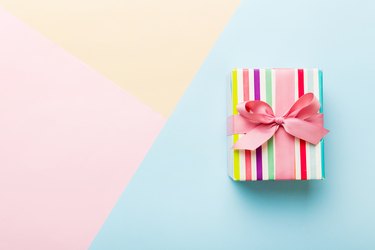 Some gifts have a person's name written all over them. No, really—because they're actually monogrammed with a name! Beyond the literal reasons, a monogrammed gift is the perfect present for that sorta hard-to-shop-for friend, relative or acquaintance in your life. Maybe they're the type of person who always has hand towels embroidered with initials and you're trying to support their bathroom traditions. Maybe they just really, really like their name. Or perhaps you're simply stumped as to what to get them and this is your only option. Whatever the reason, opting for a personalized present with a pal's moniker, nickname, initials or other meaningful custom design shows extra effort and attention.
And that's where this list of personalized gift ideas comes in. We scoured Etsy for all the best monogramming and personalization options so you can be sure to wow your gift recipient with a one-of-a-kind present all while supporting small businesses along the way.
So sit back, relax (really, you got this!) and get ready to gift a memorable gift.
1. Embroidered Handwriting Sweatshirt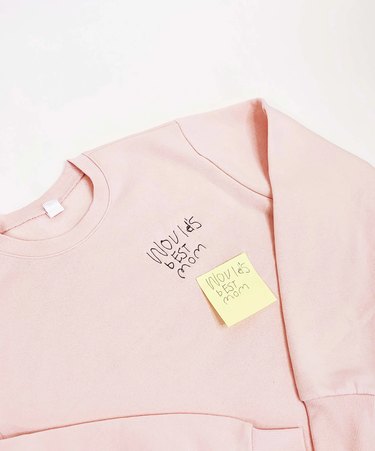 These unisex sweatshirts will certainly be among the most unique gifts you've ever given. Each polyester-and-cotton-blend sweatshirt can be embroidered with a handwriting sample or doodle of your choice—think kids' notes for parents, a late grandparent's handwritten words of encouragement or even a particularly amusing Pictionary drawing that's transformed into an inside joke with friends. Threading is available in just about any color you can imagine, while sweatshirt colors include gray, navy, white, pink, red and black.
2. Embroidered Cotton Napkins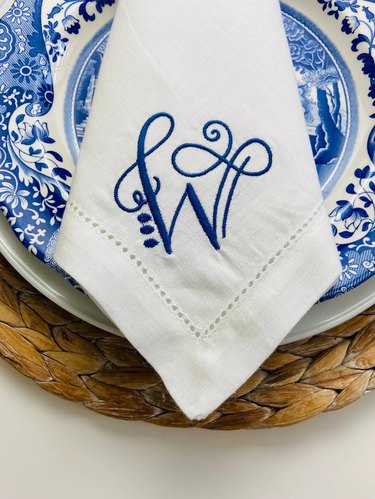 These 100% cotton napkins can be embroidered in more than 25 colors and feature hemstitching in a custom font called Lovely (designed by the shop owners themselves!). While napkins are sold individually, their $10 price point makes it easy to stock up on several at a time if you're shopping for a dinner party enthusiast, a newly married couple who's rounding out their tableware collection or an eco-conscious co-worker who prefers cloth napkins to paper.
3. Handmade Floral Letter Hoops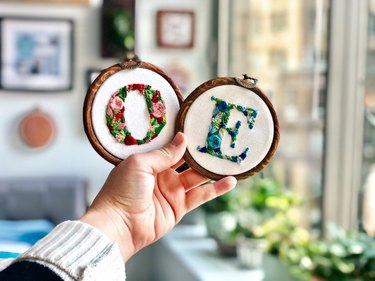 There's something so bright and nostalgic about these mini embroidered hoops with hand-stitched lettering (zoom in on the photo to check out the intricate floral design). Each hoop, which measures 3 inches across, is totally customizable. Just pick your favorite color, choose a letter and let the shop do the rest. These small but mighty hoops are perfect for a nursery, a living room gallery wall or any corner of the house that just needs a dash of whimsy.
4. Custom Wax Seal Initial Stamp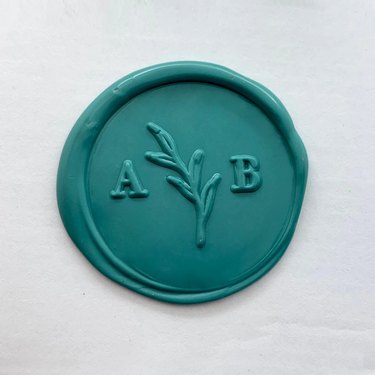 These wood-handled wax seal stamps are a perfect gift for someone who's always sending out party invitations, adores snail mail or simply wants to embrace those Hogwarts letter vibes. Pick a handle color (there are tons of vibrant options, from hot pink to cyan blue), decide how many wax sticks you'd like and in which colors, add initial personalization and choose a size between 20 and 50 millimeters—from there, all that's needed is an envelope to seal. Each stamp kit provides a fun way to bring a seemingly antiquated practice back to life in vivid color.
5. Personalized Trinket Dish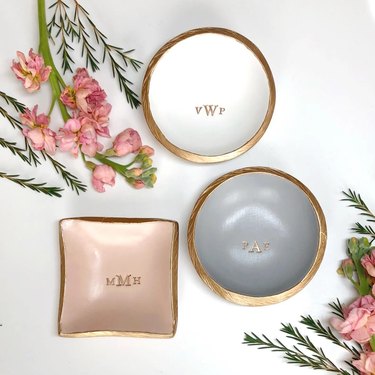 Made from clay and measuring three inches across (so there's plenty of room for a few rings, a pair of earrings and a dainty necklace), these handmade trinket dishes are individually painted and utterly unique. Simply choose a square or circular dish in blush, grey or soft pink tell creator GardenofGraces which initials you'd like engraved. Every time your friend takes off or puts on their jewelry, they'll think of you and your gift-giving prowess.
Brands That Offer Product Personalization
Looking for a brand-name item with a personal touch? Here are three of our favorite retailers that offer customization and monogramming on items like watches, wallets, tote bags and other apparel.
‌1. L.L. Bean: ‌The brand isn't just for your outdoorsy aunt who randomly disappears to the woods of Maine for two weeks every summer. In fact, there are loads of personalized gifts from which to choose on the L.L. Bean website, including cozy robes, Christmas stockings, kids' lunchboxes, dress shirts, pet leashes and more. Monogramming will run you $8 per piece and add a day or two of processing time to your order, but the fun of a personalized piece is worth the wait.
‌2. Fossil: ‌Sure, Fossil is widely known for its stylish, durable watches, purses, wallets and jewelry, but did you know that many of the company's products can be monogrammed for free? We love the idea of an engraved watch as a holiday gift, a personalized wallet to help your child keep track of their allowance or an embossed leather backpack for your next weekend trip.
‌3. Shinola Detroit: ‌While the brand isn't as widely known as L.L. Bean or Fossil, people who love it ‌really‌ love it. Shinola operates brick and mortar stores from Michigan to California, but you can order personalized products directly from the company's website. Engraving for Shinola's best-selling watches, jewelry, bags and accessories costs $20 per piece—perfect for a fashion-forward friend who values those personal touches.
6. Monogrammed Leather Coasters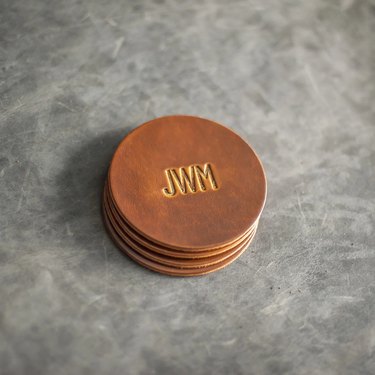 Coasters make a useful gift for just about anyone, but these full-grain leather coasters offer a rustic feel. (Full grain just means that the leather hasn't been glazed or polished, so its natural texture is visible.) They come in a set of four and, according to shop owner OxAndPine, they feature a thick design that stands up to moisture more effectively than typical leather coasters. Once they've been personalized, their country-inspired vibe makes them a great gift for the friend who should have been a cowboy in another life.
7. Carved Monogrammed Soap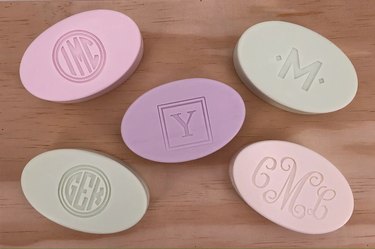 Font geeks will love choosing from more than 20 options for these engraved soap bars—we're talking everything from Times New Roman to French Script. Fonts are just the tip of the iceberg here, though. Each monogrammed soap is made with nonoverpowering fragrance oils that won't give you a headache. Choose a scent like lavender, verbena or green tea and bergamot and get ready to amp up your loved one's self-care routine with a personalized touch.
8. Customized Carved Initials Vase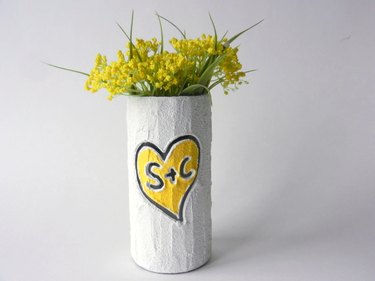 Perfect for the couple in your life that seems almost annoyingly in love, this vase is designed to look like a tree trunk scrawled with initials...yes, just like you and your high school sweetheart did back in the day. Handmade using cement, stucco and glass, each vase is a true original—and artist HomeBeamCo explains that this combination of materials leads to a rock solid, durable surface. Unless you specify another color for the heart design, the pictured bright yellow will be used.
9. Personalized Engraved Cheese Board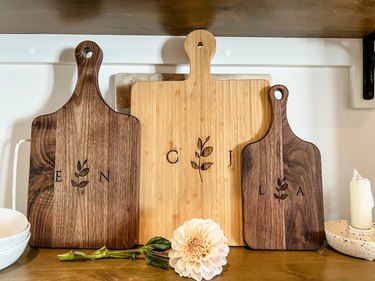 Help a loved one boost their charcuterie game with this customizable engraved cheese board, which is crafted from bamboo wood. Each piece is conditioned with mineral oil that helps prevent scratches and other damage over time while giving the wood a softer look. Shop owner CopperFoxCompany recommends using both sides of the board: one as an actual cutting board and the other as a decorative piece when not being used in the kitchen. You're really giving two gifts in one!
10. Monogrammed Silicone Ice Cube Molds
For the friend who values presentation in beverages, these monogrammed silicone ice molds are a perfect gift. Molds are available in round, standard and cursive fonts with groupings of up to seven hexagons and blue, black or lilac coloring. For a fun way to present your (slightly bougie but totally fun) gift, use the molds to dress up surprise cocktails at a friend's birthday gathering or bachelor party. Then see how long it takes for them to notice that their initials are etched in ice!