Looking for a way to add whimsy, cheer and a bit of cheekiness to your holiday decor? Elves are great, but we're particularly loving the idea of incorporating gnomes into our Christmas decorations this year. Whether that's with plush gnomes that sit on your fireplace mantle, gnome ornaments that hang from your tree or any other surprising way to inject them into your decor (just wait until you see the gnome shower curtain below…), they're bound to bring a playfulness that's unmatched. Gnomes range in styles and hues, from neutral whites and grays to standout reds and greens, so no matter your color palette, there are Christmas gnomes that'll blend right into your holiday decor.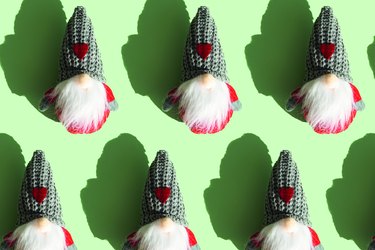 Folklore of the little cuties traces back to the 18th century Scandinavia, when gnomes were believed to be household spirits that were there to look over the property and family. They're a little mischievous, but seriously cute, too, with long beards and pointy hats. While it's common for them to live in gardens all year long, in Scandinavia, they're synonymous with the holiday season, so that's why you've been seeing them more and more this time of year. Hide the little fellas amongst your fireplace mantle decor, propped up on side table, hanging from your Christmas tree—there's no wrong way to include a Christmas gnome in your home this holiday season.
We shopped for the cutest, most creative ways to include gnomes throughout your holiday decor. Here's betting you'll love these naughty little fellas as much as we do.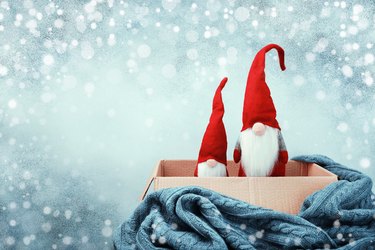 1. Gnome Friends Throw Pillow
Just ‌try‌ not to smile looking at these goofy little guys. No matter the season or holiday, one of the easiest, coziest and most practical ways to switch up your decor is with a throw pillow or two. We particularly love this design from Society6, which features a slew of charming little gnomes with big beards and bright hats. Choose from one of four sizes (between 16 inches by 16 inches and 24 inches by 24 inches), then rest your head on it during yet another viewing of National Lampoon's Christmas Vacation.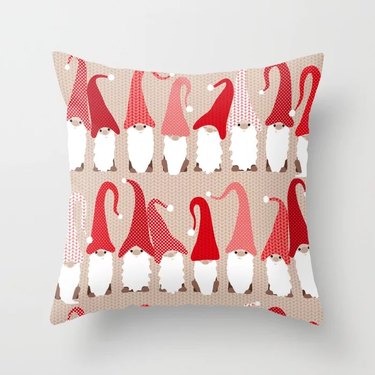 Gnomes can be kitschy and cute, or they can be sophisticated and cute. If you prefer the latter style, a nod to their Scandinavian roots, nab one or two of these handmade gnomes which are solid enough to stand on their own no matter where you choose to display them. They come in gray or white versions, and perfectly coordinate with a neutral-designed home.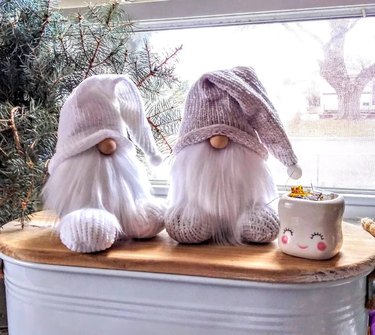 3. Juegoal Set of Two Light Up Christmas Gnomes
Hello, cuties! This set of two 11-inch tall plush Christmas gnomes would add a touch of charm to your holiday decorations. When lit, they emit a warm white LED light from their tubby bellies so you can enjoy their company long after the sun sets. Keep in mind that they require three AAA batteries, which are not included, so either add batteries to your Amazon cart just in case, or scrounge around in your junk drawer before checking out.
4. Design Imports Gnome Holidays Swedish Dishcloths
Put your paper towel addiction on pause this holiday season, using these "Gnome for the holidays" Swedish dishcloths instead. Since they're made of wood pulp and cotton, they can replace paper towels or sponges, then be tossed in the washing machine whenever they need a good clean. Anything that can be categorized as cute and practical is a win in our books.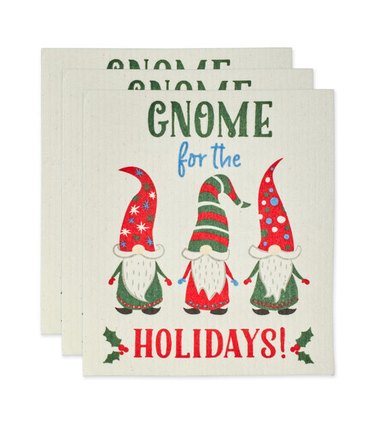 The only thing more whimsical than a Christmas gnome is a set of ‌three‌ Christmas gnomes—especially with such an affordable price tag! These cuties look like they're about to stir up some harmless mischief. Set them, with their dangling legs and posable hats (thanks to bendable wire inside), on a fireplace mantle, bookshelf or even on your tree itself.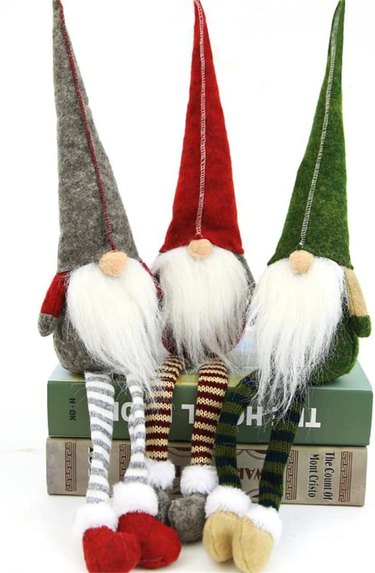 6. Christmas Gnome Striped Hat Shower Curtain
Bathrooms often get the shaft when it comes to seasonal decorating, but what better chance to add a pop of red and a bit of cheeky humor to your bathroom than with a gnome-themed shower curtain? All of your guests will get a good laugh out of it, and chances are, you will too. Once Christmas comes and goes, you can toss it in the laundry—it's machine washable!—to wash away any soap scum and buildup, then store it away until next year.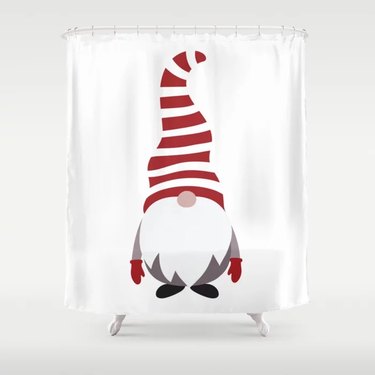 7. Standing Christmas Gnome
We're smiling just looking at this sweet, long-legged gnome. Measuring nearly 31 inches tall, he takes up substantial vertical space, but is extremely versatile design-wise, so he could make the rounds from a standing position in your entryway, to on top of a buffet table, to guarding your Christmas tree. He's ultra soft from head to toe, with a real knit hat, soft legs, and a fluffy beard, and it's hard not to fall in love with him.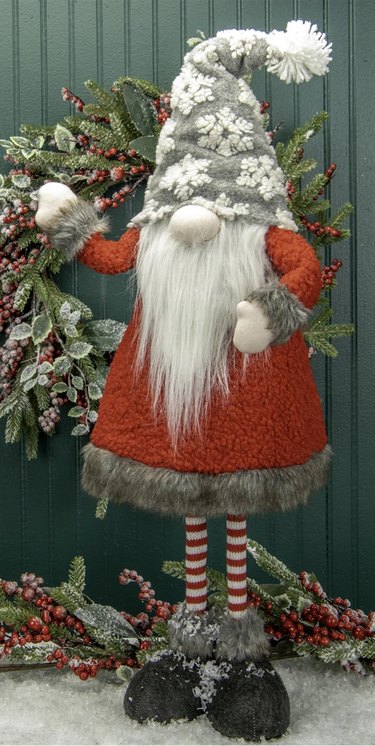 8. Merry Christmas Gnome Door Mat
We're big fans of holiday door mats. Not only are they practical (no muddy boots allowed inside!), but they bring instant cheer to anyone who comes to your front door, from friends to family members to delivery people to (perhaps most importantly) you, every day when you come home. This door mat, created by a small family-owned business in Indiana, is made from natural fibers from the husk of a coconut, and is intended to be used indoors or in covered outdoor areas, as lots of exposure to rain and snow will degrade its quality. If Mother Nature is too unpredictable where you live to place this one outside of your front door, use it in a mud room instead.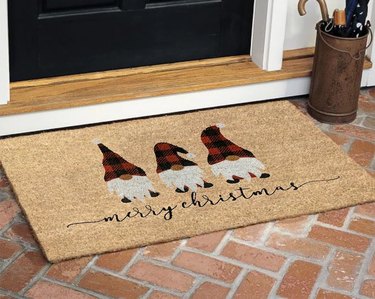 Santa cookie jars are so 2021. (Just kidding—Santa cookie jars will always be a classic to us!) This year, though, for novelty's sake, you may want to add a gnome cookie jar to your collection. Your gingerbread men will taste all the better when housed inside this 11-inch-tall dishwasher-safe ceramic jar. Since this goofy guy comes in a handcrafted gift box, it would also make for a charming present to anyone on your list—as long as you give it to your recipient early in December so they have a chance to put it to good use before the holiday season is over.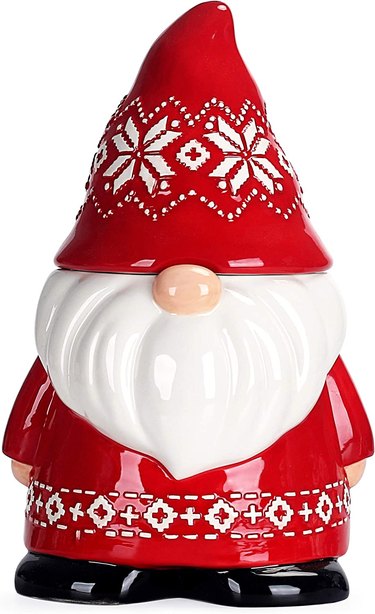 10. Gnome Pine Pattern Throw Blanket
Name one thing better than cozying up in an ultra soft-to-the-touch blanket, a mug of hot chocolate in one hand and taking in yet another viewing of "It's a Wonderful Life." The only thing we can imagine is if the blanket had gnomes on it, like this oh-so-cute design. This Society6 offering is made with sherpa fleece, and will just get softer with each wash. (Yes, it is machine-washable.) It's available in three sizes, so you can choose just the right dimensions for you and your family members. Though, we wouldn't blame you if you invest in more than one so there are no "I want the gnome blanket!" fights before movie night starts.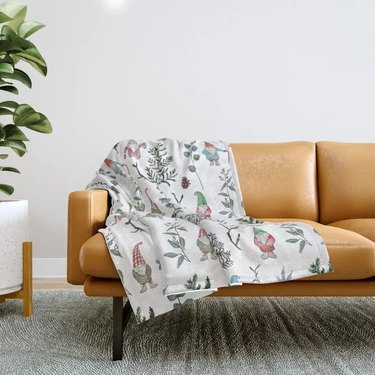 11. Place & Time Christmas Gnome Ornament
To add just a tiny touch of the magic of gnomes to your Christmas decorations, opt for a gnome ornament. This little fella could become an instant heirloom, a family favorite that can be hung on your tree year after year, or hooked onto a garland or wreath too. He's subtle and almost Santa-like, but that tall hat and extra long beard that's even too long for Santa give him away. With its classic, nostalgic look, you're sure to adore discovering him in your ornaments bin every December.