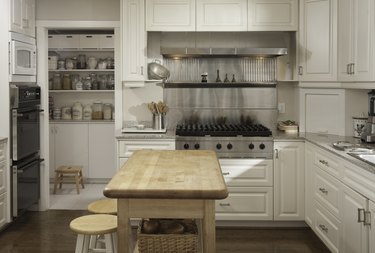 Almost everyone who likes to cook or entertain has a mental picture of their dream kitchen. Usually, it's big and open (and less cluttered than our real kitchen), with an island to provide plenty of storage and counter space. In reality, many of us have a small kitchen that's tight on space, so fitting a full-scale island would be a challenge. For those of us who can't manage a conventional island, a kitchen cart can provide most of the same functionality while taking up less space and also costing a whole lot less. We've picked out six of the best kitchen carts for you to consider, suitable for almost any surroundings.
What to Consider When Purchasing a Kitchen Cart
‌Size:‌ The whole point of having a kitchen cart is that it should fit the space available in your kitchen. If it's too small, you're giving up prep space and storage space, but if it's too large, it will impede your work flow, instead of improving it.
‌Storage:‌ A kitchen cart can give you a lot of storage space, but there are differences in how that space is configured. Most carts include some combination of open shelves, drawers, cupboards and racks for hanging utensils or towels. You know best which type of storage works for your kitchen and your specific needs, but you may need to think about it for a while—and take an inventory of your existing storage, and things you need to store—before making a final decision.
‌Look and Style:‌ Your kitchen cart, like a permanent kitchen island, needs to fit the overall look and style of your kitchen. Got stainless steel appliances and modern decor? You might opt for an industrial look. In a farmhouse kitchen, a rustic look and butcher block countertop would work better. In an upscale kitchen, you might opt for clean lines and a marble work surface. There's no right or wrong, just what works in your space.
The Best Overall Kitchen Cart
There are bigger kitchen carts and smaller carts, there are carts with more storage, and carts with a drop-leaf top or sturdier shelving. So what makes this offering from Yaheetech our top choice? In a word, it's balance. It's got just enough of everything, in one well-rounded package. At 38 inches wide and 18 deep, it's big enough to provide you with lots of extra prep space (or a home for appliances you can't fit on your counter), but slender enough not to dominate your kitchen.
More than that, it ticks all the most important boxes. Want drawers? Check. Open shelving? Check. A cupboard to hide things away? Check. A towel rack? Check. Heavy duty casters? Check. A natural wood surface that can be used as a cutting board? Check. And while it's not as sturdy as one or two of our other selections, it'll roll around comfortably with well over 70 pounds' load, or work as a stationary island with over 140 pounds on board. That's a lot of everything, in a surprisingly affordable package.
The Best Value Kitchen Cart
You can get budget kitchen carts for well below this price (Amazon's own Amazon Basics cart springs to mind), but it's hard to match Hobeda's succinctly-named Kitchen Island With Spice Rack for sheer value. There's nearly four feet of counter space to work with, a drawer with sturdy metal slides, and a cupboard with an adjustable shelf to accommodate small appliances, pots and pans, or anything else you want to tuck out of sight. There's a towel rack at one end of the cart and a spice rack at the other, and it comes in a choice of six finishes to fit almost any kitchen's decor. There are lower-cost carts available, but you'll be hard-pressed to find a rival product that gives you more for the dollar (no surprise that it's a top seller on Amazon).
The Best Compact Kitchen Cart
The smallest kitchens are most in need of additional storage, but—sadly—it's not easy to fit a large amount of storage into a compact, space-efficient cart, Although it's difficult, it's entirely possible, as this one from Linon Home demonstrates. The stainless steel top measures less than 24 inches wide and 16 inches deep, but it's plenty large enough to provide some useful work space or to provide a home for your microwave or stand mixer. Underneath, you'll get a pull-out drawer, plus a sturdy wooden slatted shelf for heavy skillets or wine bottles, plus a slide-out basket, plus another sturdy shelf at the bottom to accommodate larger or heavier items. Heavy-duty locking casters let you move it around or lock it in place, as needed, and it comes in four colors to complement your decor.
The Best Open-Shelf Kitchen Island Cart
One of the classic styles for a built-in island is a simple work surface with wide, open shelving underneath. This offering from Southern Enterprises matches that look in a rolling cart, with an attractive and versatile whitewashed burnt-oak finish. At over 46 inches wide and 27 inches deep, it provides lots of counter space (it's laminate, not a wood top, so use a cutting board for food prep) and its two wide, open shelves provide all the storage you could want for pots, pans, utensils or small appliances. There are two drawers for extra storage, hooks for hanging utensils, a towel holder at each end for convenience, and sturdy casters so it's easy to move. If you like the open-shelf style, this one ticks all of the right boxes.
Tip
You can maximize the versatility of an open-shelf cart with bins or baskets to provide out-of-sight storage for smaller items.
The Best Kitchen Cart for Storage
If you have enough extra space, it's sometimes helpful to have a cart that can serve as a whole entire kitchen cabinet on wheels to really max out your storage. As its name suggests, the Storage Plus cart from HomeStyles is built for that exact purpose. This sturdy unit is manufactured from stainless steel and rubberwood (not particle board) for durability, and has a sleek brushed-nickel finish with understated hardware.
The four cupboard doors open to reveal no fewer than six storage shelves, enough to hold almost anything you'd need to tuck away. There are also two wide and sturdy drawers, and a towel rack at each end. The tabletop is laminate, rather than wood, but it's heat-resistant enough that you can set a hot pan on it without flinching. Its look is clean and utilitarian, rather than stylish, but it's big enough, sturdy enough and well-made enough to serve as a permanent island if you want it to.
The Best Heavy Duty/Industrial Kitchen Cart
If your esthetic skews toward the industrial, commercial-kitchen look—or if you just need a cart that's really heavy duty—this restaurant-style workhorse from Twillery might be just what you're looking for. It's built of chromed stainless steel on heavy-duty casters, with a stainless steel countertop. The basket-style shelves can hold just about anything you choose to put there, from appliances to your collection of antique cast-iron pans. It's that sturdiness that sets this cart apart from others in our roundup: Its total weight capacity is a whopping 500 pounds, and the countertop alone will support 150 pounds. It's not as versatile as some of our other picks, but if you need genuinely heavyweight storage (in a compact and functional package), this will do it for you.