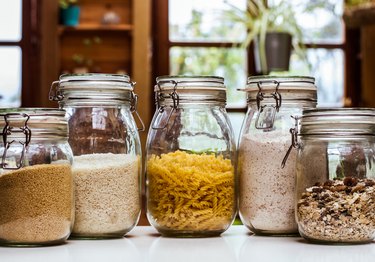 There's a TV fantasy where celebrity chefs go strolling through a market, expensive hand-woven basket over one elbow, looking for what's best and freshest before deciding on tonight's dinner. Meanwhile, in the real world, those of us watching the show are checking the fridge and freezer to see whether there's anything left over that we can turn into a quick weeknight meal. Which brings us to the need for a selection of food storage containers, to keep ingredients fresh and usable between shopping trips, and leftovers (or prepped-ahead meals) ready for lunchboxes or fast evening meals. There are plenty of them on the market— from disposable to deluxe—so we've picked out six of the best food storage containers for your consideration.
What to Consider When Buying Food Storage Containers
Food storage containers need to do a lot of things well. Some keep dry goods fresh in your pantry, some pack your lunch to work or school, and others live in your fridge or freezer. Ideally, they'll be microwave-safe and dishwasher-safe, and non-reactive (so they won't add flavors to your food, or absorb flavors from your food). The bottom line is that you'll probably want more than one kind, because it's hard for one type of container to do everything well. Some specific points to consider include:
‌Materials:‌ Most food storage containers are made of plastics, from soft and translucent sandwich containers to clear (but brittle) produce keepers. Many are made of glass, which is durable, non-reactive and microwave-safe, but is also heavy, breakable and costlier. Some are even made of silicone, which is flexible and heatproof (though again, pricier than basic plastic equivalents). They're all better at some things than others, so purchasing decisions typically come down to finding tradeoffs you're comfortable with.
‌The Type of Seal:‌ The lids on most storage containers simply snap into place, or are held in place by friction. They're perfectly acceptable for pantry or fridge use, but aren't generally leakproof if you're looking for something to go into a lunchbox. Others are held on with gaskets and latches to make an airtight seal, ideal for freezing or (in some cases) vacuum sealing. You'll probably want containers with a mixture of leakproof and "good enough" closures, for different purposes.
‌Storage:‌ Most of us have a cupboard filled with precarious stacks of plastic containers, and lids that may or may not match the containers. Storage options that stack and nest neatly when not in use, and are space-efficient in the fridge or pantry when they are in use, are more useful and less frustrating than the random assortment most of us accumulate over time.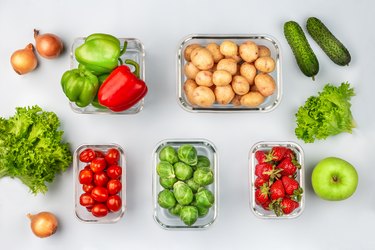 The Best Overall Food Storage Containers
There's a lot to like about these versatile containers from Snapware. They're BPA-free, freezer-safe, microwave-safe and (top rack) dishwasher-safe; they're stackable when full, and nest in your cupboard when they're empty. Their lids have a gasket and locking tabs to ensure a leakproof seal (great for lunch boxes), and the mix of rectangular and round containers gives you options for just about any food you want to keep.
So what are the downsides? Well, they're stain-resistant but not stain-proof, so you probably still want to keep leftover tomato sauce in something else. Also, while they're microwave-safe, they can become warped and deformed if you overheat your food. They're not completely perfect, but they're an excellent all-purpose option at a pretty reasonable price.
The Best Pantry Food Storage Containers
Most of us don't have as much pantry space as we'd like, so any food storage container set that's stackable and comes in a variety of square and rectangular shapes—to maximize the space we've got—is a win. These dry-goods storage containers from OXO do that, and do it in typical OXO style with lots of thoughtful features. That starts with the POP lids, which create an airtight seal with the press of the button on top. To open the lid, simply press the button again. The lids come apart for easy cleaning, and OXO provides a range of accessories (available separately) that attach to the bottom of the lid for added convenience.
This set includes five containers suitable for baking ingredients: Two large 4.4-quart containers, a 1.1-quart, and two smaller 0.4-quart containers; plus a pair of half-cup scoop accessories for the large containers and a brown-sugar saver for the 1.1-quart. The containers are BPA-free and top-rack dishwasher-safe, as well. If you aren't a baker and just want excellent general-purpose storage containers, there's a five-container set in less-bulky sizes with no included accessories.
The Best Glass Food Storage Containers
Although plastic containers are the clear winners on a value basis, most of us have a role in our kitchens for glass food storage containers as well. The best are oven-safe, they won't stain (looking at you, tomato sauce!), and—unlike some lower-cost plastic containers of dubious origin—there's no question that they're food- and microwave-safe.
These ones from OXO are as good as anything you'll find in this particular product category. There are two kinds of glass used in food storage containers, tempered soda-lime glass (like contemporary Pyrex) or lab-quality borosilicate (like old-school Pyrex), and OXO uses the costlier borosilicate glass. It's more resistant to thermal stress, which means you can literally take these containers from the freezer to the oven or microwave without them breaking.
The BPA-free plastic lids have a silicone gasket to create an airtight seal, so you can take your food anywhere without the risk of it leaking. The containers nest for easy storage when you're not using them, and the lids are interchangeable with the company's plastic Smart Seal containers. They're not especially cheap, but still excellent value for the dollar.
The Best Large Food Storage Container Set
Rubbermaid is one of the biggest names in food storage so it would be surprising if they didn't have an entry on this list, and it's a doozy. This 60-piece set (30 containers and matching lids) is for people who want to buy one set to meet all of their food storage needs, from freezer to microwave to fridge to lunchbox.
The BPA-free plastic containers come in sizes suitable for everything from condiments and salad dressings to full meals, and—with typical Rubbermaid attention to detail—the lids snap together when not in use, so you can keep them all together and not lose any. Even better, the containers themselves will snap into the lids of those beneath them when they're stacked, so they stay where they're put unless you deliberately separate them. No more avalanches in the pantry!
The meal-sized 3-, 5- and 7-cup containers also have vented lids, so you can heat foods in the microwave with the lid on (a no-no with most containers) to reduce spatters and mess. Whether your goal is pantry storage, packing away leftovers or even meal prep (the condiment containers are great for holding ingredients while you cook), Rubbermaid has you covered.
The Best Budget Food Storage Containers
If you were to look in a restaurant kitchen, you'd find that almost everything —from meal prep to sauces to spice mixes—is kept in nothing more elaborate than plastic deli containers. They're a near-ideal solution for food storage: They're lightweight, compact, seal tightly, they're clear enough to see what's inside and they're both dishwasher-safe and microwave-safe.
This set from Safeware is a good example of the breed, providing 50 16-ounce containers in BPA-free plastic with matching lids for a price that's hard to beat. Doing up big batches of soup or chili? Pack 'em up in deli containers. Got leftover herbs from the garden or store? Put them in deli containers. They nest tightly when they're not in use, they're stackable when full, and you can write on them with a Sharpie to keep track of what's in them and when it was cooked or refrigerated. They're available in different sizes, from 8 ounce to 32 ounce, and the lids fit every size.
The only knock against them is that round containers aren't the most space-efficient, but you can get square deli containers as well if you want them. Are they the best plastic containers? No, they're not nearly as durable as the Snapware and Rubbermaid containers we've already featured. But at this price, they don't have to be.
The Best Containers for Bulk Food Storage
Restaurants love deli containers, but for bulk food storage they turn to Cambro. The company's line of foodservice-focused products is broad, but its tough polycarbonate food storage containers are especially cherished. They're crystal-clear, marked plainly with measurements (so you always know how much you have on hand and when to buy more) and the lids make a tight seal.
This set of two 4-quart Cambro containers with lids is ideal for bulk items like flour or granulated sugar that you buy in quantity. they're big enough to store a useful quantity of your chosen ingredient, but you can still hoist them onto the countertop if you need to. They stack beautifully, and will coexist happily with square and rectangular canisters in other sizes from Cambro or other manufacturers. They're dishwasher-safe, though it's easier to hand wash them if you don't have a restaurant-sized dishwasher. Cambro containers aren't especially cheap, but they'll stand up to the rough-and-tumble of a commercial kitchen and should last for many years at home.