Once the last of the Halloween trick-or-treaters has come and gone, but long before it's time to slice into pumpkin pie, you can display your excitement for everyone's favorite indulgent holiday —Thanksgiving, of course—with plenty of outdoor decor. Just adding a few yard decorations, whether cheeky or traditional, to your front yard, porch or door ensures you'll bring cheer and excitement for the season to your entire neighborhood.
Don't be tricked into thinking you need a sprawling lawn to show off your enthusiasm for Thanksgiving though. Even if you have the world's tiniest front porch or simply an exterior door leading to an apartment, there are plenty of ways to decorate for the holiday. For instance, a wreath is a must for outdoor spaces of all sizes. A doormat is another nearly effortless way to liven up your outdoors too. If you're working with more room, consider going big, like with topiaries, inflatables or yard signs. However you choose to incorporate fall decor into your outdoor space, it doesn't take much time, effort or money to celebrate the season of giving thanks in style.
What To Consider When Purchasing Outdoor Thanksgiving Decorations
​​Material:​​ No matter what kind of outdoor decorations you're buying, whether patio pillows, faux pumpkins or otherwise, you'll want to keep a close eye on the material it's made out of. That'll give you insights as to how well it'll hold up to all that Mother Nature brings its way, from blustery autumn winds to one last heatwave to a surprise snowstorm. Read the descriptions carefully to ensure the maker gives the thumbs up to outdoor or covered outdoor use. If you live in a warm climate, keep in mind that direct sunlight can fade decor, while in rainy climates, exposure to moisture may deteriorate other materials.
​Size:​ No outdoor space is too big and no outdoor space is too small for a little seasonal cheer. If you're working with a spacious front yard, feel free to go big. Blow up turkeys, oversized yard signs and plenty of string lights can balance the proportions of your yard. There are a variety of outdoor Thanksgiving decorations for those working with smaller spaces too, like doormats, wreaths and petite pumpkin decorations. Don't let the size of your outdoor space, no matter how big or small, intimidate you from displaying your Thanksgiving cheer to your entire neighborhood.
​Storage:​ Before clicking "add to cart" on any outdoor Thanksgiving decorations, determine where and how you'll store the fall decor away until next November rolls around. You wouldn't want to impulse buy an eight-foot-long yard sign if you have nowhere to keep it safe the other 11 months of the year. Other decorations, like wreaths, may be more fragile and require careful storage to ensure they'll look good as new year after year. Whatever you're buying, ensure you have a proper place to keep it out of sight until next Thanksgiving season.
Read on for nine of our favorite decoration ideas that'll have your outdoor space Thanksgiving ready in no time.
1. Thanksgiving Farmhouse Signs
You don't have to see holiday decor from down the block. Sometimes a simple little sign (or three) will do. Like these oh-so charming farmhouse-style signs, for instance. They'll instantly dress up your fall porch. You can choose to buy any of them on their own, or you could buy the set of three, each wrapped in ribbon or twine. Prop them up on your porch or along your front steps as a pleasant welcome for you and your guests.
2. Fall Maple Leaf Garland
We can picture it already: Imagine this festive fall leaves garland draped around your front door, creating a warm welcome for all of your guests. It's vibrant, life-like and a breeze to hang. The leaves are made of high-quality plastic and silk cloth and are attached via a flexible wire, so they're durable and outdoor-friendly for most climates. You get to choose from a variety of color variations too. (Good luck choosing a favorite—we love them all.) Or, if you prefer, make a home for this garland inside. It'd brighten up any living room, perhaps on a mantle or staircase banister, or could be used as table decor on your Thanksgiving dinner table too. This garland's versatility makes it well worth the purchase.
3. Thanksgiving Turkey Windsocks
Just ​try​ not to smile envisioning these two adorable turkeys blowing in the wind. This set of two turkeys comes pre-assembled, so there's no DIY-ing necessary. (They might arrive a bit wrinkly, but a quick ironing session will fix that, or you could simply let them shake out their wrinkles in the wind.) All you need to do is hang them anywhere they'll blow freely, whether that's by your front door, garden, flagpole or elsewhere. We love that they're two-sided, so no matter which way the wind blows you can see their cute faces. They're ultra easy to fold flat and store away for next year too. Win/win.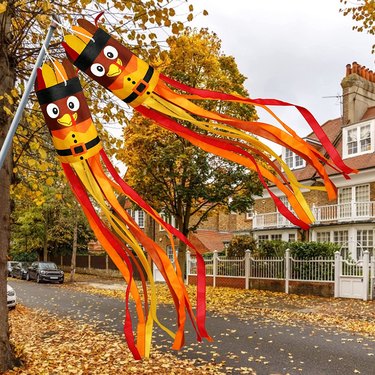 Gobble, gobble indeed! If you have a spacious front yard, consider adding these yard letters to your Etsy cart. They're made of durable and weatherproof corrugated plastic, so they'll hold up to unpredictable fall weather, all while brightening your entire block. Each vibrant letter, created in a trio of fall colors, is approximately 18 inches tall and comes with two yard stakes (per letter) for super easy installation. Simply stick them in and voila! Yard sign complete. To make the most out of the sign, consider adding spotlights in front of the letters so both you and passersby can enjoy them even long after the sun has set.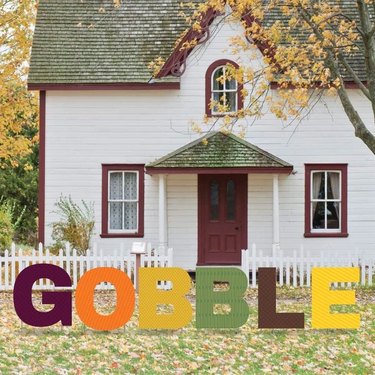 5. Give Thanks Welcome Mat
It's time to put your Halloween doormat away until next October. Now it's Thanksgiving's time to shine, and this "Give Thanks" welcome mat makes for porch decor that truly couldn't be easier. It's affordable, it's practical, and it's a good message you and your guests will take to heart every time they walk through your door. This design measures 30 inches by 17 inches and is made from natural coir fiber with a rubber backing so it'll stay perfectly in place even as you wipe the most stubborn of dirt off your shoes.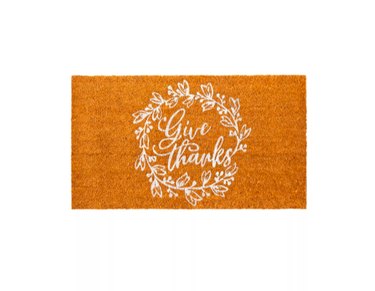 6. Happy Thanksgiving Throw Pillow
As if you needed a reminder to have a happy Thanksgiving, this adorable turkey will do so every day when placed on your patio furniture. It's available in either outdoor or indoor appropriate covers, and wherever you place it, it's bound to bring color and joy to that space. While it's outdoor-friendly, if the weather takes a turn for the rainy, consider bringing this pillow inside so it'll stay in tip-top shape for you to use each November. Or, opt for the indoor pillow cover option and add this to your home decor. Your patio chair would love it, and so would your living room couch.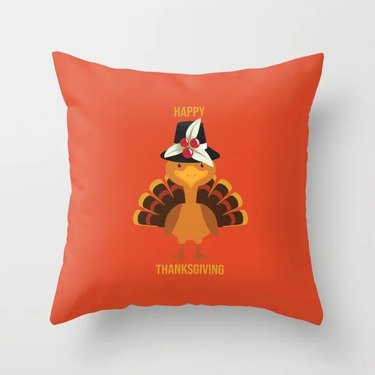 7. Airblown Outdoor Happy Turkey
Not the shy type when it comes to Thanksgiving decorations? Then how about adding a 4-foot-tall inflatable turkey to your outdoor space? This one has it all: It's inexpensive, durable and adorable. Setting it up is easy too. Simply plug it in, stake your turkey down, and "ooh" and "ahh" as it inflates. It'll be sure to delight both you and everyone in your neighborhood, especially little ones.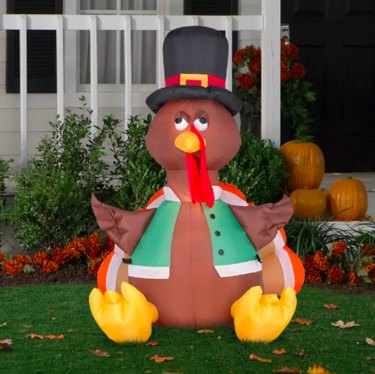 8. Rustic Front Door Thanksgiving Wreath
Don't let your front door be bare this Thanksgiving season. One of the easiest and most effective ways to decorate your outdoor space is with a wreath. This beautifully abundant design could be hung all fall long if you'd like, as its mini pumpkins and autumnal color palette celebrate the entire season. A covered porch is the best home for this wreath, since you'll want to protect it from the sun, wind and rain.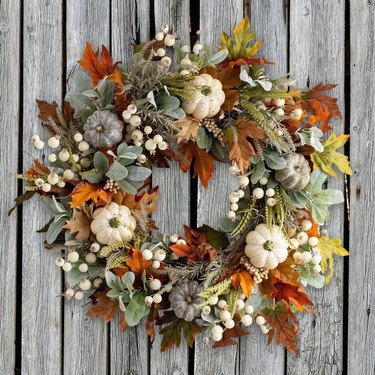 9. Metal Thanksgiving Turkey
Nothing says "Happy Thanksgiving!" quite like a turkey decoration. Our pick is this metal turkey, which is hand cut and bent, then spray-painted to give it a one-of-a-kind look. Simply stake it into your yard or garden, then smile every time you come home to this delightful design. Bonus: Since it lays flat, it doesn't require a lot of storage space either, so you can sneak it into your fall decorations bin easy peasy.