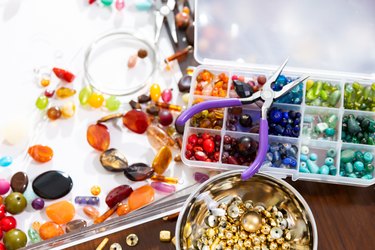 Whether you're a seasoned maker or are looking for a way to exercise the right side of your brain, bead kits are an excellent entry point into the world of crafting. Not to mention: The act of repeatedly stringing beads onto a piece of cord can feel incredibly relaxing and get you into a meditative flow state, which is always appreciated in the hustle and bustle of everyday life. Whether you're interested in learning how to embroider beads or want a more traditional bead kit that results in fun jewelry and accessories, we scoured the internet and found the best bead kits for adults to try. From a luxe designer jewelry-making kit to an option that is also kid-friendly, here's our buying guide for the best bead kits for adults.
What to Consider When Purchasing Beading Kits
‌Bead Supplies:‌ When shopping for a bead kit, it's important to look at what else (if anything) is included in the kit. This isn't necessarily a deal-breaker—of course, amazing beads are the goal, here—but taking inventory of what other bead supplies come in the kit will give you a good idea of what you might need to source and supply yourself. This is especially important if you are gifting a bead kit, as you want to make sure a recipient has everything they need to complete a project. If a kit doesn't have string, clasps, crimp beads, earring hooks, beading wire, and other essentials such as pliers, beading needles and tweezers, be sure to include them in the gift, or purchase a separate jewelry-making supplies kit to go along with it.
‌Types of Beads:‌ Beads come in all sorts of styles, shapes, sizes and materials, so it's important to consider which types of beads you prefer before buying beading kits. From glass to acrylic to polymer clay to even paper, you can find bead kits in a variety of materials that might inform the project, style and whether or not you'll actually use the kit. Size also matters as bigger beads tend to be easier to work with for beginners, but smaller beads might be preferred for your personal style. The types of beads in a kit should inspire you to not only make DIY jewelry but wear them, too.
‌Personal Style:‌ Since beads typically result in something you wear—such as jewelry or accessories—personal style is also important to consider when shopping for bead kits. Keeping your style preferences (or the personal style of a recipient) in mind while looking at bead kits will help you land on something you'll actually enjoy. If you prefer more elegant items, you might opt for a bead kit with pearls, while those with a more eclectic style might adore a paper or glass bead kit.
‌Projects:‌ The projects you can make with the bead kit also matter as they will result in your finished product. Many bead kits are actually jewelry-making kits and include projects such as beaded bracelets, necklaces and even anklets. But, you can find bead kits that result in a beaded accessory, such as the beaded velvet necktie you can make with the Art Life Practice The Bead-Embroidered Ribbon Kit. If you have a specific project you want to make, be sure that the bead box you select has enough supplies for it—bonus points if it includes step-by-step instructions.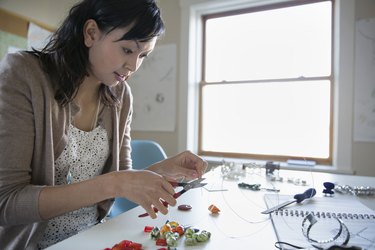 1. Susan Alexandra Bead Box Luxe
Susan Alexandra is the bead queen and is known for her beaded bag and accessory designs. She inspires her community of loyal bead-lovers to create their own beaded items with the Bead Box Luxe, which includes a collection of murrini glass beads in tons of great colors, a signature Susan Alexandra clasp, and lots of heavy-weight cord so you can make bracelets, necklaces or even a funky beaded belt if you are so inclined. If glass beads aren't your style, the designer also offers a traditional Bead Box, which includes a mixture of acrylic colorful beads, large pearl beads and two enameled clasps.
2. Art Life Practice The Bead-Embroidered Ribbon Kit
For an elevated spin on the classic bead kit, we adore The Bead-Embroidered Ribbon Kit from Art Life Practice. Inspired by paintings from the Victorian era, this elegant bead kit is created for beginners and pros alike. The craft kit includes three luxe silk and velvet ribbons—and several color themes to choose from—and a collection of pearls, coral and turquoise, plus other high-quality beads, embroidery supplies and a step-by-step tutorial so that you can create your own bead-adorned ribbons. Once completed, these ribbons can easily become wrap bracelets, neckties, chokers, headbands, hair bows and more. We love this kit because it allows you to create thoughtful and chic items that also make for a great gift once finished.
3. Akola Anasa Necklace & Bracelet Kit
Jewelry designer Akola makes an incredible, swoon-worthy bead kit that allows you to create a luxurious (and, super stylish) piece of jewelry. This Anasa bead kit takes necklace and bracelet making to new heights and includes a variety of blue tones. You'll get 200-plus beads, four horn charms, a raffia charm, an agate charm, a quartz charm and a 14k-gold plated charm. It comes with enough cord to make a few projects, plus a stringing needle to make creating easier. On top of being a beautiful bead kit, this option also gives back. The brand reinvests 100% of profits from the kit to empower women and families in poverty.
4. Felix LeChef Box-O-Beads Clay Beads Bracelet Making Kit
If you're shopping for a bead kit on Amazon, look no further than the Felix LeChef Box-O-Beads Clay Beads Bracelet Making Kit. This option is an excellent starter kit for someone looking to create lots of projects, as it includes 5,000 flat beads in a variety of colors, plus a collection of additional supplies, such as jump rings, spacer beads, cord, scissors and a few tassels to add a touch of uniqueness to your creations. The kit comes in two different color themes, earth tones and rainbow, so you can choose the option that best fits your personal style.
5. Super Smalls Make It Super DIY Bead Kit
‌Technically,‌ this is a bead kit for kids, however, it's also a super fun jewelry-making kit for adults—especially those who love a more playful style—or anyone looking for a bead kit the whole family can use. The Super Smalls Make It Super DIY Bead Kit comes with an excellent collection of acrylic plastic beads with a gemstone feel, including ones with shimmer and sparkle, plus fun dangling charm pendants, so it doubles as a charm bracelet-making kit, too. Crafters can create their own jewelry in a variety of styles, including ones that have a trendy Y2K feel. It also has several pieces of stretchy cord that are easy to work with for beginners.
6. Peachy Keen Crafts Ultimate Jewelry Making Bead Kit
Nothing says a jewelry-making kit for adults quite like one that also features excellent storage. The Peachy Keen Crafts Ultimate Jewelry Making Bead Kit comes in a three-tiered storage box with lots of compartments to keep the different bead styles separated and features over 1,000 beads in all different shapes and sizes. This deluxe craft kit comes with clasps and beading string so you can easily complete your DIY bracelet, necklace and other projects without having to order extra supplies. Plus, there are more than enough supplies to create friendship bracelets, which is always a fun venture.
​​7. American Crafts DIY Beaded Daisy Chain Bracelet Kit
Daisy chains are back in style, which means it's time to re-learn how to make them. Jewelry makers will adore this American Crafts DIY Beaded Daisy Chain Bracelet Kit from JOANN. This small but mighty kit includes everything needed to create a colorful daisy chain, including 64 yards of nylon, six assorted colors of seed beads, two needles and a lobster clasp. The DIY craft kit is also under $5, making it a great stocking stuffer or gift topper.