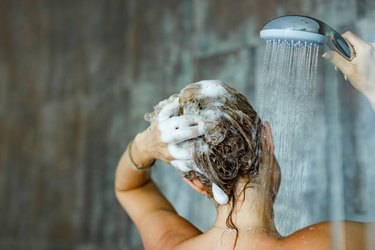 Whether you're starting your freshman year of college, you're heading back to the dorms for another year of communal living or you're off to your very own apartment (with several roommates, of course), you're going to need a shower caddy. Lugging your shower essentials to and from the communal shower every day is a hassle without a shower caddy. A shower caddy is designed to hold shampoo, conditioner, soap, razors, body wash and whatever else you typically use in the shower.
Shower caddies are waterproof or water-resistant, but they aren't mold- and soap scum-proof. So, it's important to rinse out your shower caddy regularly to avoid any build-up of unwanted grime and smells.
What to Consider When Purchasing a Shower Caddy
​Material:​ Portable shower caddies are typically made of plastic or mesh. Plastic caddies are more durable and hold their shape, but they usually need to be placed on the floor. If you share your college dorm room shower with several people, floor placement might not be ideal. Mesh caddies, while less durable, are more adaptable and can usually be hung on a hook or over a shower head. They can, however, be harder to keep clean.
​Size:​ Most shower caddies are around the same size, but you can find ones that are smaller or larger than the average caddy. If you use a plethora of products in the shower, you'll probably need a shower caddy that's on the bigger side. On the contrary, if you take quick showers using only a couple of products, a small caddy will do just fine. No reason to have anything larger that'll take up more space.
​Type:​ There are two main types of shower caddies. The one you choose will depend on how your shower is laid out and how you like to access your shower items. You can find shower caddies that come with a hook so they can be hung and easily accessed, and you can also find ones that simply have handles and need to be placed on the floor or on a ledge or bench in the shower. Some toiletry caddies have pockets to hold smaller items like a toothbrush, deodorant, moisturizer or razor. If you don't trust your roommates not to use your shampoo or conditioner, you can buy a shower caddy with a lock mechanism.
Scroll on to find the best shower caddy that'll hold your shower supplies so you don't have to.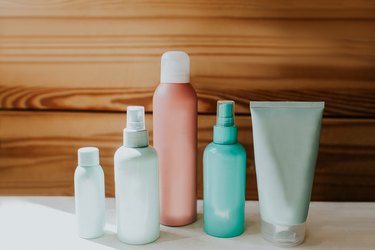 The Best Overall Show Caddy
mDesign Plastic Shower Caddy
Who knew shower caddies could be so attractive? This portable shower caddy from mDesign can hold a decent amount of toiletries and includes drainage holes. The shatter-resistant plastic caddy comes in 11 color options, clear with a rose gold handle being one of them. A see-through shower caddy makes it easier to take inventory of your items, but it does mean you'll have to clean it more often to avoid looking at grime. This design-forward caddy measures 6.78 inches long, 9.37 inches wide and 7.66 inches high.
The Best Budget Shower Caddy
Simply Essential Small Shower Tote
You can get this Simply Essential Shower Tote for the price of a pack of gum. That's a pretty good deal, considering you'll be using it all year long in your college dorm room shower. This storage basket will hold all of your shower essentials—up to 7 pounds of them—and it features a handle that makes it easy to carry. Each of the three compartments has drainage holes to help the water stay out. There are four color options: gray, yellow, white and teal. It can hold up to 7 pounds and measures 8.7 inches long, 8.7 inches wide and 7.8 inches high.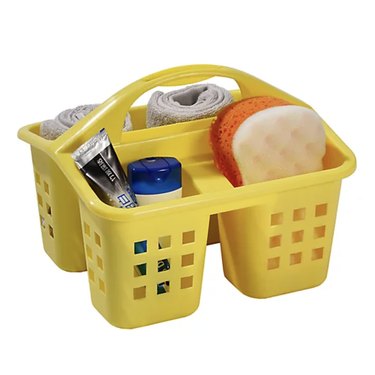 The Best Large Capacity Shower Caddy
If you're someone who needs all of your bathroom accessories with you in your college shower, from shampoo bottles to skincare essentials to a loofah to your hairbrush, this mesh shower tote can hold it all. The breathable, portable shower tote bag has eight outer pockets and one main compartment in the center to give you easy access to everything you need. The handles of the shower bag are long enough to hang on a shower hook so you can keep it within reach. If you keep the caddy hung when you're done using it, it'll quickly dry. Choose from 15 colors and patterns. Its dimensions are 8.76 inches long, 8.76 inches wide and 9.8 inches high.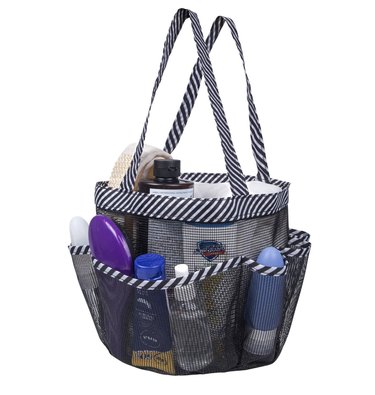 The Best Multipurpose Shower Caddy
Anyoifax Portable Shower Caddy
When carrying your shower caddy to your communal bathroom, you might as well do the shower walk in style. This caddy can hold your main shower essentials and look good while doing it. It features drainage holes in the shape of hearts and the bottom is raised to prevent your loofah from sitting in a puddle of dirty water. This shower caddy comes in eight colors with the option for circular drainage holes if hearts aren't your thing. Beyond toiletries, it can be used to carry and rinse produce or as a storage bin for kids' bath toys. The caddy measures 9.8 inches long, 6.1 inches wide and 6.5 inches high.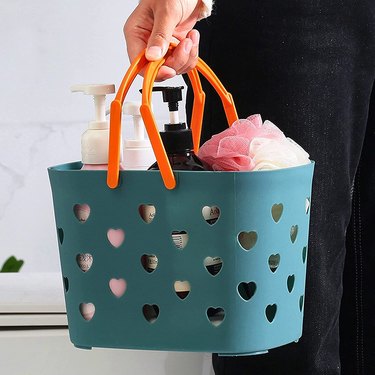 The Best Personalized Shower Caddy
DeetsDesign Dorm Shower Caddy
It's always fun to have personalized things when you're in college—especially to keep your important items separate from everyone else's when you're living communally. This BPA-free plastic shower caddy can be personalized with your name, initials and your college. You can choose the monogram style, the color of the caddy, the color of the letters and if any custom school logo is desired. Available caddy colors are navy, white, black, gray and clear. It has four storage compartments, drainage holes, a built-in handle, and measures 6 inches long, 9.75 inches wide and 6.75 inches high.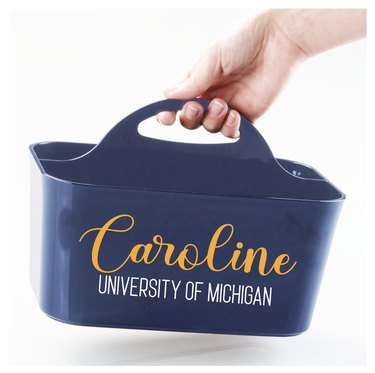 The Best Hanging Shower Caddy
Bukere Shower Caddy Tote Bag
There are several perks that come along with this portable shower caddy. It has a hook for easy hanging and easy accessibility. The bag is waterproof and the main compartment zips shut to keep things dry—like a change of clothes or your makeup. The bag features pockets galore, including two large compartments, three elastic bands, three medium elastic bands, two small elastic bands, two inner mesh pockets and two large side mesh pockets. It also has a front zipper pocket that's waterproof and transparent to safely hold your phone—whether it's to listen to music while you shower or just to have it nearby. The tote is available in three colors: gray, blue and purple. It's 9 inches long, 3 inches wide and 9.6 inches high.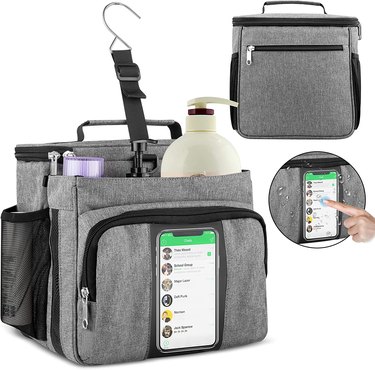 The Best Locking Shower Caddy
It might be dramatic, but if your roommate has a habit of taking your coveted expensive shampoo without asking, a shower caddy locker is the way to go. The plastic caddy can hold three or so full-size bottles, along with a razor, toothbrush and soap. It has an attached anti-fog mirror on the inside of the door and drainage holes on the sides and bottom. It comes with three commercial-grade suction cups, which makes it super easy to work with while showering. It also has a handle for easy carrying. The three-number combination lock is easy to customize and reset. The Shlocker measures 8.85 inches long, 4.48 inches wide and 10.36 inches high.
The Best Quick Dry Shower Caddy
DV Lifestyle Mesh Shower Caddy
Even if you try your best to keep everything dry, it's pretty impossible to keep moisture out of your shower caddy. This caddy is made with strong, breathable polyester mesh that lets the air circulate inside to help everything dry quicker. The caddy has two zippered pockets—one main compartment that keeps your large items in place and a smaller pocket to hold items like keys, a student ID or a razor. Choose from three colors: black, lilac or pink. It's on the smaller side at 9.9 inches long, 2.8 inches wide and 10.2 inches high, but can still hold plenty of items.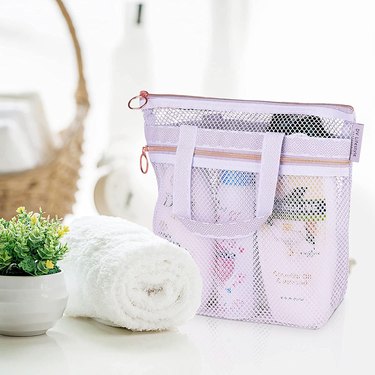 The Best Pop Up Shower Caddy
Handy Laundry Bathroom Organizer
While you might not use the pop-up feature of this bathroom organizer much since it'll probably need to hold your shower items at all times, it's still nice to have the option to fold the caddy completely flat when it isn't in use. Its long handle allows you to throw it over your shoulder to carry it to your dorm room shower, and it also allows plenty of space to hang it on a hook. There are three dividers in the main compartment that help you keep items separate. The durable mesh material is quick drying and will drain any excess water. The bathroom organizer comes in white, pink or orange. When popped up, it measures 8 inches high and 6 inches in diameter.