If like many people you spent more than a few months of 2020 transforming your sweatshirts and T-shirts into rainbow masterpieces, you know all about the wonders of tie-dye. It just may be one of the most fulfilling crafts ever. If you're looking to take your tie-dye technique up a notch or simply hoping for a fresh new twist on the classic '70s art form, look no further than the latest trend in tie-dye: shadow printing.
We know what you're thinking: What in the world is a shadow print, and does it involve vampires? Rest assured, shadow printing simply refers to a technique of tie-dye where instead of using dyes, you use the sun. You can think of it like processing negatives in a darkroom, only instead of using photograph paper, you're using a natural fabric, like cotton or silk.
The scientific name for the process is called cyanotype, and it's been around since 1841 and the advent of photography, believe it or not. Here's how it works. The cyanotype solution is a mixture of iron compounds dissolved in water. First, coat photograph paper or natural fabric with the cyanotype iron solution. Then, let it dry completely. Once it is dry and placed in UV light (sunlight), it oxidizes to create a beautiful Prussian-blue color. You can utilize the power of the sun to make prints from essentially any object that casts a shadow. Objects or negatives placed on the coated paper or fabric will create a shadow that won't oxidize, and voila—a shadow print is born.
You can recreate this beautiful art form on T-shirts, scarves, pillows, tote bags or home decor using a cyanotype set, which consists of pre-measured, pre-packaged cyanotype compounds from the art supply company Jacquard, which manufactures all kinds of art supplies, fabric dyes, fabric paints and screen-printing supplies.
Tip
Although the cyanotype print solution produces a spectacular blue, you may wish to branch out and create a shadow print or photogram (solar prints of plants) in a different color. In that case, you can use Jacquard SolarFast dye, which creates shadow prints in 14 different colors. Choose from golden yellow, orange, burnt orange, scarlet, red, violet, purple, blue, teal, green, avocado, sepia, brown or black.
Like the Jacquard cyanotype solution, the Jacquard SolarFast solution is painted onto the fabric in the dark, but there is no need to wait for the fabric to dry before creating the shadow print. Simply place objects or plants onto the wet fabric right away and then let the sunshine work its magic.
Both products are easy to use, and it's a fascinating process to witness for both children and adults.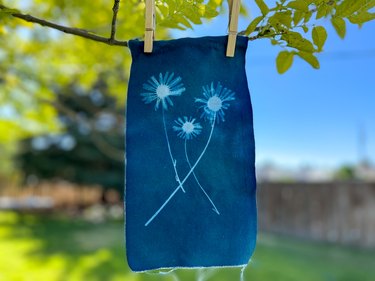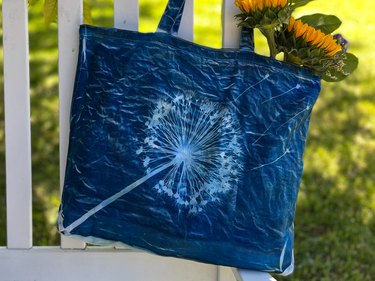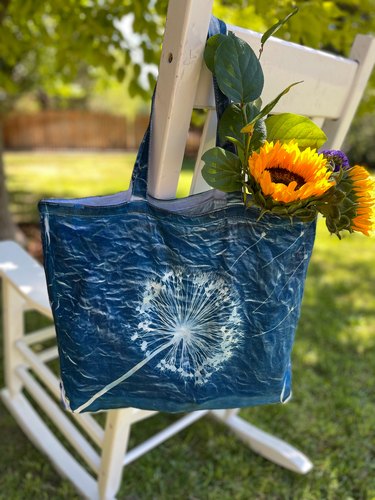 Things You'll Need
Measuring cup

Gloves

Glass or plastic container

Foam core board

Foam brush or paintbrush

Paper towels

Natural fabric or textiles, like cotton, linen, silk, canvas or leather

Pressed flowers

Jacquard SolarFast film (optional)

Glass or plexiglass

4 large binder clips

Tub

Hydrogen peroxide (optional)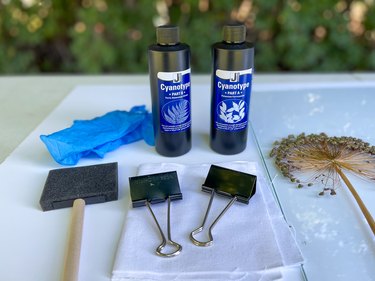 1. Mix the cyanotype solution and apply it to the item you're printing
Fill each of the cyanotype bottles with water, shake to combine and let the cyanotype solution sit for 24 hours to make sure the pigments are dissolved. Set up your workspace in a dark area away from any UV light (sunlight) so the liquid won't activate. Be sure to wear gloves while mixing and using Jacquard SolarFast and cyanotype dyes in order to keep the fabric dye from tie-dyeing your hands. Then, mix together equal parts from each bottle in a glass or plastic container. Only mix the amount you'll be using for your sun print project since the mixture will only be effective for two to four hours.
Place the fabric you'll be using onto a foam core board and use a foam brush or paintbrush to paint the fabric with the cyanotype mixture. You don't need to saturate the fabric; just cover one side. Let the fabric completely dry in the dark.
If you happen to have any leftover solution, you can paint an extra tote, T-shirt or other natural fabric with the cyanotype mixture. Let it dry and keep it in an opaque container or envelope to make some solar prints in the future.
Tip
If you're using the Jacquard SolarFast dye, you can skip the mixing part because the fabric dye comes already mixed in a single bottle. You will still need to coat the natural fabric in a dark area, but you don't need to wait for it to dry before you place objects onto it and set it in the sun.
2. Place items on the cyanotype fabric to create a shadow
For this next step, continue to work in an area away from UV sunlight. Place objects, stencils, flowers, film negatives, or leaves onto the dry cyanotype fabric to create a shadow print. If you'd like to create your own negatives for sun printing, you can purchase Jacquard SolarFast film. It is a negative generator you can create using an ink jet printer.
Tip
If you're using the SolarFast liquid, place the objects onto the wet fabric.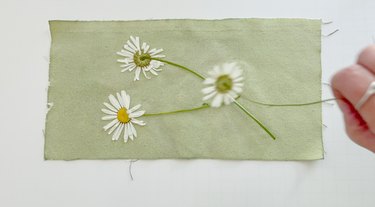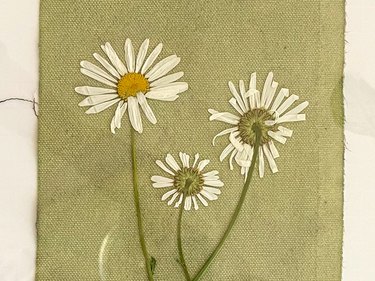 3. Hold items in place using glass or plexiglass
Place a piece of glass or plexiglass over the flowers to keep them in place as the sun works its magic. Clip together the foam core board, fabric, flowers and glass layers using large binder clips.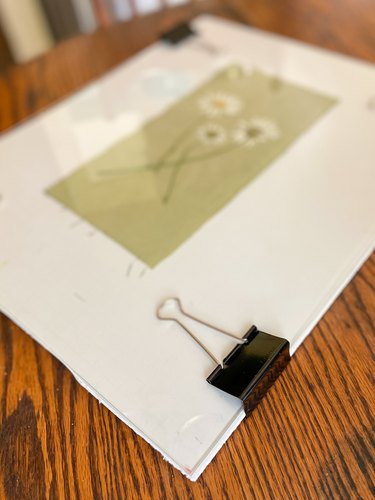 4. Set the cyanotype fabric in direct sunlight
Carefully place the fabric in direct sunlight. Cyanotype solar prints will take about three to 15 minutes to process. Be sure to leave the fabric in the sun for enough time to process, as undeveloped dye won't turn into as striking of a blue color.
Tip
The exposure time for a SolarFast print will be 10 to 25 minutes depending on the conditions. The print will have a sepia bronze color once it's ready.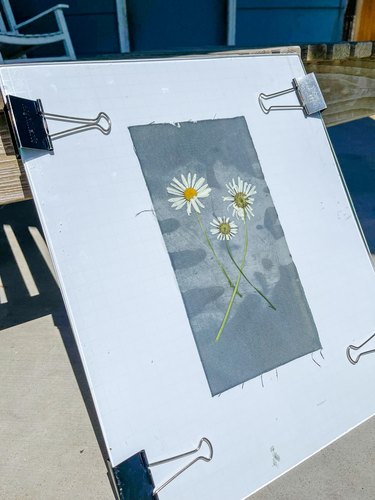 5. Watch the magic happen when you rinse
After the print has been exposed to the UV sunlight, carefully remove the clips, glass and flowers. Don't worry if you don't see the entire print yet; it will start to appear as you begin the rinse process. For the cyanotype, place it in a tub of cool water. As you rinse the fabric, the water will start to turn green. When this happens, replace the water and continue to rinse with fresh water. Keep changing out the water until no green remains.
Tip
If you're using the Jacquard SolarFast dye, you'll need to machine wash the fabric in hot water and SolarFast wash.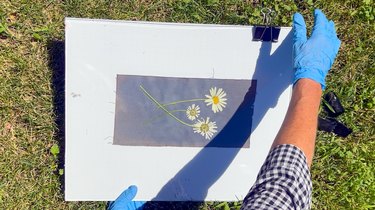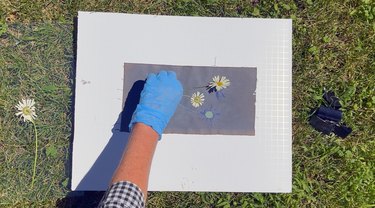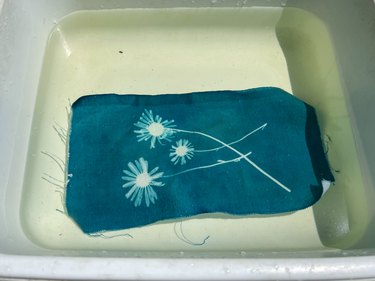 6. Air dry or use hydrogen peroxide to speed up the oxidation
You can air dry the cyanotype solar print for 24 hours, or for some added wizardry, squirt a little hydrogen peroxide into the water to instantly oxidize the print.
Tip
If you'd like to machine wash your cyanotype masterpiece, read the label on your detergent or soap carefully to be sure it doesn't contain any phosphates, bleach or sodium. Test wash a small piece of fabric before you clean your sun-printed pillow, scarf, T-shirt or artwork to make sure it won't fade.
If you used the Jacquard SolarFast dye, you can use three to four capfuls of Jacquard SolarFast wash for machine washing. Set the washer to the hot setting for best results.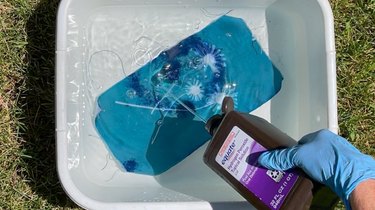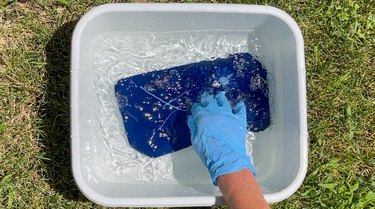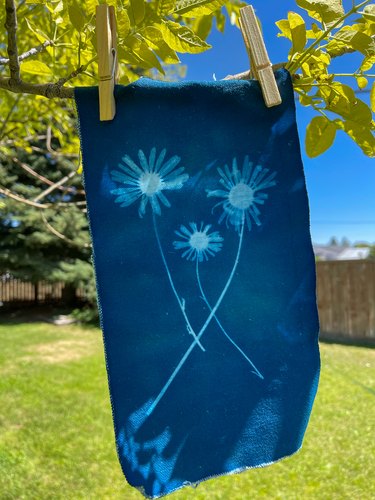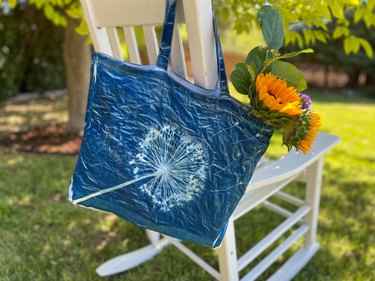 Cyanotype vs. SolarFast
| | |
| --- | --- |
| Cyanotype prints are always a beautiful deep-blue color. | SolarFast comes in 14 different colors. |
| Cyanotype prints are made on dry fabric. | SolarFast prints are made on wet fabric. |
| Cyanotype exposure times are short (three to 15 minutes). | SolarFast exposure times are longer than cyanotype (10 to 25 minutes). |
| Cyanotype prints are processed in cold water after exposure, and hydrogen peroxide can be used to speed up the oxidation process. | SolarFast prints are washed in hot water after exposure. |
| Cyanotype printing is an easy, very forgiving process. | SolarFast printing has a bit more of a learning curve. |