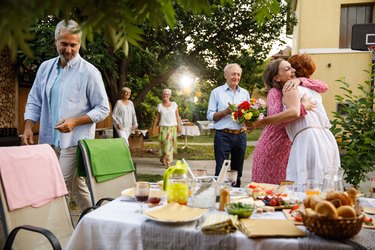 Eating outside is always nice, but it does come with some potential downsides. Like bugs. Nobody enjoys seeing flies and gnats crawling on their food—especially if you start thinking about the other stuff they may have crawled around on beforehand. And if it's windy out, there's the chance of leaves, dirt or other debris blowing onto your food.
Whether you host barbecues, cookouts, pool parties or other outdoor parties, enjoy patio dining with the family, take camping trips, go on outdoor picnics, have an outside reception, or otherwise have food sitting around vulnerable to insects and the elements, food covers for outdoor dining are a great solution.
There are lots of products on the market for this purpose, and many of them are very similar. This buying guide will help you pick out the best food covers for outdoor dining based on your needs and preferences.
Things to Consider When Purchasing Food Covers for Outdoor Dining
​Style:​ Most outdoor food covers are reusable and collapsible tents with metal or plastic frames and fine nylon mesh that lets you see the food inside while keeping out bugs and debris. Some are made of metal like stainless steel or chrome, which can seem more elegant and also aren't at risk of blowing away. You want a really fine mesh that can even keep tiny fruit flies at bay.
These products are generally pop-up food domes that operate like an umbrella. They should have enough weight to not blow away, but also be easy to quickly lift up to remove food. You can use them indoors too of course, and even over plants in your garden if bugs, birds, rabbits, deer or other wildlife eat your herbs, fruit or veggies.
There are also shower cap-type plastic covers you stretch over dishes. They're solid rather than mesh, so as long as they secure tightly under the dish, they're basically foolproof at keeping bugs out. However, they sometimes put pressure on the food, so they're not always suitable for things that can get smooshed or are nicely garnished or decorated. Also, they're more of a hassle to remove and replace when serving the food. And there are other styles, like collapsible plastic containers and novelty items; look at how easy they are to open and close before choosing one.
​Size:​ Food covers come in a wide range of sizes. As for food tents, you can get small ones that just go over an individual plate or bowl. But standard-sized mesh food tents are 17 by 17 inches, large enough to accommodate full-size dinner plates and smaller serving platters and bowls. And then there are larger mesh food covers—typically going up to around 40 inches by 25 inches—that fit over multiple serving vessels. Also, take note of the height; some food covers only encompass a plate or shallow bowl, while others can sit safely over a multi-tiered cake or serving platter.
​Single or Set:​ Depending on how much food you usually want to protect, you may only need a single, larger food tent. But food covers are typically low priced, and you can get sets of two, four, six or more smaller ones for the same or less money as one big one. In addition to more capacity, this gives you more flexibility when setting up for multiple people. And since they're collapsible, they hardly take up any storage space. So, unless you only need to cover food for a few people, it makes sense to buy a set.
These factors will help you pick out the best food covers for outdoor dining.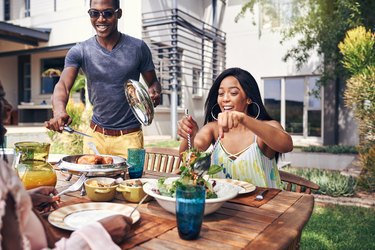 The Best Overall Food Covers
Simply Genius Pop-Up Mesh Food Covers, 6-Count
This set of six high-quality reusable food covers equips you to protect plenty of food at a great price. The pop-up tents are 17 by 17 inches square and 9 inches tall. They'll cover full-size dinner plates and many standard serving platters, and the extremely fine mesh keeps out bugs of all sizes. The attractive lace edging isn't just for aesthetics; it also helps prevent insects from crawling in underneath. These collapsible food tents are quick and easy to operate by pulling the drawstring to open them and pushing down on the top to collapse them. They sit sturdily and they'll last, as the frame and netting are durably made.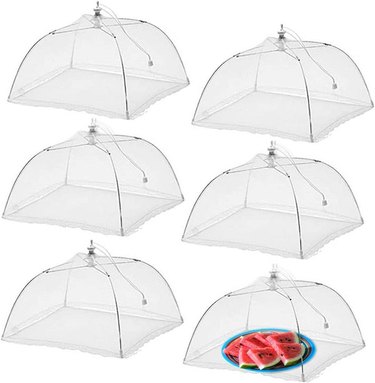 The Best Budget Food Covers
BaoHang Pop-up Umbrella Mesh Food Tents, 6-Count
While our top pick is very budget-friendly, here's a comparable option that saves you a few bucks. It's another set of six, and they're similarly sized at 17 inches square and 8 inches tall. They feature an exceptionally fine nylon mesh and a decorative lace frill around the base that safeguards against crawling bugs. These collapsible covers have a user-friendly, umbrella-style mechanism for opening and closing. The set includes two of each color (blue, yellow and white) food tent to add a little pep to your outdoor setup, and these products are easy to hand-wash as needed.
The Best High-End Food Cover
If you'd like to spend top dollar on a more attractive outdoor food cover, this is an elegant option, gold in color and enhanced with upscale decorative touches. It smoothly opens and closes similarly to an umbrella, and the tightly woven mesh and protective material around the bottom reliably protect the tent's contents while allowing ventilation and a view of the food. This model is amply sized at 17 by 17 inches, and the wire frame is well constructed, so you can count on your investment to hold up over time.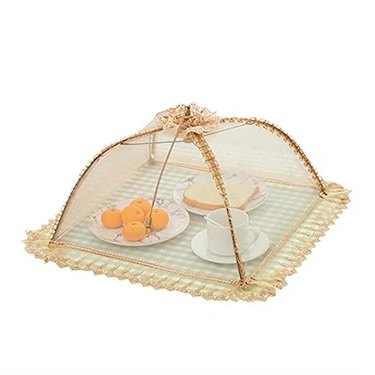 The Best Large Food Covers
Lauon Extra-Large Mesh Food Tents, 3-Count
For anyone who needs more capacity than standard-sized food tents, this set of three extra-large ones should appeal. At 40 by 26 inches around and almost 20 inches high, they'll encompass plenty of plates, bowls, serving trays or other dishes. They have the fine nylon mesh and protective base you want, as well as the sturdiness to stay put and user-friendly, umbrella-style opening and collapsing. You also get a convenient storage and carrying bag for the tents, which are easy to rinse off and wash by hand.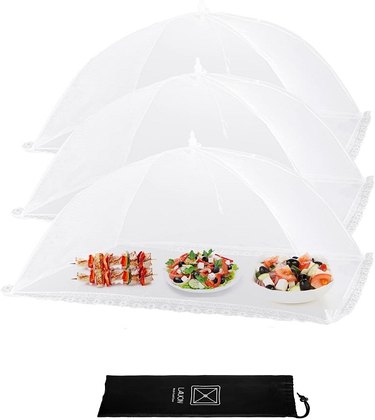 The Best Assorted Set of Food Covers
Chefast Pop-Up Mesh Food Cover Tents, 5-Count
While most sets of pop-up umbrella food covers come with pieces that are all the same size or just two different sizes, this one comes with five pieces that are all different sizes. This gives you more flexibility for arranging without wasting space. You get one large (16.5 x 16.5 x 10 inches), one medium (14 x 14 x 8.5 inches), one small (12.5 x 12.5 x 8 inches), one extra-wide (24 x 24 x 10 inches) and one extra-tall (16 x 16 x 11 inches). The netting and zinc-plated steel wire frames are durable, there are protective flaps around the base and you get a handy carrying bag—all at an excellent price point!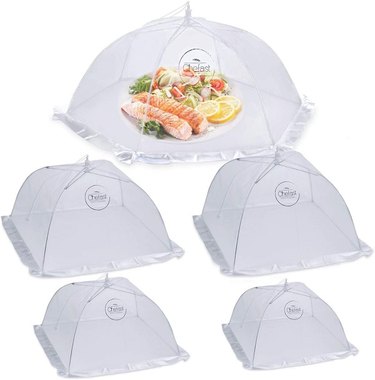 The Best Elastic Food Covers
Mwellewm Plastic Wrap Bowl Covers, 60-Count
If you prefer the enhanced security of stretchy, solid plastic covers, this is a great set at a great price. You get 20 pieces in three different sizes (7, 8.3 and 10.2 inches in diameter) and in three different colors (green, yellow and pink). But they're translucent, so you can still see what's underneath. These covers don't just protect food from bugs and the elements, either; they create an airtight seal to help keep food fresher longer.
The Best Stainless Steel Food Cover
Hemoton Stainless Steel Food Protector, 1-Count
For a higher-end look, no chance of having your food cover blow away, and a more durable, long-lasting product, this large, black stainless steel option fits the bill. It has an effective fine mesh, and it sits flush on the table or countertop, eliminating the potential vulnerability to crawling bugs you have with other products that use fabric flaps around the base. At about 18.5 by 13.5 by 6 inches, it accommodates full-size dinner plates and many standard serving platters. It can be easily hand-washed, and the stainless steel is rust- and corrosion-resistant.
The Best Food Covers for Camping
Iconikal Folding Mesh Food Tent, 2-Count
These outdoor food covers look a lot like little camping tents, but that's not the only reason they're good for taking into the wilderness. Unlike most food tents, these have a base layer, so you can place them right on the ground and your food is protected. This also means the food inside acts as an anchor to prevent the covers from blowing away. Since you can't just lift them up to access the food, there's a zipper door. The food tents quickly and easily pop up and collapse for compact storage. You get two amply-sized tents measuring 40 by 21 by 16 inches, and they come at a very affordable price.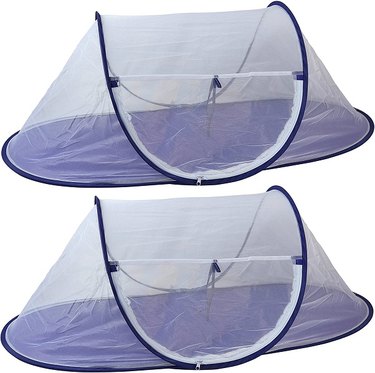 The Best Food Cover for Picnics
SKEMIX Bamboo Food Tent Basket, 1-Count
If you enjoy picnics, you'll really enjoy this sizeable bamboo food cover that doubles as a picnic basket—and looks the part. The exceptionally fine mesh even keeps fruit flies off your food, and the product is both durable and lightweight. The cover retracts for easy access to the contents and for compact storage. All in all, it's highly functional and effective for a novelty-style outdoor food cover, and the low price and high quality make it a smart buy.