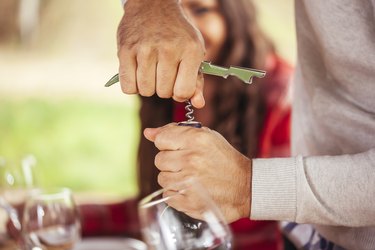 Even if you don't drink wine very often, no home bar is complete without a corkscrew or some other form of wine opener. Whether you're a casual drinker or a serious wine enthusiast, no other wine accessories—no wine aerators, no fancy decanters— matter at all if you can't actually uncork your wine.
The best wine bottle openers can vary widely in style, function and ease of use, but any of them should be able to extract natural or synthetic corks from your bottles efficiently. Wine lovers can and will argue endlessly over which style of cork puller is best, but the truth is that everyone will have a different answer to that question. To help you choose what's right for you, we've compiled this handy list of seven top openers and explained what sets them apart.
What to Consider When Purchasing a Wine Opener
‌Frequency of Use:‌ How often do you open a bottle of wine? If your opener will be used daily, it makes sense to splurge on something costlier, but more robust and efficient. If it will only see occasional use, you might want to prioritize compact size and easy storage.
‌Type of Opener:‌ The classic waiter's corkscrew is elegantly simple, and efficient when used by skilled hands, but not everyone has those. If you won't be opening enough bottles to become skilled with a waiter's corkscrew, you might be better off with something easier to operate, such as a lever-type or electric wine opener. That's especially true if you're coping with physical issues such as arthritis, which can make opening bottles a challenge.
‌Physical Size:‌ Even bartenders don't open wine bottles all day, so your bottle opener will spend much of its time in storage. That means you'll need to give some thought to the size and shape of your opener, and how well it will fit into your kitchen (or more specifically, your drawers). Some lever-type openers are surprisingly large, and electric wine openers—and their charging stands—typically need to have a permanent place on your counter. It's something to think about.
‌Thoughtful Details:‌ It's the little things that make the difference between a functional bottle opener and a great one. Many include a foil cutter, for example, because you'll need to remove the foil before you even get to the cork. Top designs typically are more comfortable to hold and use, because they're created with ergonomics in mind. The best wine openers are also better-made than their competitors and should hold up better in long-term use.
The Best Overall Wine Opener
OXO Double-Lever Waiter's Corkscrew
If you're prepared to invest a bit of time in learning to use one, nothing matches a good-quality waiter's corkscrew for functionality and sheer practicality. It's small enough to fit in your pocket—let alone a kitchen drawer—and works beautifully for its intended task. This one from OXO is a near-perfect example of the style. It's sturdily constructed from durable stainless steel, with the kind of comfortably ergonomic padded grip you'd expect from OXO.
The corkscrew itself has a non-stick coating to help it glide easily through corks, and the foil knife folds neatly into the handle. There's even a bottle opener built into the handle, for the beer drinkers in your crowd. Most importantly, it's what's called a double lever or double hinge design. That means there are two notches to grip the side of the wine bottle: One to begin drawing the cork from the bottle, and one to pull it the rest of the way. Once you've mastered the technique, opening wine this way takes just seconds.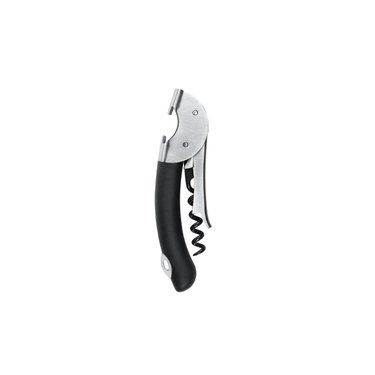 The Best Budget Wine Opener
True Fabrication Truetap Double-Hinged Waiter's Corkscrew
It's nice to have a well-made, functional corkscrew that's priced modestly enough to take with you everywhere, or maybe even leave behind as a hostess gift when you bring a bottle of wine. This wine key is less polished than our top pick, OXO—it's not as sturdily made and the handle isn't as ergonomic—but it's still better than most low-priced alternatives, and its stainless steel construction should last years in normal use. Like the OXO it's a double lever design with a foil knife built into the handle, and it also doubles as a bottle opener for beer. The worm also has a nonstick coating, to ease through both natural corks and artificial ones. Just be aware that there are a lot of counterfeits out there, so it's best to buy from True Fabrication's own Amazon store.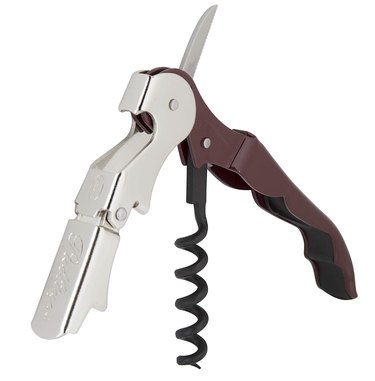 The Best Wing-Type Wine Opener
This is the kind of wine opener many of us grew up with, and in some respects, it's easier to use than a waiter's corkscrew. As you twist the corkscrew the opener's arms lift up like wings, and then you press them down again to open the bottle. You don't have to worry about centering the worm properly on the cork—as you do with a waiter's corkscrew—because the opener has a collar that fits neatly around the neck of the bottle. The working portion of the corkscrew is different as well, in the form of a miniature flat-bladed auger rather than a spiral "worm." With dry or crumbly corks, that can increase your odds of easing it from the bottle in one piece.
This unit from Beneno is better-made and more compact than most rival designs, and it's even a bit stylish. The competing model from OXO is more striking to the eye and it includes a foil cutter (the Beneno doesn't), but it loses out in this category because of its higher price and bulkier design.
The Best Twist-Style Wine Opener
Brabantia Classic Corkscrew Bottle Opener (Matte Steel)
If you haven't mastered a waiter's corkscrew and the wing type feels clumsy to you, a simple twist-type corkscrew wine opener might be just the thing for you. The principle is pretty straightforward: The device fits neatly over the bottle's lip and you keep turning the screw until it lifts the cork out. Some of these gadgets look like medieval torture devices, but this one from Brabantia is sleek, compact and stylish. The cylindrical barrel of the device is just slightly larger than the neck of a wine bottle (so it's good for small hands) and the thumbscrew that works the worm is large and easy to turn. There's even a foil cutter integrated into the thumbscrew, a nice touch that's not necessarily included with a lot of competing models. When you're not using it, the simple design means it will fit quite happily into the nearest drawer and—your fingers will appreciate this—the spiral worm is safely concealed inside its housing.
The Best Lever-Type Wine Opener
OXO Steel Vertical Lever Corkscrew
When you want to open wine bottles with maximum speed, ease and efficiency, nothing rivals a lever-type opener. You simply push the lever down to plunge the worm into the cork, then raise it to remove the cork (and repeat the motion to eject the cork). The best-known brand in this niche is Rabbit, but the OXO Vertical Lever Corkscrew edges out the market leader in the thoughtfulness of its design.
While they're similar overall, OXO's lever is slightly more comfortable to use and the body of the device (the part you hold onto the wine bottle with your other hand) has a comfortable ergonomic grip. The Rabbit comes with a foil cutter, but OXO found a clever way to attach a removable foil cutter neatly to the corkscrew itself so it won't wander away and get lost after the first use. Both include a spare worm, for when your first (eventually) wears out or breaks. The only downsides are the relatively high price point and the inarguable fact that this type of opener—with its big lever—is inconvenient to store in a kitchen drawer.
The Best Electric Wine Opener
Oster Cordless Electric Wine Bottle Opener
For those who might not have the strength or dexterity needed with manual wine bottle openers—or those who simply want the maximum in convenience—there are electric models to choose from. Those come in a range of designs and price points, but it's hard not to like this offering from Oster. It's a sleek cylinder with a compact charging base, and the rechargeable battery is good for about 30 bottles on a single charge. FYI: It doesn't need to be on the charger between times, so they can both be put away for convenience.
It couldn't be easier to use. Hold the opener to the top of the bottle with one hand, and hold the bottle with your other so it doesn't spin. When you push the button, an electric motor screws the work into the cork and stops once it's extracted. It's basically a powered version of the twist-type corkscrew and has enough oomph to wrangle even the most stubborn corks. The Oster has a foil cutter nested at the back of the charging base, for convenient storage, so it ticks all the necessary boxes. There are showier rivals with colorful lights and fancy features, but this one does everything it needs to at an affordable price point.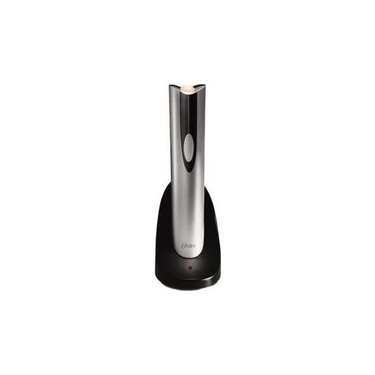 The Best Wine Opener for Vintages
Durand Two-Part Cork Remover
There's a niche cork removal tool commonly known as an "ah so" opener. It consists of two thin steel prongs that slide between the cork and the bottle, and—when twisted— allow even an old and brittle cork to be safely removed. It's the kind of thing a sommelier might use with an especially prized bottle. Unfortunately, some corks are too iffy even for this opener type, and they tend to be the oldest and most valuable of bottles.
This Durand cork remover, named for a renowned sommelier, is the answer to that problem. It combines a basic corkscrew with a nonstick screw, and an "ah so" tool. The two clip together for easy storage, but are used separately. First, you'll center the corkscrew on the cork and wind it in, until the handle meets the top of the bottle. Next, you'll set the ah so at right angles to the corkscrew's handle, and wiggle the two prongs down between the cork and the bottle. When it's all the way in, the handles of the two tools will lock into each other, creating an X-shaped grip. Gently twist it and pull, and even the oldest and most damaged corks can usually be extracted in one piece. It's the costliest gadget in our roundup, but if you have the privilege of regularly uncorking older bottles—or know someone who does—it's absolutely worth it.