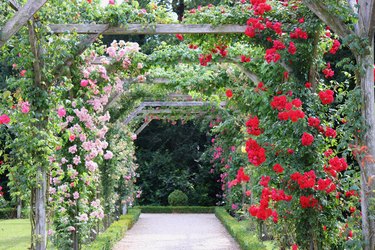 Whether you call them vines or climbers, they all need some type of support so they can truly shine in the landscape. When it comes to climbing plant supports, gardeners have a wealth of choices ranging from those strong enough to hold thicker branches, like those of wisteria (Wisteria spp.) to those supporting flimsier climbing plants like morning glories (Ipomoea purpurea).
If you're looking for a plant support for your houseplants or outdoor plants, or you want one that blends into a particular design, there's something fitting everyone's needs and desires. However, there are several important aspects of climbing plant supports that need consideration before rushing out and buying one. We've outlined some important points to consider when purchasing a plant support and suggestions covering all types.
What to Consider When Purchasing a Climbing Plant Support
​Research Plant Using the Support:​ It's important to consider the plant that will be using the plant support so you purchase one that's suitable. Do a little research and find out how tall and wide the plant gets at maturity. Will it grow inside the home or as a garden plant? Plants grown as houseplants don't grow as large as when planted outdoors. You want to make sure to buy a sturdy support able to hold the plant that will be using it.
Even some plants grown in a vegetable garden perform better with some type of support. Although not a true climber, some types of tomatoes produce stems so long they require some type of support like a tomato cage or plant support stakes. Others like runner beans, squash and cucumbers will happily grow on a garden trellis or DIY supports made from plant support stakes and garden twine. Knowing the growth habits of the plants assures you're making a suitable choice.
​Support Durability:​ An important consideration when researching plant supports is how durable the support is. Will you be using it outdoors in the elements or will it be used indoors? This is another reason why it's important to know the particular plant's growth habits so you purchase suitable support.
You want to make sure whatever type of support you select is large enough for the plant to grow to its full potential and sturdy enough to hold it. The last thing you want is everything collapsing because it wasn't strong enough to hold the branches. If you'll be using the support outdoors in the garden, make sure it is durable enough to stand up to the elements like wind, rain, heat and snow.
​Guiding Supports:​ Many types of climbers and vines, even those with tendrils, require some help guiding the branches and stems in the right direction. Check the vines regularly and situate the ends in the direction you want them to grow. You can keep the vines where you want them to stay on the plant support by using clips or twine. Just be sure not to use clips that are too small or tie the garden twine too tight to prevent damage. You want to make sure the branches and stems have enough space that they can grow through the clip or support without damage. Keep the guiding support loose enough for new growth to easily grow through its center, but tight enough to the support structure to hold everything in place.
​Support Style:​ When selecting a style of climbing plant support, consider where you'll be placing it and what it's being used for. If you'll be trellising a flowering plant like climbing roses by an entranceway, you might want to go with a bit of a fancier look. Something like a garden arch or fancier trellis will make the location pop not only with color but a bit of style.
If you desire to draw the eye's attention to a particular landscape location, going with a pergola, obelisk, garden arch or even a well-placed trellis will do the job. Whether you want something basic or more eye-catching, all of these supports come in a wealth of different styles and materials.
To elevate the look of your vegetable garden, a garden arch with a vining vegetable crawling up it will add a bit of style to the area. Although plant cages, teepee supports, and plant support stakes work well for vining plants, you can add a bit of flair to your vegetable garden with the addition of arches and a trellis.
The Best Moss Pole Climbing Plant Support
This package of HuiPoLii moss poles comes with three 26-inch moss poles and two hemstitch plant ties. Rather than standard straight moss poles, these poles are bendable so you can produce the plant shape you desire. The bendable poles are hand covered in 100% forest sphagnum moss, which retains moisture for the roots of climbing plants attached to them.
These moss poles are the perfect solution for giving support to houseplants like monstera and philodendrons and are a suitable length for any small to medium-sized climbing plant. You can use the included plant ties to secure your plant to the pole. Using these moss poles is a breeze, as all you have to do is plant the stake into your container of soil, plant your plant and secure it to the moss pole if needed.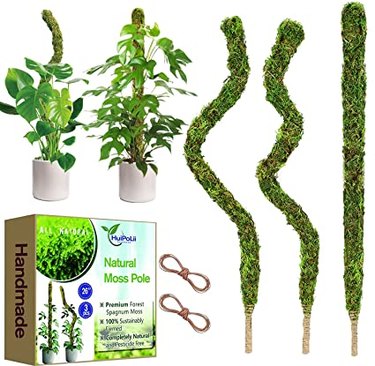 The Best Plant Cage Plant Support
Hydrofarm GCTB2 Heavy Duty Tomato Barrel with 4' Tower
The Hydrofarm tomato barrel and tower not only comes with a cage, but also includes a 14-liter self-watering container perfect for growing a tomato plant or other vining vegetable. With an adjustable tower, you can add sections as your plant grows, which allows it to grow to 4 feet tall. The tower comes with 16 vertical risers, as well as 16 horizontal cross bars. You also won't have to stress if you forget to water because the round tomato barrel holds 1.3 gallons of water and will continue to keep your plant's roots and soil moist.
This tower's size is perfect for those who only have a small space to garden, like an apartment patio, and it's durable and sturdy enough to hold heavy-yielding vegetable plants. The tower can also work as a trellis for flowering plants. You won't have to worry about disturbing things when you water because the watering port on the container makes feeding or watering plants almost effortless.

The Best Expandable Trellis Climbing Plant Support
GLANT Willow Expandable Trellis Fence
This package contains two GLANT expandable trellis fences made out of durable 100% willow. When fully closed, the trellis measures 11 by 14 inches, but when it's expanded, grows to 22 by 120 inches, making it suitable for using vertically or horizontally, depending on the plants you're using it for. Each willow stick making up the trellis is 1/4 to 3/8 inches thick and held together by durable rivets that are turnable.
The expandable trellis is easily attached to most surfaces, whether attaching to posts, fencing or a structure wall. You can use the trellis for climbing plants, adding a bit of greenery and privacy used as fencing for a deck or patio area, or used as a divider. The best thing is you can adjust the trellis' size for your personal needs.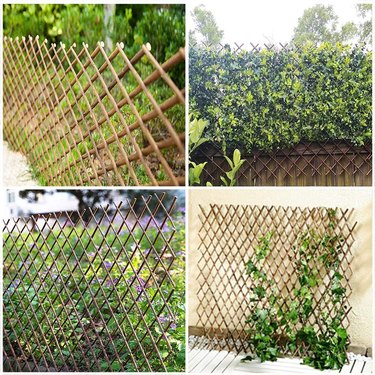 The Best Obelisk Climbing Plant Support
APSOONSELL Garden Obelisk Trellis
If you're looking for a bit of style in a plant support, then the APSOONSELL Garden Obelisk Trellis just might work for you. The obelisk is durable, as it's made from wrought iron and then coated in plastic. It offers sturdy support with the cross arms that can be deeply planted into soil. The obelisk legs are adjustable so you can place it how you like, and its height is also adjustable so it can grow taller as your vining plant grows. The rust-proof plastic-coated steel tubes allow you to adjust the height or change the design shape to a tomato cage, tripod trellis or garden tower. At the very top is a Fleur-De-Lis, adding a bit of design style. When fully assembled, the obelisk is 47 inches tall and is suitable for use indoors, outdoors or placed inside a large enough plant pot.
The Best Arbor Climbing Plant Support
The OUTOUR Garden Arch Arbor offers great durability and is a good choice for your climbing plants to add a bit of attractive style to your landscape. Made out of sturdy wrought iron and coated in a weather-resistant black epoxy, the arbor can easily be secured in place with stakes that go deep into the ground. In addition, the lack of joints make the arbor able to stand up to windy conditions without falling over, and also makes it easy to put together. Aside from the arbor's durability, it has an elegant and classic design with scrolls on each side that are sure to bring eye-catching appeal wherever the arbor is placed in the garden. The arbor stands 84 inches tall, 48 inches long and 23 inches wide.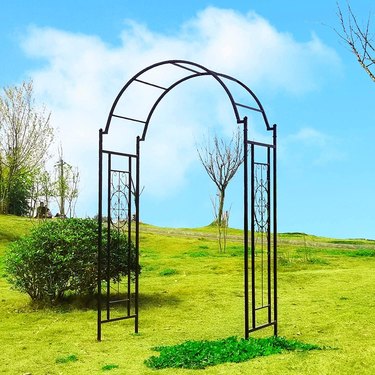 The Best Support Stakes for Climbing Plants
Linyona 24 Pack Half Round Metal Plant Stakes with Plant Labels & Plant Clips
With the Linyona value 24-pack of half-round metal plant stakes, you also get 10 large plant clips, 10 small plant clips, 20 plant labels and 20 twist ties, so you get everything you might need to stake and label your plants. The plant stakes are made from plastic-coated steel that resists fading, is resistant to the weather, is rust-proof, is reusable and lasts longer than wooden plant stakes. They are 4 millimeters thick, 10 inches wide and 16 inches tall, allowing enough space for the bottom of the stake to be secured into the soil. They support plants growing up to 3 feet tall. The support stakes are useful indoors or outside working well for plants like tomatoes, peonies, orchids, plus many more.
The Best Small Trellis for Potted Climbing Plants
ZEKO Plant Trellis Climbing Plant Support 2pc.
Not every vining plant requires a large trellis, as some grow well in small pots and need only a small trellis for support. The ZEKO plant trellis is suitable for houseplants or outdoor plants and is the perfect size to fit right inside your plant's pot. Best of all, the package comes with not one but two trellises, along with added plant clips. With its modern honeycomb design, the small trellis is sure to dress up any location where it's used. It's made from iron with an anti-rust coating, is black, and stands 18.1 inches tall and 11.8 inches wide, making it useful for smaller climbers. The trellis is easy to use, as all you do is push both the capped legs into the soil in the plant pot. This trellis is just the right size for use in smaller containers and is sure to bring a bit of style to any location where it's used.