Millions of tons of old clothing end up in landfills every year. When you're cleaning out your closets and find outgrown or outdated things that aren't in good enough shape to donate to a thrift store, make them useful again through upcycling – with no sewing machine required. No-sew clothing hacks let you practice sustainability and flex your creative muscles at the same time.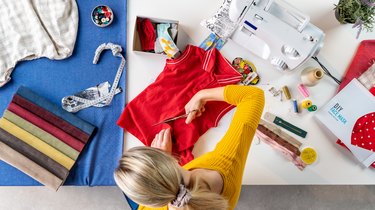 Maybe they're stained, ripped beyond repair or no longer fit – no matter why you're getting rid of them, your old jeans can be upcycled in tons of ways. One easy no-sew idea is to make a simple fold-over clutch purse using nothing more than jeans, a pair of scissors and a hot glue gun. Embellish the clutch with the zippers, buttons or other pieces cut from the jeans.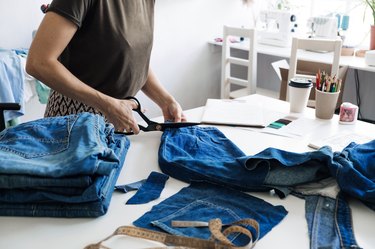 2. Turn Sweaters Into Mittens
Making these cozy "smittens" does require a little hand stitching, but even someone with beginner sewing skills can tackle it. It's a brilliant, crafty way to reuse an old sweater that you love but can no longer wear. Add a soft fleece lining for extra comfort. Handmade mittens are a practical way to refashion your old clothes, and they can make a thoughtful DIY gift.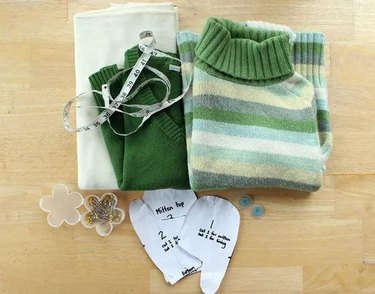 3. Convert a Shirt Into a Cardigan
If you have a long-sleeved shirt that you love but it feels a little tight, give it a new look and new life by turning it into a lightweight cardigan. Cut up the middle of the shirt and use iron-on hem tape to create a neat hem on either side of the opening. Wear it as an open-front cardigan or if you have some basic sewing skills, add buttons and button holes too.
4. Make a T-Shirt Tote Bag
Turning an old T-shirt into a no-sew produce bag lets you repurpose a beloved shirt and cut down on plastic bag use. This is one of the easiest no-sew projects for beginners. It's as simple as cutting off the sleeves and neckline, cutting slits into the shirt hem and tying the strips into knots. (You could also cut up an old slip dress for this project.) Bring T-shirt bags to the farmers' market to collect your haul.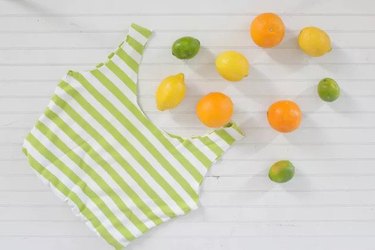 5. Turn T-Shirts Into Plant Hangers
Once they're woven together, strips of old cotton T-shirts are surprisingly sturdy – sturdy enough to cradle your potted plants. Make a DIY macrame-style plant hanger from long strips cut from T-shirts. The process is simple enough that even a child can learn to weave these hangers with the help of a video tutorial.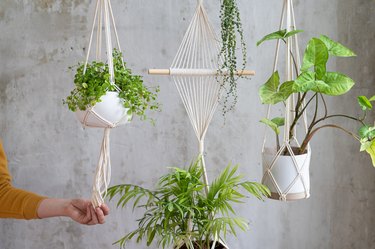 6. Turn a Sweater Into an Infinity Scarf
Converting a soft and fuzzy sweater into a cozy infinity scarf is one of the easiest upcycling DIY projects you could possibly attempt. It's as simple as cutting off the sleeves, shoulders and neckline from the sweater. Once those are removed, the torso portion becomes a square or rectangular tube of fabric that can be wrapped and twisted around your neck. You want plenty of give, so a stretchy knit sweater makes the best infinity scarf.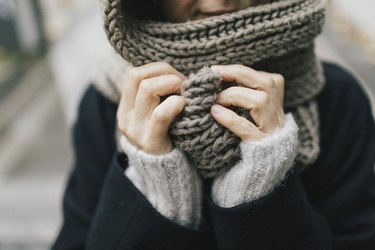 7. Create Boot Socks and a Neck Warmer
Here's another way to turn a cozy sweater into a cozy neck warmer. It does take a little machine sewing to repurpose a warm button-up cardigan into a stylish cowl neck warmer, but this tutorial also includes basic instructions for making no-sew boot socks from sweater sleeves. (Spoiler alert: It's about as easy as a project gets.)
You're going to love digging your toes into a knotted rug made from soft, colorful old T-shirts. This is a time-consuming project, but it's an easy one. Start with a nonslip floor mat that's designed to go under a rug. (Be sure to choose a rubber mat covered with small holes.) Cut your softest old tees into narrow strips, feed one strip through each hole and tie a knot. Repeat until the entire mat is covered. Experiment with a few test pieces before deciding how long to cut the rest of your strips. The longer they are, the shaggier your rug will be.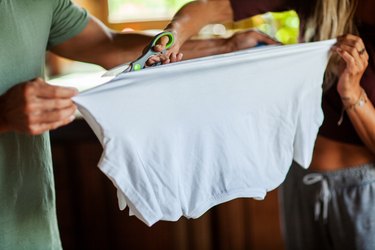 9. Turn T-Shirts Into Halter or Crop Tops
Sometimes, all it takes to turn a boring tee into a cute top is a pair of scissors and a creative eye. Cut a T-shirt into a crop top with a quick chop, cut off the sleeves to make it into a tank top or give it a total makeover by turning it into a halter top. Choose a snug-fitting shirt and use sewing chalk to plot out the halter pattern before making any cuts.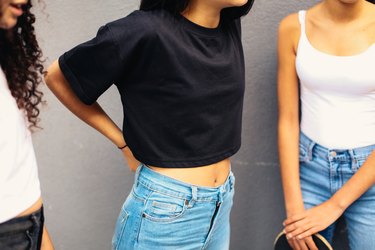 10. Make Fleece Hats With Pompoms
Upcycle an old fleece jacket into a no-sew fleece hat using just fabric, scissors and a roll of masking tape. This project has super simple steps, but the key to success is making sure you have enough fabric. You may be able to get a large enough piece to make a child's hat by cutting out the back panel of a fleece jacket.