Try preserved lemons for a salty, citrus flavor bomb that adds a lemony essence to warm stews, lemon vinaigrette salad dressings, grilled fish, roasted chicken, sautéed veggies, and Moroccan tagine. Salt has been used for centuries to preserve food by inhibiting the growth of food-borne pathogens and helping food last from season to season. Salt will ferment lemons over time and mellow their tartness but keep their citrusy taste. Preserved lemons have a deep umami flavor and a vibrant saltiness that are wonderful in green salads, pesto, pastas and couscous. Add the bright citrus flavor of preserved lemon rinds to roasted potatoes and hummus and lift them to a whole new level.
Meyer lemons are the preferred fresh lemon to use for pickled lemons because they have less acidity and are sweeter than regular lemons. Meyer lemons also have a thinner skin, so they will preserve more quickly than a regular fresh lemon.
Use preserved lemons in your tuna salad or chicken noodle soup for an explosive lemony flavor. Preserved lemons are simple to make, will last up to a year in your refrigerator, and will add an exquisite flavor to most Mediterranean dishes. Gather up a few fresh lemons, a bit of kosher salt and a glass jar and we will help you get started in fermenting this versatile Middle Eastern condiment.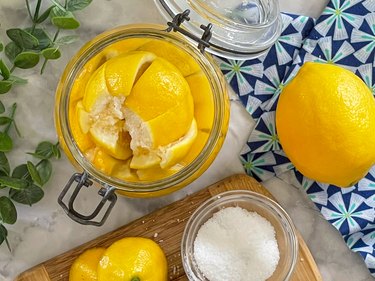 Things You'll Need
6 or 7 Meyer lemons

Sharp knife

Coarse kosher salt

Jar with lid

Nonreactive lid or a sealed plastic bag (if needed)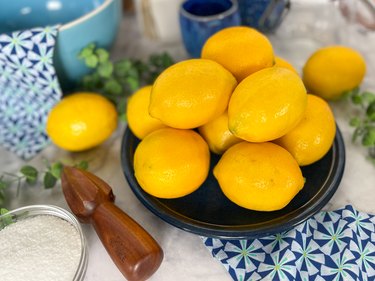 Step 1
It's important to sterilize the glass jars before you preserve lemons. There are a few ways you can sterilize your canning jars. The easiest way to sterilize glass jars is to wash and dry them in your dishwasher on a high heat setting, or you can hand wash them in hot, soapy water before rinsing them and placing them in boiling water until you're ready to use them. Another way to sterilize glass jars is to place them on a clean cookie sheet in a hot oven after washing them in hot water. Whatever sterilization method you choose, just make sure they stay hot until you are ready to use them.
Step 2
Rinse the fresh Meyer lemons in cold water to wash away any wax that might be on them. Most fruit and veggie producers put wax on fruits and vegetables to keep them fresh during transport. If you are using fresh lemons picked right off a lemon tree, you won't have to worry about scrubbing to get the wax off the rind, but you should still wash them first.
Place the fresh Meyer lemons on your cutting board and use a sharp knife to cut off both ends of the lemon peel. Then, cut the lemon into eight sections, leaving the bottom of the lemon intact so it won't fall apart.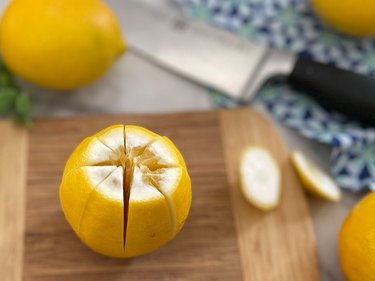 Step 3
Open up the cut lemon sections and sprinkle a generous amount of kosher salt onto the cut surfaces of the lemon. You can also use sea salt, canning salt or regular salt to preserve lemons. The salt creates a slow fermentation process that breaks down the lemon rind and gets rid of the bitter taste. Don't worry about putting in too much salt; you will be rinsing the excess salt from the preserved lemons before you use them in your favorite recipes.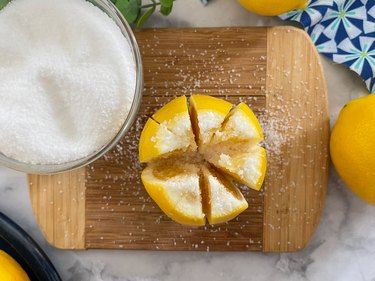 Step 4
Place a layer of kosher salt on the bottom of your glass jar. Add salted lemons to your canning jar until it is packed tightly.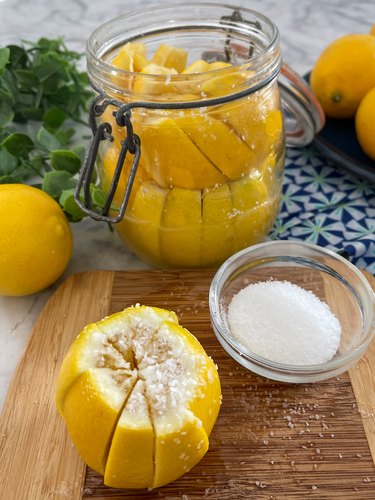 Step 5
Gently press the lemons into the glass jar to extract as much of the lemon juice from the lemons as possible. The fresh lemon juice will react with the kosher salt to help ferment the lemons. The lemon juice should cover all the salted lemons. If you aren't able to extract enough lemon juice to cover all the lemons, you could add some freshly squeezed lemon juice to the canning jar.
Before you close the canning jar, make sure the salted lemons are completely submerged in the fresh lemon juice. You might need to place a nonreactive lid or a sealed plastic bag filled with water on top of the salted lemons to keep them beneath the lemon juice so they can ferment properly.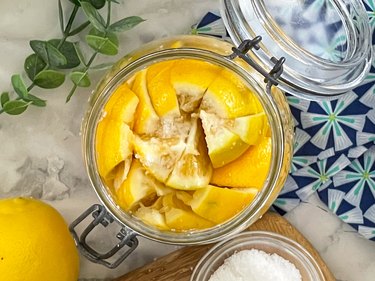 Step 6
After you've made sure that the salted lemons are entirely immersed in the lemon juice, seal the glass jar with a lid. Next, you'll need to place the jar in a cool, dark place at room temperature for a total of 10 to 12 days. If your pickled lemons are exposed to light, they will discolor. Placing the glass jars away from direct sunlight will get the process started and ferment the lemons. But wait – your preserved lemons aren't quite ready for your Bloody Mary yet. You will still need to place the jar inside the refrigerator for a month before the lemon rind softens, and the pure lemon flavor is drawn out of the salted lemons.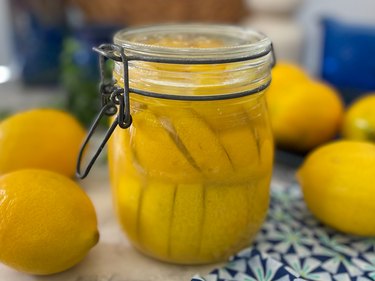 Using Your Preserved Lemons
The beautiful glass jars full of gorgeous, preserved lemons will last from six months to a year when stored in the refrigerator. You'll know the pickled lemons are ready when you open the canning jar and smell the distinctive aroma of pure lemon.
When you get ready to use this lemony condiment, rinse off the excess salt under cold water. Then, you can slice, dice, or mince the soft, fragrant rind to use in any recipe that can use a touch of citrus lemon flavor. Preserved lemons enhance the flavor of most North African, Moroccan and Middle Eastern dishes in addition to marinades, harissa and any recipe that would benefit from some complex tartness.
Most people just use the rind in their favorite preserved lemon recipes, but you can also use a spoon to scrape away the pickled lemon pulp from the rind to puree and use.
Some preserved lemon recipes call for a bay leaf, peppercorns, cinnamon sticks, olive oil and coriander to add a Mediterranean lemon flavor to Middle Eastern cooking. This adds a little bit of prep time to preserving your lemons, but your Moroccan chicken will thank you.