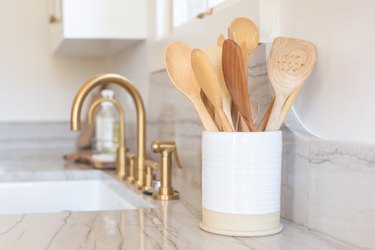 Cooking utensils don't always get a lot of attention—or even deliberation—but they're some of the most-used items in the kitchen. While they might all seem simple and similar, the right tool at the right time just makes things go so much smoother while you're preparing food.
Whether you're flipping fish fillets, sautéing veggies, deglazing a pan, serving soup or spaghetti, icing cake, scooping cookies off a baking tray, or doing just about any other prep, cooking, baking or serving task, there's a perfect utensil for it. And certain utensils are better suited to certain types of cookware, too. For example, some aren't heat-resistant enough for all uses, and some can scratch your nonstick pots and pans.
So, it's worth it to take a little extra time to choose the best kitchen utensil set for your needs and preferences.
What to Consider When Purchasing a Kitchen Utensil Set
​Material:​ Cooking utensils come in a variety of materials. Nylon kitchen utensils are generally the cheapest. They're safe for use with nonstick cookware, easy to clean and sometimes dishwasher-safe. However, some are less heat-resistant than other materials, and they're the least durable. Silicone is similar but dishwasher-safe, more durable and more heat-resistant. Wooden cooking utensils are also versatile and affordable, plus they're harder for easier scraping, but they shouldn't go in the dishwasher and require a bit more care if you want them to last. Stainless steel is the most durable, but it costs more than the alternatives, and it has more limited applications because it scratches nonstick cookware and some other cookware materials.
​Pieces:​ Utensil sets typically range anywhere from three pieces to around 50 pieces. The most fundamental items are a turner and solid and slotted spoons. But some sets come with additional specialty turners and spoons, a ladle, spaghetti server, tongs, spatulas for bakers (e.g., scrapers and spreaders), a whisk, basting brush, measuring spoons and cups, a can opener, graters, a pizza slicer, an ice cream scoop and more. Some sets also include a crock or another storage container for the utensils. A large set can be a convenient, cost-effective way to stock a starter kitchen. But consider what you already have, and what you'll actually use; don't clutter your drawers with pieces you never touch.
​Price:​ You'll also want to think about what you're willing to spend on your new cooking utensils. You can get a minimal nylon set for around $10, or you could spend a few hundred dollars on a larger stainless steel set. The utensil material affects the price, as do the number and types of pieces included, of course.
These are the most important aspects to consider when shopping around for a new kitchen utensil set. They'll guide you to a set you'll be happy you bought.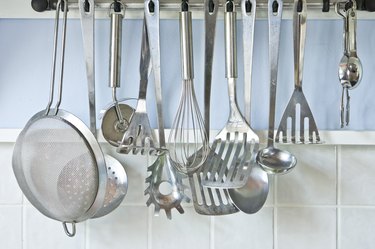 The Best Overall Kitchen Utensil Set
Anolon SureGrip 6-Piece Nonstick Kitchen Utensil Set
If you just need a few basic tools for preparing and serving food, this six-piece set of quality nylon cooking utensils is a great buy. The pieces are particularly sturdy and durable for nylon, BPA-free and heat-safe up to 450 degrees Fahrenheit (all of which justify the set being a little on the pricey side for this material). It's okay to use with nonstick cookware—plus the utensils themselves are nonstick, with a surface that readily releases food.
You get a slotted and solid turner, a slotted and solid spoon, a larger solid turner and a ladle. The tools have soft, nonslip silicone handles that are comfortable to grip and work with for an extended period of time, and they have convenient hanging holes. All the pieces are dishwasher-safe, though their nonstick heads are a breeze to clean by hand too, so cleanup is easy either way. As an added bonus, you can choose from a gray, black or bronze utensil set for a look that matches your kitchen décor.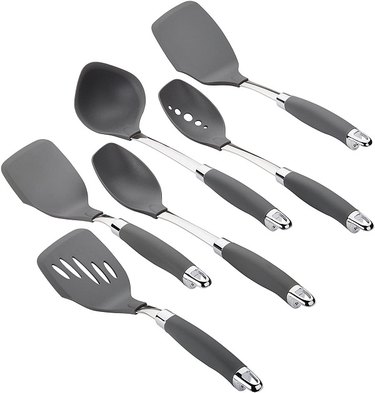 The Best Stainless Steel Kitchen Utensil Set
OXO 15-Piece Steel Utensil Set
You'll spend more for a quality stainless steel cooking utensil set, as with this one. But it includes an above-average 15 pieces—one of which is an attractive stainless steel utensil holder that comfortably fits all the other items. Overall, it offers a high-end look that fits right in with even a luxury kitchen. And all the pieces have the quality and durability to match; you shouldn't have to replace these utensils for a long, long time, no matter how much use they get.
These pieces feature the soft, pleasant, nonslip grips OXO is known for, and they have hanging holes if you prefer to hang any of the tools for easier access rather than store them in the crock. In addition to a nice assortment of solid and slotted turners (including a fish turner) and spoons, the set also includes a spaghetti server, pie server, whisk, vegetable peeler, can opener, pizza wheel and 12-inch tongs.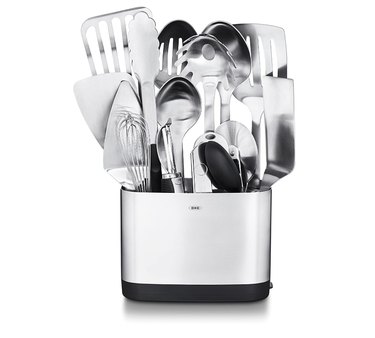 The Best Silicone Kitchen Utensil Set
Umite Chef 15-Piece Silicone Kitchen Utensil Set
This is a fairly large assortment of well-made silicone cooking utensils sold at an excellent price for the quantity and quality. Along with a mix of slotted and solid turners and spoons, you get a spaghetti server, ladle, tongs, basting brush, silicone-coated whisk (which is nice to have for whisking sauces and other preparations right in your nonstick cookware), and three types of baking spatulas. And it comes with a tall crock for storing it all.
These durable kitchen utensils have sturdy stainless steel handles with comfortable nonslip silicone grips and hanging holes. Use these tools with any type of cookware—including nonstick cookware—and the tool heads themselves are effectively nonstick. They're heat-safe up to 446 degrees Fahrenheit and all dishwasher-safe, though they also easily wipe clean when you want to hand-wash them. Buy the set in any of seven different colors, or go with the eighth option: A set comprised of a fun mix of different cheery hues.
The Best Wood Kitchen Utensil Set
Nayahose 7-Piece Wooden Cooking Utensil Set
Wooden cooking utensils are a classic in the kitchen, and they're sturdy, durable, nontoxic, environmentally-friendly, budget-friendly and long-lasting with proper care. You can use them with your nonstick cookware. They're heat-resistant and don't really conduct heat, so you don't have to worry about burning yourself on a hot handle. Just keep in mind that the dishwasher will quickly ruin them.
With six wood spatulas, this set has the basics you need for cooking. Plus, these handmade utensils are attractive and elegant-looking enough to use as serving implements—even for guests. You also get an aesthetically-pleasing wooden crock for storing the pieces, although if you prefer to keep them in a drawer instead of out on the counter, you can save about $5 by ordering the set without the crock.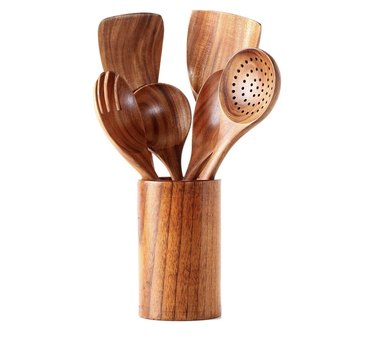 The Best Budget Kitchen Utensil Set
Glad 7-Piece Nylon Cooking Utensil Set
If your main priority is just to get your hands on some starter cooking utensils of decent quality while spending as little as possible on them, choose this set. The nylon pieces are sturdy and hold up well, and they're safe for use with nonstick pots and pans. This very affordable assortment of seven tools includes slotted and solid turners and spoons, plus a ladle, skimmer and spaghetti server. It's a versatile mix for the low cost.
The pieces are heat-resistant up to 410 degrees Fahrenheit, and they're top-rack dishwasher safe (which isn't always a given at this price point). The handles have hanging holes in case you want to put them on hooks, but they're also relatively slender for compact storage in a kitchen drawer.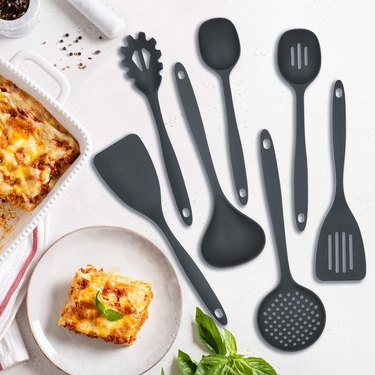 The Best Baking Utensil Set
Oannao 11-Piece Silicone Spatula Set
This is the perfect baking utensil set. Everything comes together: quality, durability, material comprehensiveness, user-friendliness and price. These 15 well-made, BPA-free silicone pieces are safe for use with nonstick cookware, heat-resistant up to 446 degrees Fahrenheit and dishwasher-safe, and they don't get hot and put you at risk of burns. It should also be noted that silicone is generally considered the best material for most baking tasks.
In addition to six small and large spatulas (two spoons, two scrapers and two spreaders), the set also includes tongs, a silicone whisk (which means you can use it in your nonstick pots and pans, unlike the more common stainless steel whisks), a basting brush, an egg white separator and a cake-stripping tool. It's a lot for the low price. And you can get the set in black, khaki or a mix of different fun, bright colors.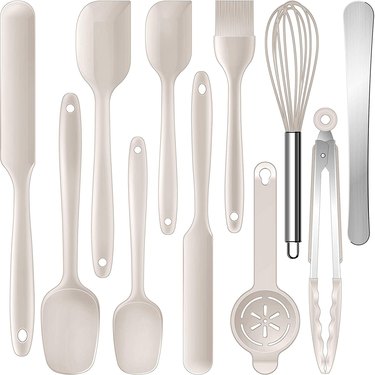 The Best Grilling Utensil Set
Cuisinart 20-Piece Deluxe Grill Set
You can get by with a few regular stainless steel cooking utensils for some occasional grilling, but grilling enthusiasts should have a dedicated set of specialty tools for it. This high-quality, comprehensive 20-piece stainless steel grilling utensil set (complete with a compact aluminum storage and carrying case) is sold at a fantastic price for all you get.
Included are a turner, tongs, a silicone basting brush, an 8.5-inch grill scraping brush and an extra brush head, five metal skewers, four pairs of corn cob holders, and a digital fork thermometer with an alarm to let you know when the food's done. The turner is perforated to allow juices to drain, and one edge is serrated for cutting. Plus, there's a bottle opener hole in the tuner's head for popping open a bottled beverage for cooking with or for quenching your thirst as you work the grill.