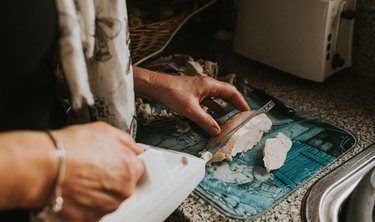 A quality electric knife is an excellent addition to your arsenal of cooking utensils. It makes quick, easy work of carving turkey, chicken, brisket, ham, and other roasts and big hunks of meat and poultry. But it also comes in handy when you want to slice a nice crusty loaf of bread, tomatoes, and even some other fruits, veggies and cheeses. You can even use it to cut up whole fish.
The best electric knives replace your large serrated knife for these tasks, making the work faster and practically effortless. They cut smoothly and cleanly without leaving teeth marks in your food, they're comfortable to hold and simple to operate, and the blades easily attach and detach from the handle while remaining sturdy and secure during use.
What to Consider When Purchasing an Electric Knife
​Blades:​ Most electric knives come with one multipurpose serrated stainless steel blade (though it's actually dual attached blades). The best ones successfully tackle a range of foods, but no single blade can ever be perfect for every possible use; carving a turkey, cutting a tomato and slicing a crusty loaf of bread are very different knife tasks.
While you can certainly get a great electric knife with a blade that capably does everything you want it to do, any product with a single blade set will have its strengths and weaknesses. So, consider what you'll do most often with it. But there are also electric knife sets that come with two or more blades. Typically, one is designed for meat and poultry, and the other is made for foods like bread and certain produce and cheeses. There are also specialty electric knife blades for filleting fish.
​User-Friendliness:​ Electric knives can be an intimidating kitchen tool if you're not used to operating them—or even if you are. But the best electric knives on the market today are notably user-friendly. Take a look at the product's safety features and how well it minimizes noise and vibrations. Also, check out the handle, as you want one that's easy and comfortable to grip as you maneuver the blade. Confirm that the blade is easy to insert and remove, too, and that it reliably remains fixed in place during use.
​Corded or Cordless:​ The majority of electric knives plug in with a cord. Obviously, this creates some limitations on where you can use it, but in general, that shouldn't be an issue. Most products have wires of ample length (check it before you buy), and most kitchens have well-placed outlets for plugging in countertop appliances and electric cooking utensils. And it's unlikely you'll want to carve a turkey in the middle of your living room or driveway.
Alternatively, you can get a rechargeable cordless electric knife if you want unrestricted portability. The trade-off here, of course, is that you must make sure it's charged when you want to use it.
​Price:​ As you'd expect, prices range considerably for electric knives. You can spend under $20 for one, or you can spend a few hundred bucks. Around $40 to $50 is a standard price, though. Don't feel like you have to spend a fortune; there are electric knives that are both high-quality and budget-friendly. But, if you are willing to spend more, you can get extra features, blades or accessories.
These considerations will help you select an electric knife you'll be happy with.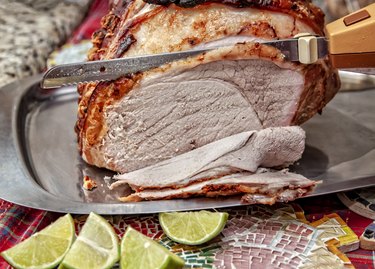 The Best Overall Electric Knife
Cuisinart AC Electric Knife
For a reliable, versatile, user-friendly electric knife anyone can work with—experienced or not—choose this one from the well-known Cuisinart brand. It operates with a simple trigger and the sturdy, sharp, micro-serrated blade cuts cleanly and efficiently through a variety of food surfaces, from poultry skin to tomato skin to crisp bread crust. The blade is dishwasher-safe, though it's always advisable to hand-wash knives to preserve their sharpness for as long as possible.
This model has a few nice safety features, like the safety lock you have to toggle before the blade comes to life and the dual blade-release buttons that prevent accidental release. The ergonomic handle is comfortable for right- and left-handed people, too. Given the quality and versatility, it's offered at a good price—especially when you take into account the included two-pronged carving/serving fork, bamboo cutting board and compact storage tray.
The Best Budget Electric Knife
Proctor Silex Easy-Slice Electric Knife
This is basically as little as you can spend on an electric knife, but you get a surprisingly versatile, durable product for the price. As a caveat, it handles poultry, meat, fish and produce a bit better than it handles crunchy bread crusts. That said, its capabilities far surpass the cost, and its reciprocating dual serrated blades allow for precision and uniformly even slices. All in all, it's a lightweight corded model with a simple trigger control and a comfortable ergonomic handle that's very easy to use and reliable.

The Best High-End Electric Knife
Waring Commercial Cordless Electric Knife Set
If you're willing to go to the higher end of the price spectrum for electric knives, this is a worthwhile purchase. It's a portable cordless model with a rechargeable lithium-ion battery. And it's powerful. In fact, if it weren't for the price tag, this could easily rank as the best cordless electric knife, too.
It comes with two separate detachable serrated blades—one for meats, poultry and fish, another for bread, produce and cheese—as well as a storage/carrying case. There's also an adjustable slicing guide attachment that helps you get perfectly uniform slices with either blade, plus an LED light that shines where you're cutting for increased visibility. The thin handle is easy to keep a grip on without getting fatigued, and for added safety, there's a lock switch by the power button.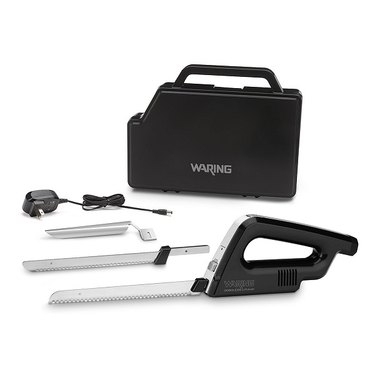 The Best Cordless Electric Knife
Elite Gourmet Professional Cordless Easy-Slice Electric Knife Set
For those who want a great cordless electric knife at a more affordable price than the previous entry, this is a smart pick. The battery charges in only 1.5 hours, and then it's good for about an hour of continuous use. It's a lightweight, versatile product that comes with two separate reciprocating stainless steel serrated blades; one is designed for poultry, meat and fish, while the other is made for bread and other foods. There's an easy-to-use trigger button and a finger guard, and the handle provides a secure, comfortable grip.
The Best Electric Carving Knife
Hamilton Beach Electric Knife
If your primary concern is how well your electric knife tackles turkey, chicken, roasts and other meat, this budget-friendly offering is the way to go. Hamilton Beach is well known for its low-cost, high-quality kitchenware, and this piece is no exception.
The reciprocating blade makes easy work of poultry skin, thick cuts of meat and even raw meat, while the ergonomic handle provides comfort and control. And, it even comes with a carving/serving fork and a slim, space-saving storage case. Just keep in mind that this electric knife doesn't handle bread quite so well, though it does a decent job with veggies and cheeses.
The Best Electric Knife for Bread
Black + Decker Electric Carving Knife
When bread is priority number one for your electric knife, you can't go wrong with this very affordable option. The offset blade works exceptionally well with even the crustiest loaves of bread. But this versatile model also does a great job with meats, poultry, fish, vegetables and cheeses, so don't feel like you're buying an electric knife with limited use. It's just that it performs so well with bread—one food so many other electric knives fall short with.
Other nice features include the safety lock button and an ergonomic handle with a rubberized, nonslip application for your thumb. The blades are dishwasher-safe, but as previously mentioned, it's always a good idea to stick to hand-washing, as this helps keep the blades sharp.
The Best Electric Knife Set
NutriChef Electric Knife Set
For the most versatility from your electric knife, get one that comes with a set of blades. There's simply no perfect blade design that handles meat, poultry and fish as well as it handles bread, vegetables and cheeses, or vice versa. This set has one blade with V-shaped teeth that are ideal for carving up animal-based foods and another blade with U-shaped serrations that are better suited to slicing bread, produce and cheeses.
This product has a strong motor to handle even the toughest jobs. The blades are secured with a built-in safety lock, and the handle is ergonomically designed for a pleasant grip and precise cutting. As an added bonus, the set comes with a hardwood storage block that can lie flat in a drawer or be configured to stand on a counter or shelf. And it should be pointed out that this is a great price point for everything you get.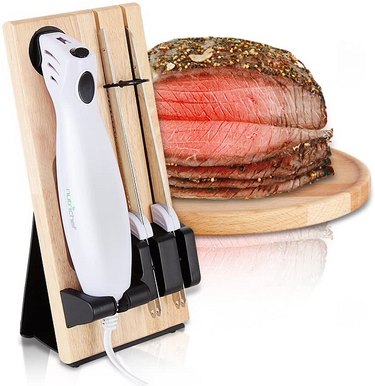 The Best Electric Filleting Knife
Bubba 110V Electric Fillet Knife
For avid fishers, campers and cooks who prefer to buy and fillet whole fish, this specialty electric knife is a must-have. It comes with four separate corrosion-resistant blades that make quick, easy work of breaking down whole fish of any size. Plus, the 8-foot power cord lets you get all the way around larger fish carcasses and makes it more practical to use this knife on a boat or at a campsite. The ergonomic handle and trigger are thoughtfully designed for precision cutting, and the entire setup fits compactly in a lightweight zippered case.