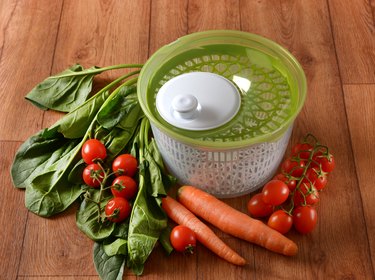 When we think of salad spinners, those who are old enough might associate them with grandparents from the '80s and '90s. With convenience stores and supermarkets offering pre-washed and tossed salad options off the shelf, using a salad spinner has probably seemed redundant for the last few decades. However, nothing could be further from the truth. It's absolutely a good idea to wash all fruits and vegetables before you prepare them—and a salad spinner can do the job like no other. While you can get decent results washing leafy produce by hand, it's definitely worth it to invest in your own salad spinner in 2022, so you can enjoy greens that are clean, fresh and crisp—not dripping in water.
The Benefits of Salad Spinners
How does a salad spinner work? Simply put, it uses gears and centrifugal force to remove the excess water on vegetables. While in motion, this water is separated from the greens as it passes through a perforated plastic basket or colander. The water then gathers at the bottom of the solid bowl.
The benefits of a salad spinner include:
Speeding up drying time
Combining washing and drying the salad
Removing excess moisture that can make your salad soggy or even moldy
Pulling out dirt particles that can be hidden in the ribs and crevices of leafy greens
Moreover, a salad spinner doesn't damage or bruise lettuce or other greens. Plus, you can use it to wash other produce, including broccoli, cabbage, berries and more. No one likes wet, watery vegetables, so it plays a big part in making veggies more enjoyable, not to mention, safer to eat.
Now that we've covered what makes a salad spinner so handy in your kitchen, let's focus on what you should consider when selecting one.
What to Consider When Purchasing a Salad Spinner
​Spinning Action:​ Salad spinners employ a number of different spinning actions. The main types of models include:
​Handle-Style Spinner:​ On handle-style spinners, the handle is attached to the gears and creates more centrifugal force. These promise to be easier on the hand when compared to other salad-spinning mechanisms. That being said, the handle-style spinner is more difficult to store because it sticks out.
​Knob-Style Spinner:​ Easier to store than the handle style, the knob-style spinner's handle area is attached directly to the gear disc.
​Pull-Cord Spinner:​ Like a lawnmower, the pull-cord is easy to use, requiring little to no effort to get the basket spinning. But, it is vulnerable to cord damage.
​Pump Spinner:​ Requiring just one hand to operate, you just press the plunger down, let it lift up, and repeat. And with the plunger being able to lock into place, it's easy to store, but it's also prone to damage.
​Bowl/Basket Design:​ Some salad spinners come with a bowl designed with holes in the bottom to allow the water to drain as you spin it. This can make drying quicker and more effective, but also means you have to spin over the kitchen sink. Other spinners may include both an inner spinning bowl and an outer bowl that collects the excess water, so you can spin it on your countertop instead of over the sink. However, you'll probably want to empty the water over the sink periodically. Some models may include pour spouts for this purpose.
​Size:​ The size of your salad spinner affects where you can store the spinner and how much salad you can spin and serve at one time. It's up to you to decide whether you need a large spinner for a big family who enjoys massive salads, or a smaller spinner because it's just you at home or your kitchen is small, for example. The largest salad spinner baskets can hold up to 6 quarts of greens, while smaller baskets may hold closer to 2 1/2 quarts.
​Stability:​ Bad spinners will be very unstable. The last thing you want is a spinner flying apart on your kitchen counter. That's why it's important to get a bowl with nonslip feet or a nonslip coating.
​Ease of Cleaning:​ The ease of disassembling the spinner affects how easy it is to clean. Dishwasher-safe parts and plungers that collapse flat to easily fit in a dishwasher rack are always a plus. On that note, make sure to wash your spinner after every use, as the spinner ends up collecting all the moisture and dirt it removes from your salad.
​Ease of Stopping:​ While everyone likes to focus on getting the salad spinner up to speed, it needs to stop efficiently, as well. Sudden stops will help remove any leftover moisture. Some spinners come with a stop button for this very reason. It's worth noting that none of these salad spinners will get your lettuce 100% dry, but that's okay.
So, now that we understand why you need a salad spinner and what to look for, let's go through our top choices for 2022.
The Best Overall Salad Spinner
Müeller 5-Liter Vegetable Washer
Designed for ease of use, the Müeller vegetable washer is not only simple to use, but a fantastic product in general. It's a pull cord mechanism, so with just one sharp pull, your salad will be spinning at optimum speeds. And in case you were wondering, it comes with a brake button to halt it mid-spin.
The Müeller spinner includes a clear bowl with squared-off edges that oozes a premium feel. You can use it separately from the spinner basket for serving guests at the dinner table. Also, with a capacity of 5 liters (roughly 5 quarts), it's large enough for all your daily needs. The spinner features anti-wobble technology to ensure that when it's spinning at full force, it isn't going off the rails. Its lid strainer also makes it easy to get rid of the excess water halfway through the spin.
On top of that, the spinner is dishwasher-safe and constructed from the highest quality of food-grade plastic that's very durable, so it will last a long time. With a thoughtful design and a reasonable price tag, we think this spinner ticks all the boxes quite nicely.
​Dimensions:​ 10.2" x 10" x 8.19" (L x W x H)
​Capacity:​ 5.3 qts.
​Weight:​ 2.2 lbs.
​Stop Button:​ Yes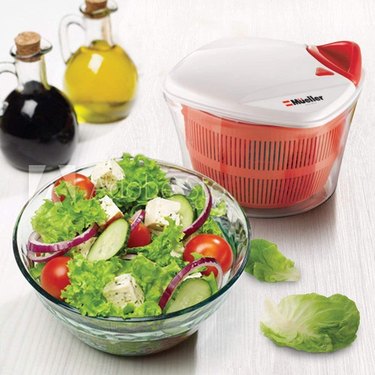 The Best Budget Salad Spinner
Cuisinart CTG-00-SSAS Salad Spinner
With its mechanical crank-arm and quality plastic bowl, this little salad spinner punches above its price bracket. While it has no brake button, the Cuisinart makes up for that with features not usually associated with products in its price range.
It removes water and dirt equally well, and there's a handy drainage hole that allows you to pour out the water without dismantling the entire unit. The crank arm is fairly easy to use, and the colander fits well within the clear bowl. It's also marketed as the perfect volume for individual or two-person servings with its maximum capacity of 3 quarts. However, if you've got a larger household to feed, it may seem too small.
You can expect this salad spinner to hit full speed in no time, but it will take a while for it to stop. It is easy to clean and has non-slip feet to ensure it doesn't fly off the kitchen counter. The bowl and spinner basket are BPA-free, as they're made from ABS polypropylene, a common thermoplastic polymer that's impact-resistant and durable. All of the parts are dishwasher-safe, too.
​Dimensions:​ 8.25" x 8.25" x 6.75" (L x W x H)
​Capacity:​ 3 qts.
​Weight:​ 1.43 lbs.
​Stop Button:​ No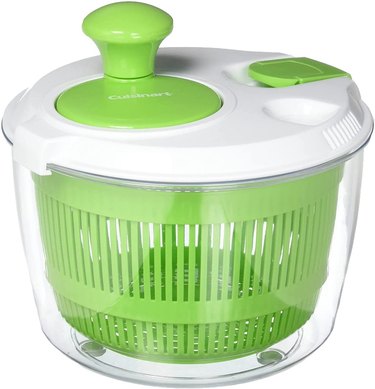 The Best Stainless Steel Salad Spinner
This salad spinner isn't cheap, owing to its stainless steel bowl, but it's truly a premium product that offers all the bells and whistles you'd expect at this price point. While the bowl is durable and tough, be warned that the lid and colander are plastic, so you may want to handle them more carefully.
This spinner features a patented pump mechanism and brake button that allows it to spin quickly and stop on a dime. The nonslip knob can be pushed into the bowl to make it easier to store in your kitchen cabinet. At the bottom of the stainless steel bowl, there are additional nonslip pads that stop it from moving around the countertop.
The basket is able to spin up to 4.95 quarts of fresh salad, while the bowl holds up 6.34 quarts. For added versatility, you can use the basket and bowl separately as a colander and serving bowl, respectively. While OXO doesn't explicitly state whether or not the spinner is dishwasher-safe, we recommend washing at least the plastic lid and pump by hand. Still, the separate parts are easy to clean and intuitive to use.
​Dimensions:​ 10.5" x 10.5" x 8" (L x W x H)
​Capacity:​ 4.95 qts. (basket), 6.34 qts. (bowl)
​Weight:​ 3.9 lbs.
​Stop Button:​ Yes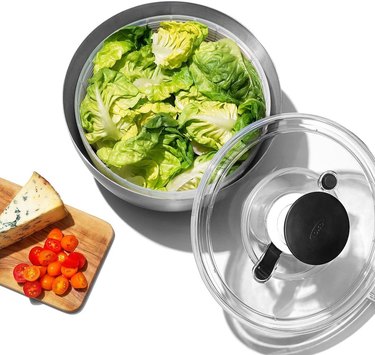 The Most Innovative Salad Spinner
Dreamfarm In-Sink Spina Colander and Salad Spinner
Winner of the Best-in-Class Good Design® Award, the most unique factor about this salad spinner is that it doesn't come with a bowl. While to some buyers, this may seem like a setback, if you've got a deep sink in the kitchen, it works perfectly well. Better described as a colander with a twist, the Dreamfarm Spina can be used to drain your pasta as well as rinse your veggies.
While most spinners need rubber feet to ensure they don't fly off the counter, the Spina will fit nicely into any kitchen sink. However, it does feature a nonslip base for whenever you might set it on a countertop. The mechanism in use is a pump-action spin. Unfortunately, there is no stop button, so you have to take your hand or finger off the pump and wait several seconds for it to stop spinning.
This nifty little contraption can spin 3 quarts of produce. Though the sturdy rim has been designed to keep food inside the basket, since there's no full enclosure, you should still be careful not to overfill the basket so lettuce doesn't accidentally fly out. When it comes to storage, the Dreamfarm Spina folds up nicely, and you can stack it with the rest of the pots and pans in the cupboard. For all its differences, it's a must-have for those lacking in storage space.
​Dimensions:​ 15.75" x 8.66" x 4.33" (L x W x H)
​Capacity:​ 3 qts.
​Weight:​ 10.8 oz
​Stop Button:​ No