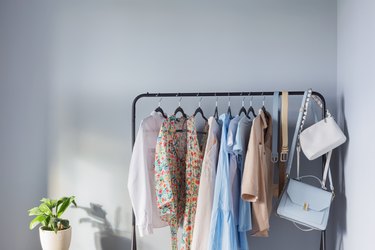 Finding a home or apartment with an adequately-sized closet can be a struggle, especially if you live in an expensive city or own a lot of clothes. When space is at a premium or you're devoid of a closet altogether, where will your clothes live? The short answer is: on a rack. Purchasing the correct clothing rack will ultimately depend on your storage needs and aesthetic taste. Here are a few pointers to guide you in your search:
What to Consider When Purchasing a Clothing Rack
​Load Capacity:​ It's important to take stock of how many clothes you plan to hang on the clothing rack as load capacities vary significantly. Some heavy-duty clothing racks can hold up to 250 pounds, while others are mostly designed for just a few articles of clothing and max out at around 25 pounds.
​Functionality:​ Consider the functions you need this clothing rack to fulfill. If you're planning on storing underwear, for example, you might want to opt for a clothing rack with shelves where you can place storage boxes that will keep your unmentionables away from public view. If you own numerous pairs of shoes, a large lower shelf with additional space underneath might help you corral your kicks.
​Movability:​ Some clothing racks have wheels or casters that allow you to move them from room to room. If you're concerned about the clothing rack sliding around, look for a model with locking mechanisms on the wheels.
​Design:​ You should select a clothing rack you love as it's going to be very visible. There are countless styles and materials to choose from, whether you're looking for something minimalist, industrial-inspired, boho or glam. Just be sure to prioritize durability, as some clothing racks can be quite flimsy.
Bearing all this in mind, here are our picks for the best clothing racks in 2022: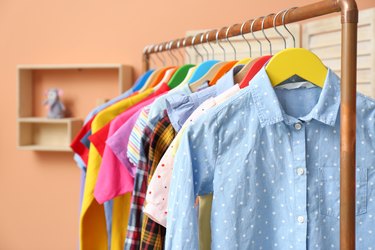 The Best Overall Clothing Rack
Alera Wire Shelving Garment Rack
With simple industrial lines, the Alera Wire Shelving Rack is the best clothing rack on the market. The wire mesh pieces have been strongly welded together and it takes only minutes to assemble (all the necessary tools are included). The two lower shelves are adjustable and there are four hooks on the side for hanging accessories or jeans. With a load capacity of 30 pounds, the hanging rod is very sturdy and can accommodate 48 regular-sized hangers. The top shelf is a handy spot for storage boxes or knee-high boots that won't fit on the lower shelves. And because the clothing rack is on wheels, you can easily move it around your house. The Alera clothing rack comes in two sizes: 48 inches long, 18 inches wide and 75 inches high or 36 inches long, 18 inches wide and 75 inches high. Pictured here is the larger version.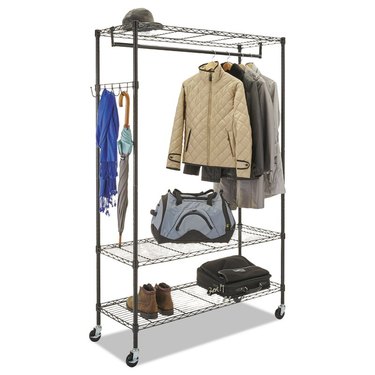 The Best Expandable Clothing Rack
Amazon Basics Expandable Metal Hanging Storage
This expandable storage system offers the best bang for your buck. It's made of durable steel wire and features 10 adjustable shelves that can each hold up to 100 pounds. If you're worried about your belongings slipping through the gaps, there are clear plastic shelf liners that you can put down. It comes with two telescoping hanging rods, each with a 150-pound load capacity, that can extend between 63 and 80 inches. Just note that when fully expanded, the rods can only hold 75 pounds each and there will be a sizeable gap in the top shelf. Another bonus is that it's easy to assemble and take apart. This industrial-style clothing rack measures 58 inches long, 14 inches wide and 72 inches high.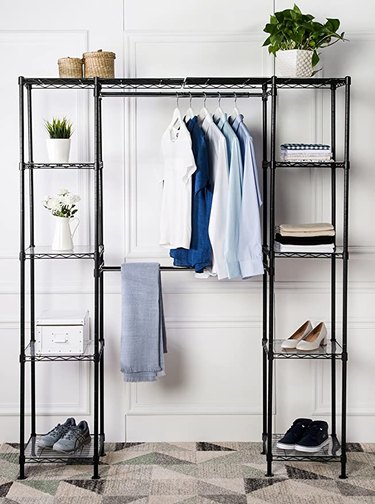 The Best Budget Clothing Rack
Simple Trending Standard Clothes Garment Rack
If you're on a tight budget, the Simple Trending clothing rack won't break the bank. Because it was developed for commercial use, you can be sure that it's sturdy and built to last. While it may not offer the storage capacity of some of the other solutions on this list, it does provide adequate rod and shelf space for those with a smaller wardrobe. You could also opt to display one type of clothing on the rack, like winter coats or special occasion dresses. It's perched on four omnidirectional casters and features smart rail ends to prevent hangers from slipping off. Assembly is a piece of cake with easy-push connection poles—it should take about 10 minutes to put together. Lastly, the clothing rack has a load capacity of 120 pounds and measures 28.5 inches long, 14.75 inches wide and 57 inches high.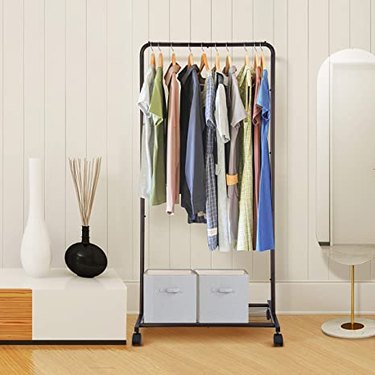 The Best Design-Forward Clothing Rack
IRIS USA, Inc. PI Standing Wood Shelf Rack
Combining a metal frame with wooden shelves, this freestanding rack is a gorgeous solution to your clothing woes. It comes in a matte black or white finish with coordinating light or dark wood. The angled back pole ensures that your clothes don't hit the wall and the A-frame design makes it very sturdy. The rod has a 22-pound load capacity and the rack's many shelves allow you to display shoes, purses, hats or home decor. You can even put low-profile shoes like sandals or sneakers under the spacious bottom shelf. The directions are easy to follow, but it might take a couple of hours to assemble if you're not a furniture-building pro. The overall dimensions are 39.6 inches long, 16.1 inches wide and 59.8 inches high.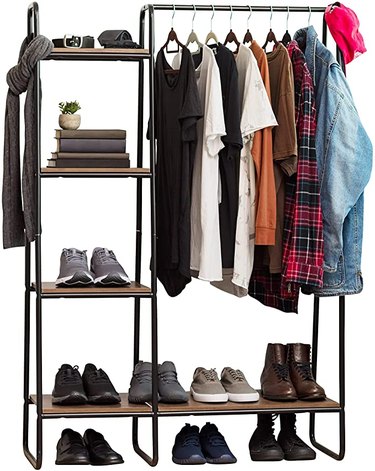 The Best Heavy-Duty Clothing Rack
Simple Houseware Heavy Duty Clothing Garment Rack
If you're worried that the previous clothing racks on this list aren't heavy-duty enough for your ever-growing wardrobe, this alloy steel model with a 250-pound weight limit could be just what you're looking for. With its heavy-duty frame and elegant matte black or chrome finish, it may come as a surprise that this clothing rack is collapsible. The rod is expandable—going from 40.15 inches to 65.35 inches—and 3-inch wheels allow you to push it from room to room. The wheels don't lock into place though, so if you don't want it sliding around it may be better to assemble the clothing rack without wheels. Assembly is easy and no tools are required. The dimensions of the product are 40.15 inches long, 18 inches wide and 62 inches high.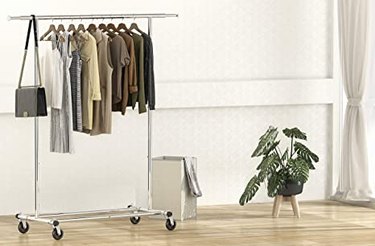 The Best Double-Rod Clothing Rack
UDEAR Garment Rack Freestanding Hanger Double Rods
If you're looking for additional hanging space in a tight area, the UDEAR clothing rack offers two rails and a bottom shelf within a small footprint. Measuring 43.3 inches long, 21.2 inches wide and 59.06 inches high, the rack is made from iron tubing. The feet are covered with non-slip rubber pads to prevent scuffs on the floor. The bottom shelf is better suited for storage boxes than shoes as the bars are somewhat far apart. There are also smart rail ends that resemble round beads so that hangers don't slide off. Hanging heavy articles of clothing is not recommended—it's best for lightweight pieces like t-shirts or tank tops.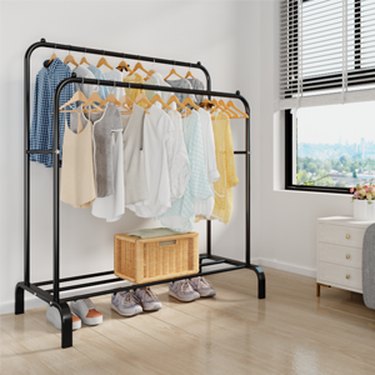 The Best Space-Saving Clothing Rack
Monroe Trades Clothing Stand
Simple and elegant, the Monroe Trades clothing stand is minimalism at its best. It's a showcase rack setup for any apartment or boutique store. Made from solid metal, it measures 4 feet tall and has an 18-inch arm. While the materials are heavy-duty and strong, it's still very lightweight and easy to move around. Assembly or disassembly takes mere minutes and the rack stands up on its own. There are also 5-foot options and white, gold or black finishes. Monroe Trades is a small business based out of New York City.