The Fourth of July is right around the corner and to celebrate, retailers like Walmart and Amazon are featuring sales on sewing and crafting products. We've compiled some of the best deals we've seen on products ranging from affordable sewing machines to jewelry-making and candle-making kits, as well as sewing kits small enough to take on-the-go. Whether you've never crocheted in your life or are a sewing and crafting expert who would like to get better organized, there's surely something to pique your interest.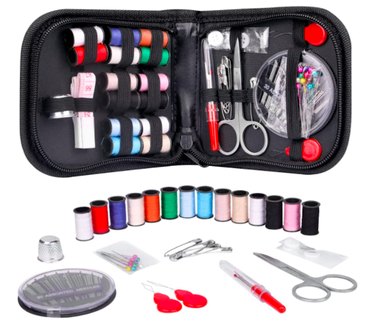 Best Choice Products 6V Portable Sewing Machine, 42-Piece Beginners Kit w/ 12 Stitch Patterns - Teal
This easy-to-use, portable sewing machine is perfect for experts and beginners alike with its 12 presets and two different speeds, depending on your comfort level. Clocking in at just 5 pounds, it's lightweight and compact. The best thing about this deal is that it comes with not only the sewing machine but a beginner's kit packed with 16 spools, 16 bobbins, five spare machine needles, one needle threader, one pair of scissors, one measuring tape, one seam ripper and one thimble. How thoughtful!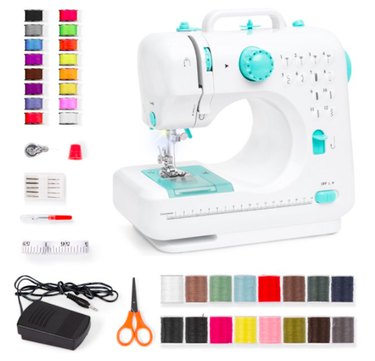 Brother CS5055 Computerized Sewing Machine With 60 Built-In Stitches
This high-end sewing machine features an LED display screen – because it's computerized. How advanced is that? While the machine is advanced, it's suitable for both sewing pros and beginners alike with its 60 built-in decorative stitches and seven styles of auto-size buttonholes to add embellishments to fabric. Complete with a fast bobbin winding system, Quick-Set bobbin and super-bright LED-lit work area, the CS5055 is cutting-edge sewing technology that could fit right at home.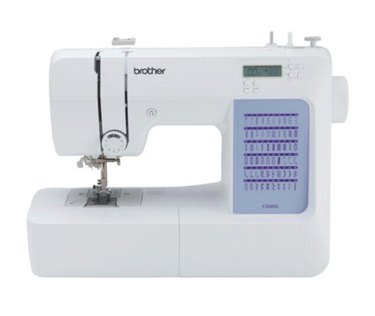 Sewing Kits, Tools and Organization
Coquimbo Sewing Kit for Traveler, Adults, Beginner (Small)
This handy sewing kit contains all the necessary tools you'd need to make basic repairs. It includes needles, threads, a pair of scissors, buttons, threader tools, a seam ripper and thimble, all in a compact, zippered case. It's so compact that it's not even quite 5 inches square – small enough to fit in a glove box or even purse. A larger version is also available.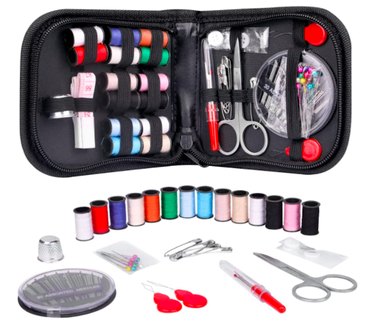 57-Piece Crochet Hooks Tools Knitting Kit & Sewing Accessories, Portable, 16 Sizes
This 57-piece sewing kit covers quite a bit of ground, featuring everything you'd need to get started knitting. It includes scissors, a thimble, tape measure, row counters, crooked needles, suture needles, needle point protectors, knitting needles and counting circular rings. Everything is made of stainless steel or durable plastic. If you're a knitter, this kit provides an amazing value.
Amazon Basics Multipurpose, Comfort Grip, Titanium Fused, Stainless Steel Office Scissors - Pack of 3
This multicolored three-pack of scissors from Amazon Basics features titanium-infused blades that stay sharp even beyond 100,000 cuts (so forever, for some people). Large, soft-grip handles make these easy and comfortable to use. Most households could probably use a few more pairs of scissors, so even if you don't plan on using them while sewing, it's handy to have some back-ups.
Best Choice Products Folding Sewing Table Multipurpose Craft Station & Side Desk With Wheels, Shelves, Bins, Pegs
This multi-purpose craft station comes complete with wheels, shelves, bins and pegs, ideal for the bona-fide crafter and sewing expert. It features two rows of pegs, two bins, one large interior shelf and a large tabletop space. Use it to tailor clothes, making crafts or even a work desk. It measures 23 inches long, 16 inches wide and 31 inches tall.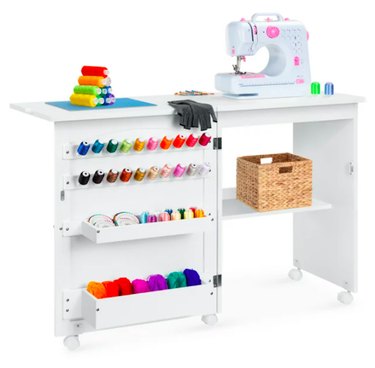 Honey Can Do Rolling Storage Cart and Organizer With 12 Plastic Drawers
If you don't want messiness and clutter to be part of your crafting and sewing genius, then this rolling storage cart organizer is for you. It comes with 12 plastic drawers of varying sizes and locking wheels to provide both maneuverability and stability as needed. The cart measures 23.25 inches wide, 15.25 inches deep and 29 inches tall.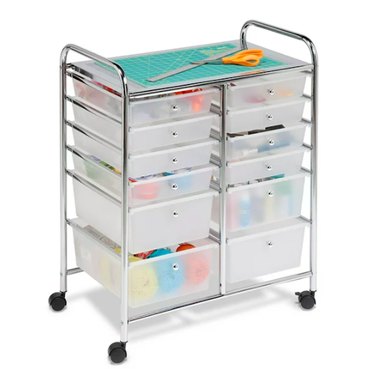 12x15-in Heat Press Machine With Transfer Sheets 360 Swivel for T-Shirts,1250W
If you're into graphic design and love customizing T-shirts or just want to dive into a new hobby (or business?), this heat press machine with transfer sheets is pretty much all you need to transfer custom designs to T-shirts. It features a large 12 x 15 inch work area designed to fit T-shirts as well as smaller items like mouse pads, phone cases and other flat objects, so you're not limited to just T-shirts. The press may look daunting to the inexperienced, but it's easy to use and is FCC and CE-certified safe. Ready to start your own Etsy shop?
Manfiter DIY Candle Making Kit for Adults, Scented Candle Making Supplies Set
You could use this candle making kit to make and sell candles on Etsy and nobody would even know. This kit comes with easy-to-follow instructions for making handmade scented candles featuring top-quality ingredients with pure fragrances so your candles will look and smell just like expensive, premium store-bought candles. The kit includes 4-8 ounce wax bags, six dye blocks, six scented oil bottles, six round candle tins with lids, 18 cotton wicks, a stirring stick, eight warning labels, six bowtie clips, a thermometer and three finger protectors. Use this kit to save on candles, to sell in your online business or to gift to friends and family.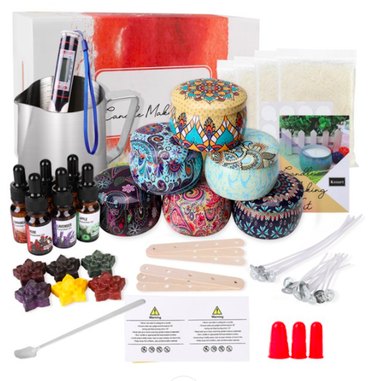 Stoneway Jewelry Making Tools Kit, 22 Pieces
If you're ready to dive into a new hobby and give jewelry making a try, this 22-piece kit includes everything you need to make DIY necklaces, bracelets and earrings. You'll need to supply your own beads, but once you have this kit, you're more than halfway there. It's suitable for beginners but not recommended for children under six years of age.