A gardener's toolbox may contain a multitude of items, but only a few garden tools are utterly essential. A digging fork is one of them. These tough tools are used for all sorts of gardening tasks, such as breaking up hard soil, turning lighter soil, harvesting root vegetables and turning compost.
Choosing a digging fork requires a little more effort than a quick trip to the store. The "fork" category of garden tools includes at least a half dozen categories of fork, each one perfect for some kind of backyard digging or lifting. Before you rush out to bring one home, ask yourself what tasks your fork is going to need to accomplish. That will narrow down the category of fork and allow you to pick a good tool in that category.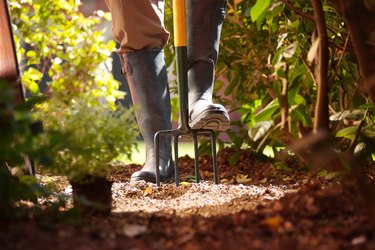 All forks are garden forks in the sense that you use them for work in the garden, but there is a specific classification of fork called "garden fork." These are the tough, hard-working forks you need when your soil is hard, such as clay soil or soil that hasn't been turned in forever. A garden fork has long, strong tines – four of them, each ending with a sharp point to slip easily into the earth. Ideally, your garden fork should be forged from a single piece of carbon steel.
While digging into packed soil is the primary job of a garden fork, these tools can also be used for digging up potatoes or other root crops or for tossing compost.
​Which Fork to Consider?​
Advanced ergonomics

Rugged build with a welded boron steel blade and steel shaft
Angled D-handle that reduces wrist strain yet gives a secure grip
Fork shaft that fits the natural shape of your hand, with a midgrip for comfort and control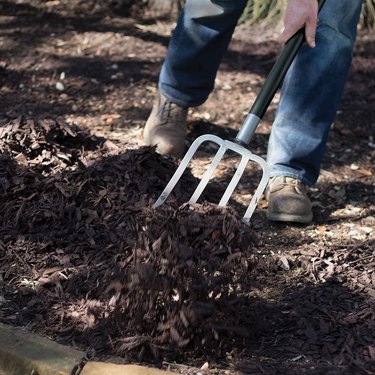 Digging and Spading Forks
This is your tool if you need to dig up loamy or sandy soil. It's more lightweight than the garden fork, but it has the same number of tines: four. The tines on the digging forks are triangular rather than rounded, with a flat edge facing the front side of the tool for lifting soil. In addition to digging looser soils, these forks are perfect to mix in nutrients or compost, for turning soil at the beginning of the growing season and even for harvesting root vegetables.
​Which Fork to Consider?​
Lightweight at under 5 pounds

Pro digging fork with four stainless steel tines


Carbon steel shaft encased with resin

Extra-wide, elevated forward step to support your balance

Designed to relieve arm, hand and wrist stress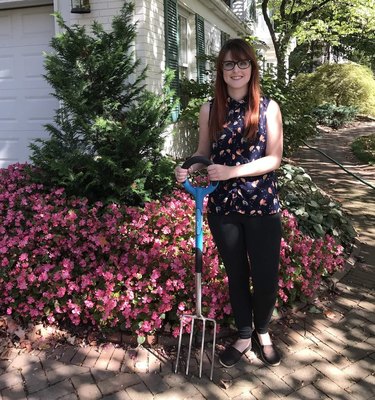 Some potato forks are made for digging out potatoes, and these look quite a lot like a digging or spading fork. They have flat-faced tines for lifting out the spuds from the earth. In fact, you can easily use a garden fork for this. Other manufacturers make potato forks intended to lift out the potatoes once they have been dug out with a digging or spading fork. These have a multitude of slender tines with blunt ends to prevent damage to the potatoes.
​Which Fork to Consider?​
So many forks can be used to dig out potatoes, but why not pick one that is made precisely for spuds? Our top choice in this category is the Spear & Jackson Neverbend Professional Potato Fork. This is a favorite of potato growers in England with its extra-wide tines. It's also a well-made fork with great rust resistance. We also like these attributes:
Forged carbon steel head and socket
Hammer finish, epoxy-coated head

Extremely durable, weatherproofed hardwood shaft that will never bend
Just under 5 pounds

No, you don't have to live near a state line to use border forks. They are just smaller versions of the workhorse garden fork and are perfect for working border areas and other tight spaces. They work well in raised beds and between plantings. Any gardener under 5 feet tall might try one.
Though small, these forks are mighty and are tough gardening tools. Once you've tried one, you'll see how much easier it is to have the right tool for digging in small spaces.
​Which Fork to Consider?​
Only 41 inches tall and just over 4 pounds, the Radius Garden 204 PRO Stainless Steel Border Fork is a professional-quality fork that is incredibly durable. We love it for a lot of reasons, including the unique design of the blade. It also features:
Room for both hands on the shaft with four times the gripping surface of conventional tools
Completely unbreakable resin-encased steel shaft
Seamless, extra-long socket
Stainless steel blade
Polypropylene-encased carbon steel shaft
Thermoplastic elastomer grip
The compost fork or manure fork has long, slender, pointed tines – often more than four – that are turned up slightly for scooping up loose material without bending. They are great for turning your compost pile or for moving manure or loose materials. Be careful not to select something that is too lightweight since compost can be heavy.
​Which Fork to Consider?​
The key is to find something durable and strong. We appreciate the Truper 30317 Tru Pro 54-Inch Manure Fork. It has six tines and a solid ash handle that is reputed to be stronger than other wood with excellent resistance. That's because it was designed to be strong enough for industrial use. It also offers:
A BPJ-6E, 47-inch professional-grade premium handle
Optimum ratio of resistance and flexibility
A head that is forged in one piece for maximum strength
Four stars or more in hundreds of reviews for
value, durability and sturdiness


Are you ready for a fork that looks wildly different from a traditional garden fork? The broadfork is it. With its two handles, this fork accomplishes work that is similar to the garden fork but on a bigger scale. The two handles are attached on a steel horizontal bar at about shoulder width. The fork has between four and six tines and is usually used for re-digging garden areas that you've already broken with a garden fork. It gets through the job quickly.
​Which Fork to Consider?​
Almost 200 buyers have rated Bully Tools 92627 Broad Fork with Fiber Glass Handle as pretty close to perfect, and we're inclined to agree. At 53 inches tall, this fork weighs in at 13.4 pounds, making it heftier and stronger than most of the forks around. Other top attributes include:
Strong enough for commercial use
Super-strong fiberglass handles
Extra-thick 10-gauge steel construction

Limited lifetime warranty