Charm bracelets are back in a big way. What was once thought as a kitschy relic of summer camp days is super popular again thanks to social media and celebrities like Drake and Jaden Smith, who are sporting the quirky, mismatched jewelry. The charm, if you will, of charm bracelets is that you're able to express your individuality and what matters to you rather than what others dictate as fashionable. The charms can be cheap. They can be homemade. Your bracelet can feature just a few charms or a bunch of them. It's all about being true to yourself. If you're ready to get in on this nostalgic jewelry trend, here are some DIY charm bracelet kits that will have you rocking this hot look.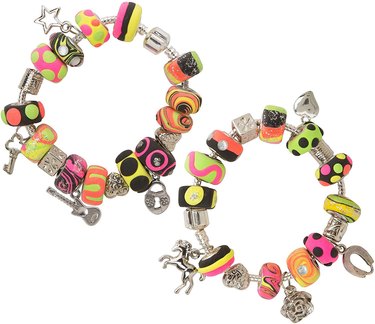 1. Picture Frame Charm Kit
One trend we're seeing in charm bracelets is miniature picture frames. With this kit, you can create a beautiful charm bracelet by customizing the images in bezel frames. The way these work is that you glue an image inside the bezel frame and then place a glass piece on top, sealing it with glaze. The kit includes one chain bracelet, three mini square frames, three round frames and the glass pieces. You'll also have a choice of art you can place in your charms but remember that you can create art using your own images, such as a favorite singer, pictures of pets or a meaningful quote.
This picturesque kit is available on Etsy.
Tip
If you're creating your own images, be sure to copy your art on a laser printer instead of an inkjet printer. This will make your images more colorfast.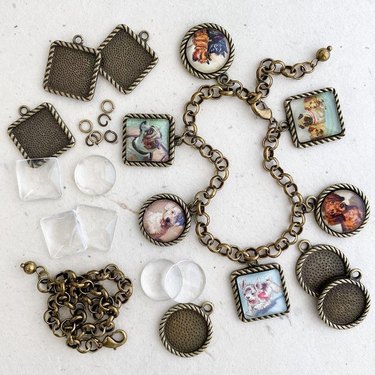 2. I Heart Charm Bracelets Kit
Talk about customization! This charm bracelet kit comes with five colors of air-dry clay and a molding tool so you can create your own custom beads. If you've never worked with air-dry clay before, you'll be amazed at how easy it is to shape, and it self-hardens when exposed to air in about 24 hours. Along with the clay, the kit includes two pins, two bracelets, glitter glue, jump rings and additional charms and beads to add to the ones you make. With this kit, you can legitimately call yourself a jewelry designer.
This crafty kit is available on Amazon.
Tip
Once you try making beads with air-dry clay, you'll be hooked. Get more clay in different colors to make even more beads.
3. Make Your Own Glaze Craze Charms Kit
Now you can get the look of clear resin charms without actually having to work with resin. This kit comes with clear charm blanks that you layer with collage pieces and clear glaze. There are more than 100 images in four different themes printed on transparent sheets with which you can collage. You also get glitter to sprinkle over your pieces to add some sparkle. A 32-page booklet walks you through the process, so it's all easy-peasy.
Tip
Besides bracelets, you can turn your creations into anklets and chokers.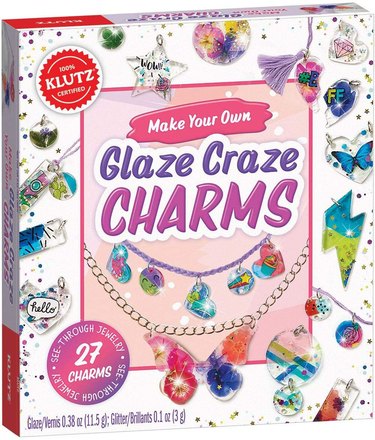 4. Juicy Couture Chains and Charms
The glam and glitz of Juicy Couture comes to jewelry with this charm bracelet kit. The kit includes 12 Juicy Couture charms, more than 100 beads, 16 metallic pieces, velvet ribbon, pink ribbon, chains and a sewing kit. You'll be able to express your personal style as you create bold and unique jewelry that lets you stand out from the crowd.
This runway-ready kit is available on Amazon.
Tip
This kit would make a great gift for all the fashionistas in your life.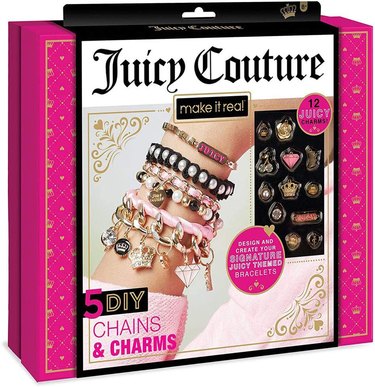 Here's a charm bracelet kit that is truly one of a kind. This kit has just about everything you need to create a bracelet celebrating Dia de los Muertos — and frankly, every day is a good day to celebrate our ancestors. This Etsy merchant makes every kit unique, and elements include an oxidized metal toggle bracelet, hand-carved gemstone crosses, dangly multipart charms, sugar skull beaded charms, glass and plastic fruit beads, evil eye beads or charms, crystals and much more. You'll also receive instructions for how to put it all together. Make this bracelet and you're making a statement.
This lively bracelet kit is available on Etsy.
Tip
You'll need a good pair of pliers and wire cutters to complete this and other jewelry projects. Don't improvise. The right supplies make all the difference.
These charm bracelet kits show that this fun, personalized jewelry is back with a vengeance. If you never got on this crafty train the first time around, well, the second time's the charm.