"Feed me, Seymour!" Welcome spooky season with an iconic man-eating plant from the classic '80s film ​Little Shop of Horrors​. Made from a faux pumpkin and artificial greenery, this is one festive display you don't have to worry about wilting, and you can use it in future seasons, too. Perfect for your yard or porch, this life-sized ​Little Shop of Horrors​ Audrey II Venus flytrap is sure to be a Halloween hit on the block!
Follow along for our DIY Halloween tutorial.
Things You'll Need:
Faux green pumpkin
Knife or box cutter
Red and purple paint
Paintbrush
Toothpicks
White foam sheet
Scissors
Hot glue gun
1/4-inch PVC pipe, 5-foot length
Green spray paint
Large planter pot
Floral foam
Faux leaves, vines and long-stem flowers
Dried moss
Use a sharp knife or box cutter to slice a faux green pumpkin in half lengthwise, but don't cut all the way through.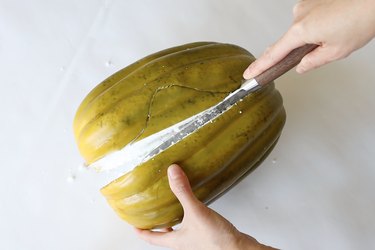 Add lips to your carnivorous plant
Paint red "lips" around the opening of the pumpkin and paint the inside purple. Prop the pumpkin open with a toothpick on each side.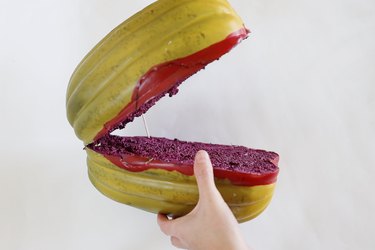 Spray paint a 1/4-inch PVC pipe with green paint. Let dry.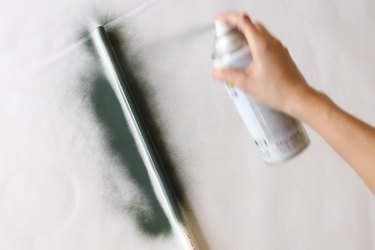 Fill a large planter pot with floral foam and stick the PVC pipe standing upright in the center.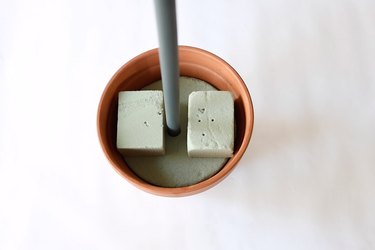 Cut a small hole in the bottom of the pumpkin and hot glue it on top of the pipe. Glue faux leaves to the back of the pumpkin "head." We first glued a layer of small oak leaves, followed by a layer of large hosta leaves.
Cut off the blooms from four or five long-stemmed faux flowers (we used birds of paradise).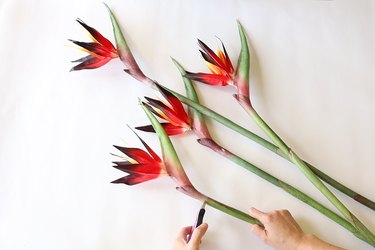 Insert the stems into the floral foam and bend and shape them to look like roots.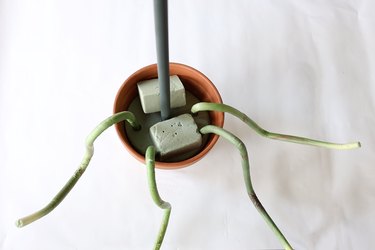 Fill the planter pot with large faux leaves (we used hosta leaves again), and then cover any visible floral foam with dried moss.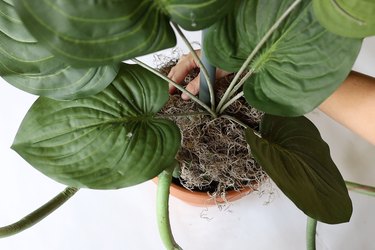 Wrap faux leafy vines around the "stem" to cover the PVC pipe.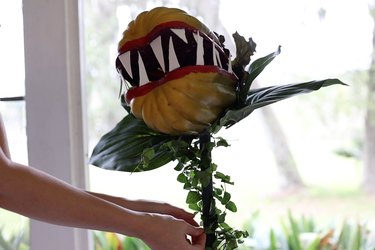 Put one of the flower heads that you cut off (we used a bird of paradise) inside the pumpkin to form a "tongue."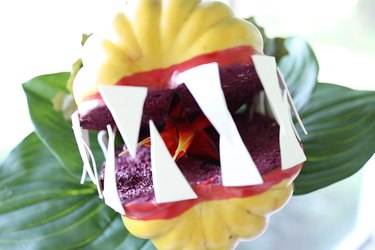 Your life-sized Audrey II plant is all set to rock and roll for Halloween. This man-eating Halloween decoration is straightforward to make and so charming that she'll have neighbors exclaiming how much they love it.
But be careful — she bites!