Is there really any such thing as too much pizza? Of course not... but that doesn't mean you want to eat a slice for dinner every night. So transform leftover dough into something other than a vehicle for cheese and pepperoni. Pizza dough is a basic yeast dough, so it can be used in everything from breakfast to dessert. You won't even miss mozzarella.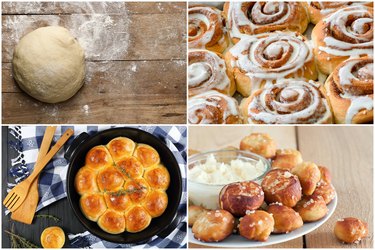 1. Pizza Dough Garlic Knots
Garlic knots are the perfect food for anyone whose favorite part of pizza is the crust. Once you have pizza dough ready to go, forming garlic knots takes just minutes. They don't have to look like perfect knots as long as they're brushed with plenty of garlic and butter. Finish baked knots with grated parmesan and serve with tomato sauce for dipping.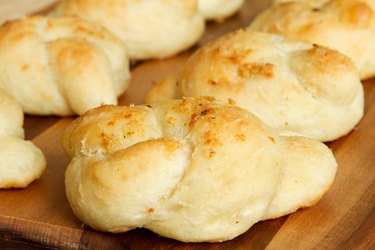 2. Pizza Dough Breadsticks
Breadsticks are one of those simple snack foods that you can dress up in a dozen ways. Form the dough into sticks and arrange them on a baking sheet. Brush the sticks with butter, then go wild with toppings. Everything bagel seasoning, ranch seasoning powder or cheddar and jalapeños are tasty options.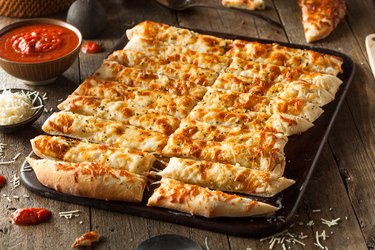 3. Pizza Dough Dinner Rolls
What's the difference between basic dinner rolls and rolls made of pizza dough? Trick question — there isn't one. This shortcut is as easy as forming the dough into balls a little larger than golf balls, and placing them in an oiled baking dish. Let the dough rise for at least 30 minutes, then brush the rolls with butter or oil and bake until golden brown.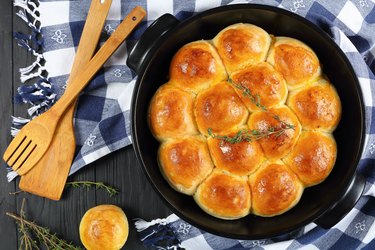 4. Pizza Dough Pretzel Bites
What separates regular baked pizza dough from pretzels is just a quick bath of baking soda. When your pizza dough is ready to go, whipping up a batch of fresh soft pretzels is as easy as boiling a pot of water and adding about 1/2 cup of baking soda. Form the dough into balls and drop them into the water for about 20 seconds. Transfer the pretzel balls to a baking dish, sprinkle with salt and bake until golden brown.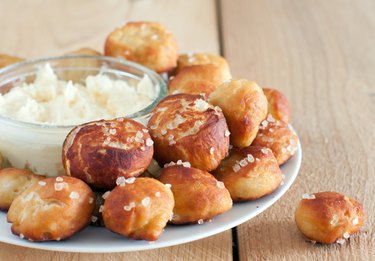 5. Pizza Dough Cinnamon Rolls
Frankly, by the time cinnamon rolls are slathered in sticky icing, the composition of the dough is the last thing anyone's thinking about. Use pizza dough to cut the prep work for this indulgent breakfast treat. Just be sure to let the prepared rolls rest before they go into the oven. This will help them puff while baking.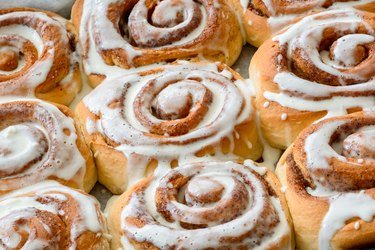 6. Pizza Dough Pull-Apart Bread
The problem with pull-apart bread is that you keep grabbing just one more chunk... until suddenly you've polished off half the loaf. Oh well. To make a version of pull-apart bread for pizza dough, roll dough into balls and place them in an oiled bundt pan, layering the dough balls with chunks of cheese and meat before baking. Or, use this dough to make monkey bread that's loaded with cinnamon sugar.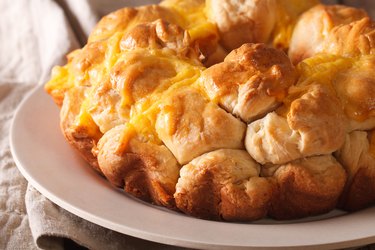 Stromboli is a lot like a calzone: it's all the components of pizza, just flipped so the fillings are encased by crust. Stromboli is perfect for a crowd because you can make a large one and slice it into many servings. Start by rolling the dough into a thin rectangle. Cover with sauce and toppings, leaving the edges bare, then roll the rectangle (like you would cinnamon rolls) and bake until the crust is brown.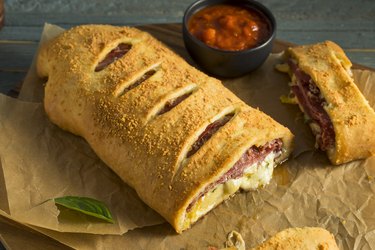 Pizza dough includes a subtle mix of salt and sweetener. So while it might seem strange to use this dough for a fruit-filled dessert, it's actually a perfect fit. A version of a galette is an especially easy way to whip leftover dough into dessert. It's a kind of open tart that's often topped with apple slices and baked.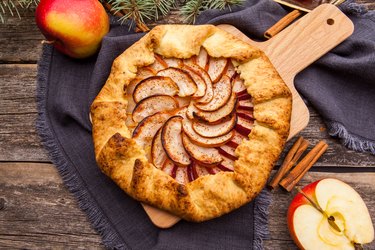 Anyone who likes their pizza crust thin and crispy will love pizza dough crackers. This is an ideal way to use up dough that's been sitting in the fridge for a few days and won't rise much in the oven. The key is to roll the dough very thin. Cut crackers into any shape you like, then brush with olive oil and sprinkle with salt before baking.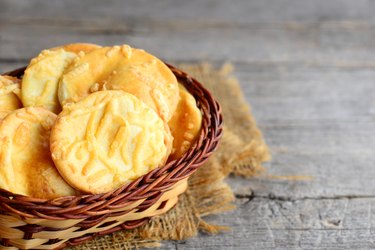 10. Pizza Dough Breakfast Pockets
Those frozen breakfast pockets sure are convenient for busy mornings. Too bad they're filled with so many unpronounceable preservatives. Make your own portable savory breakfasts by filling pizza dough pockets with scrambled eggs, cheese and your favorite breakfast meats. Bake them until the dough is just browning and stick leftovers in the freezer.