Shrimp and grits is a classic meal in the Southern United States. It's the ultimate comfort food, thanks to the seasoned shrimp and crispy bacon served over cheesy, creamy grits. What's more, it was originally eaten as a breakfast dish, but it's now enjoyed for lunch and dinner, too. Regardless of the time of day, you can be sure that it will hit the spot.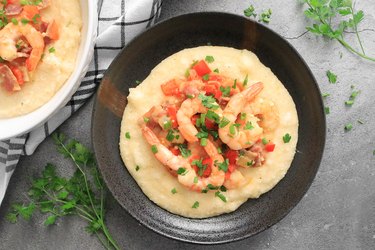 Things You'll Need
1 pound shrimp, peeled and deveined, raw or cooked

5 or 6 slices of bacon, uncooked

1 red or green bell pepper, deseeded and diced

1 1/2 teaspoons jarred minced garlic (or 3 fresh garlic cloves)

1 cup yellow onion, chopped

1 tablespoon unsalted butter


1 tablespoon all-purpose flour

1/2 teaspoon salt

1/4 teaspoon ground black pepper

1/2 teaspoon cayenne

1/3 cup vegetable or chicken broth


3 green onions

1 small bunch fresh parsley
Tip
If using frozen raw or cooked shrimp, thaw according to the package's directions.
Step 1
In a large skillet over medium-high heat, fry the bacon.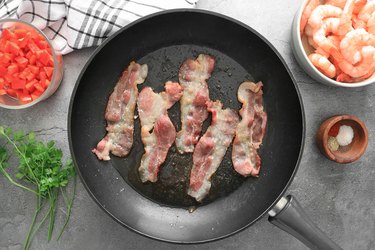 Step 2
With tongs, transfer the bacon to a plate lined with a paper towel.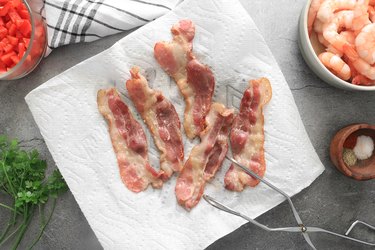 Step 3
In the same skillet, add the shrimp. If using raw shrimp, cook until pink and opaque, about 2 to 3 minutes on each side. If using cooked shrimp, briefly heat until warm and coated in bacon grease.
With a slotted spoon, transfer the shrimp to a separate plate.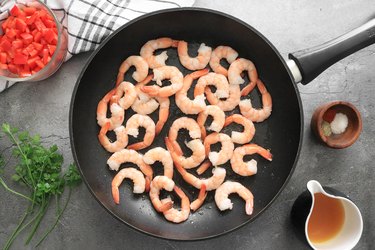 Step 4
To the same skillet, melt 1 tablespoon unsalted butter. Add the diced onions and bell peppers. Cook until tender, about 5 to 7 minutes. Add the minced garlic and cook for 30 seconds.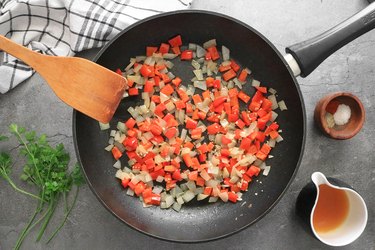 Step 5
Add the flour, tossing the onions and bell peppers until coated. Add the broth, salt, pepper and cayenne. Mix and simmer for 1 minute, or until thick.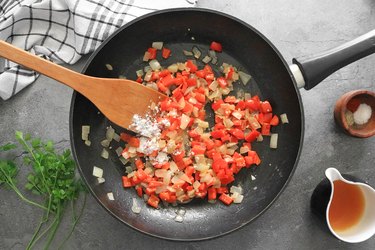 Step 6
Chop the bacon and scallions.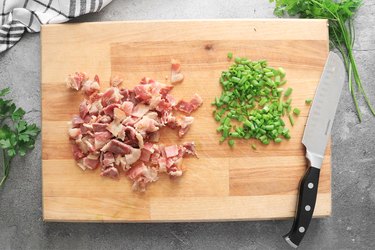 Step 7
Add the bacon, green onions and shrimp to the skillet. Toss until combined and heated through.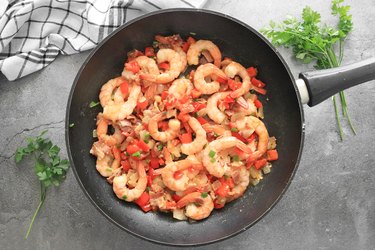 Things You'll Need
1 cup quick grits

4 cups water

1 1/2 cups shredded cheddar cheese

3 tablespoons unsalted butter

1 teaspoon garlic powder

1/2 teaspoon salt

1/4 teaspoon ground black pepper

Dash of cayenne (optional)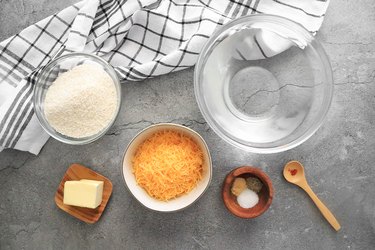 Tip
For richer grits, use 4 cups milk. You can also use 2 cups water and 2 cups milk.
Step 1
In a large pot, bring the water to a boil. Add the grits and simmer until thick, about 4 to 5 minutes, stirring frequently to prevent clumping.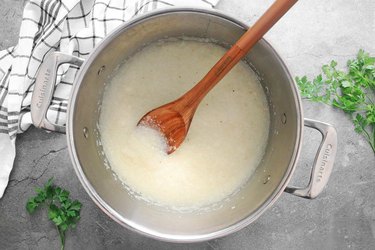 Step 2
Add the shredded cheese, butter, salt, black pepper and garlic powder.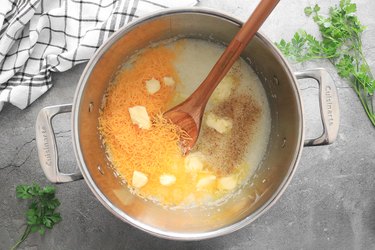 Stir until the cheese is melted, about 30 seconds to 1 minute.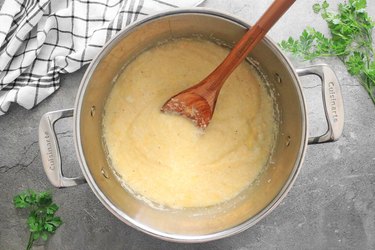 Spoon the grits into shallow bowls. Add the shrimp mixture on top of the grits, and garnish with freshly chopped parsley. Serve immediately.