Enjoy two comfort foods in one with this fun taco pizza recipe. In every bite, you can savor the satisfying crunch of pizza crust with the kick of seasoned meat. It's also perfect for feeding a crowd or celebrating Taco Tuesday in a unique way. Serve it with sour cream, hot sauce or both! Here's how to make this tasty taco pizza.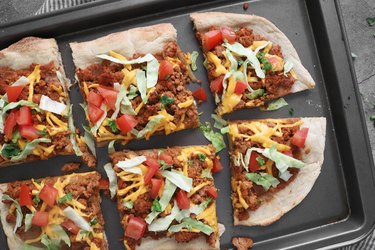 Things You'll Need
Pizza crust dough (homemade or store-bought)

Olive oil

1 pound ground beef, turkey or chicken

1 1.25-ounce packet taco seasoning (2 to 3 tablespoons)

1/4 cup broth or water

1 cup refried beans


1 cup shredded or grated cheddar cheese

1/2 medium tomato, deseeded and diced

1/2 cup lettuce, shredded
Tip
If you're pressed for time, use a pre-made pizza crust. Also, depending on the size of your crust, you might need slightly more or less toppings.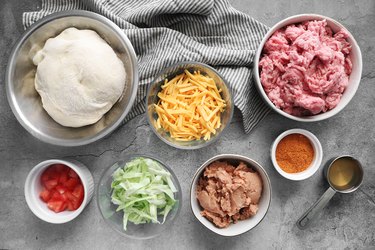 Step 1
Preheat the oven to 450° Fahrenheit. Roll out the pizza crust dough on a greased baking sheet or pizza pan, brush with olive oil and pre-bake for 6 to 8 minutes. If using store-bought pizza dough, pre-bake according to the package's instructions.
Step 2
In a large pan over medium heat, warm 1 to 2 tablespoons olive oil. Cook the ground meat until brown, about 5 to 7 minutes. Use a spatula to break it up.
Step 3
Add the taco seasoning and broth or water.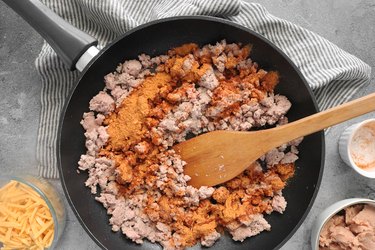 Mix to coat the meat. Simmer until liquid is mostly evaporated.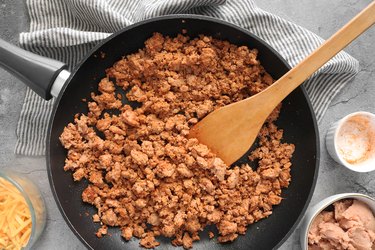 Step 4
On the pre-baked crust, spread the refried beans in an even layer. Top with taco meat.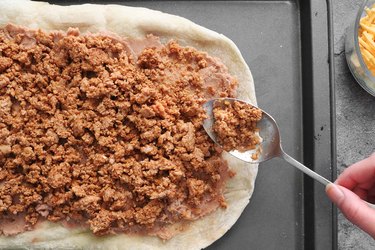 Step 5
Top with shredded cheese. Bake for 8 to 12 minutes or until the cheese is melted and bubbly, and the crust is golden brown.
Step 6
Top with tomato and lettuce. You can also add other tasty toppings like sliced olives, crushed tortilla chips and chopped cilantro. The possibilities are endless!
Tip
If you plan to save leftovers, don't top the entire pizza with tomato and lettuce just yet. Once reheated in the microwave or oven, you can add these toppings just before eating.
Serve with sour cream or hot sauce, if you'd like. Enjoy!