These marshmallow tutu treats are easy to make for any birthday party, baby shower or other ballerina themed event you have coming up. Use them as centerpieces, treats to dress up your dessert table or party favors — the possibilities are endless.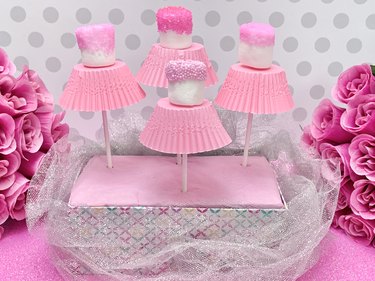 Things You'll Need
Lollipop Sticks

Marshmallows (large and small)

Wax paper

Pink Sugar Sprinkles/Pink Pearl Sprinkles

Pink Cupcake Liners

Water, Edible Glue or Frosting

Decorative box & foam to store lollipop sticks

Plastic serving gloves
Step 1
To create the base of your ballerina tutu treat, place a small and large marshmallow on top of a piece of wax paper. Push the lollipop stick through the center of a small marshmallow so it sits on the stick right below the space that the large marshmallow will sit.
Tip
Using two cupcake liners together, instead of one, will give the tutu a more defined shape.
Step 2
Place the cupcake liner directly on top of the large marshmallow. Then line up the lollipop stick with the center of cupcake liner and press down so it pierces through the liner and large marshmallow. Push the small marshmallow toward the cupcake liner so there is no space between the liner and large marshmallow. The small marshmallow acts as a stopper that doesn't allow the cupcake skirt to slide down and separate from the large marshmallow.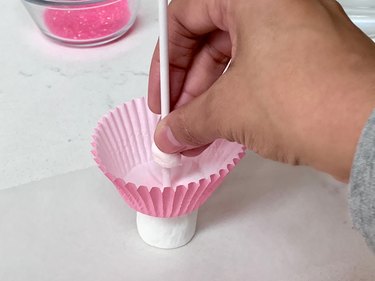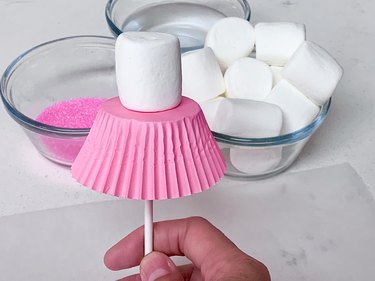 Tip
You can also pierce a small hole in the center of the cupcake liner prior to inserting the lollipop stick to help the stick glide through the liner and marshmallow more smoothly.
Step 3
Cover the marshmallows with as much adhesive as you want the sprinkles to cover. For example, if you would like to cover half of the marshmallow as pictured, dip the top half of the marshmallow in water, edible glue or frosting (we used water). Shake off excess water.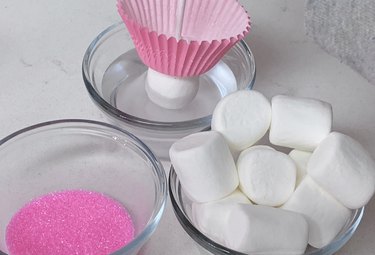 Step 4
Immediately dip the top of the damp marshmallow into a bowl of pink sprinkles and swirl around. Shake off any excess.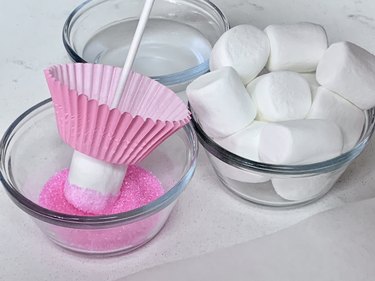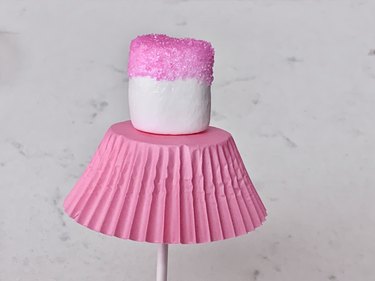 Step 5
Turn your marshmallow tutu treats upright and place the sticks into styrofoam insert covered by tissue paper and placed inside a decorative box. Make as many of these beautiful treats as you desire! When grouped together, the presentation is absolutely gorgeous. Try it for your next event — you won't be disappointed.