There is one difference between experienced travelers and the rest of us: Everyday people overpack, while globe trotters know to keep it simple. Whether your goal is to pack an entire trip into a carry-on bag or to fit 10 days of international travel into a single suitcase, these 12 packing hacks will have you feeling like a travel-sized Marco Polo.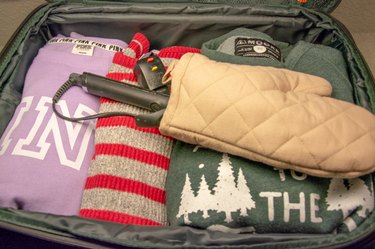 Regardless of how much you fit into your bag on day 1 of your trip, your luggage will quickly become an unwieldy mess if your possessions aren't organized. The secret to keeping a tidy travel bag isn't how you fold or roll your clothes, it's how you group items for easy access. ​Method:​ Pack by outfit, use or "kits" based on need. By bundling items of similar purpose together, you'll create space and organization. Place like items into large storage bags (ours were 10 for $3 at Walmart). These modular storage bags also take advantage of your suitcase's unused vertical space!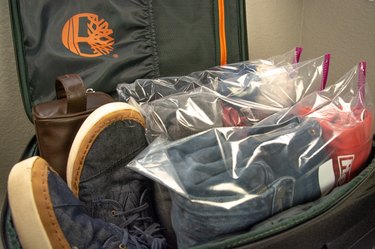 2. Keep Necklaces Tangle and Knot Free
Sometimes our minimalist packing endeavors emphasize ease over elegance. But even if you're boating the beaches of Bali or wandering the woods of western Wisconsin, an ardent adventurer may like to bare her best bling. Keep your necklaces free of tangles and knots with a simple straw! ​Instructions:​ Fasten your necklace after you've slipped it inside of a plastic or paper straw.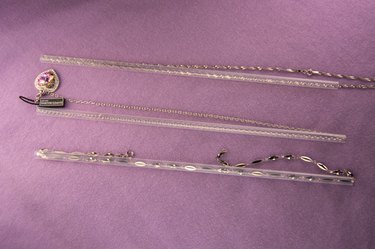 3. Put Creams Into Contact Lens Cases
While TSA is a universal pain for American travelers, their insistence on limiting the amount of creams and liquids flyers can stow in their carry-on bags has made Westerners rethink how they pack. You can still bring your beauty regimen abroad, you just need to get creative! ​Instructions:​ Fill old contact-lens cases with creams, lotions, foundations and other essentials. Each side of the case holds slightly less than a fluid ounce, which is well below TSA's 3.4 ounce cream and liquid rule.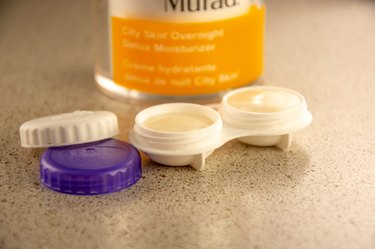 4. Stash Your Cash and Cards
Remember that thieves travel too. Long layovers, budget lodging and killing time at hotel and airport restaurants provide unscrupulous people with time to steal from you. Keep cash, cards, passports and identification out of sight with a deodorant cash stash! ​Instructions:​ The deodorant stick will slip on and off from the container fairly easily once it has been pried off using either pliers or a screwdriver. A used (but not quite done) deodorant is best. Place your valuables inside the container, and then place the secret stash alongside the other toiletries in your bag.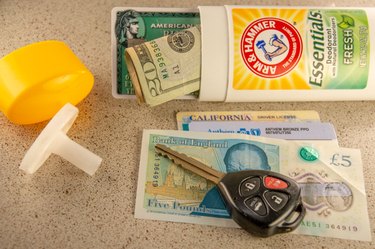 Unfortunately, travelers and tourists are often easy marks for skilled thieves who stalk transportation hubs and hotel areas that vacationers are known to congregate. Pick pockets usually only have a few seconds to reach into a victim's bag, so make sure they're only able to grab dirty undies with these tips! ​Instructions:​ Pack valuable items into the interior of your luggage and leave the outside pockets for laundry or easily-replaceable goods. Bags emblazoned with the Mac logos and LowePro tell thieves that you're carrying expensive camera and computer equipment.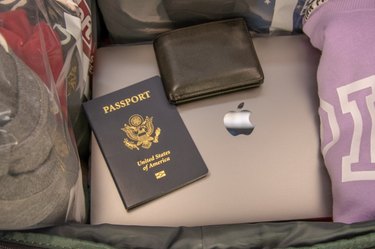 Headaches, cuts, allergic reactions and other common maladies happen all the time while we're traveling. But we often don't want to take up valuable carry-on real estate by bringing a bulky first-aid kit — which typically results in purchasing an entire box of bandages or over-the-counter medication when an emergency occurs. Save space, money and time by making a custom pill bottle first-aid kit! ​Instructions:​ Gather pills, wipes, bandages and gauze that you're likely to use, and then only take the amount that will fit into an old pill bottle.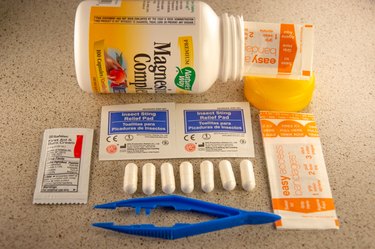 Placing socks inside of your shoes is a no-brainer, but deploying nesting as a broader packing strategy will create much needed space in your bag. Plus, nesting works with modular packing too. ​Instructions:​ Tuck underwear inside of bras, t-shirts inside of hats, skirts inside of pants, electronics inside of anything. Not only will you make more packing space, but nesting also provides cushioning for fragile items and can help keep some clothing free of wrinkles!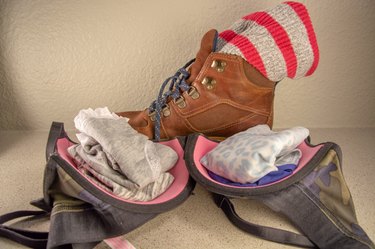 The mantra at eHow is "everything can be used again." It's a powerful principle that encourages frugality, environmentalism and most importantly: creativity! This motto will also help you pack like a wizard who magically transforms old mint containers into travel-sized jewelry boxes, sunglasses cases into device-charging cozies, pill bottles into earbud holders and pillowcases into laundry bags. Abracadabra!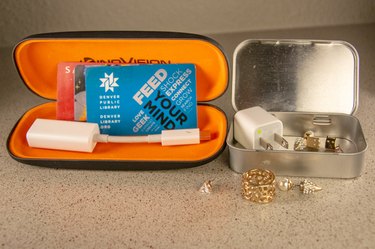 9. Wrap Curling Wands and Flat Irons
My fiancée often leaves her red-hot flat iron and curling wand laying on the carpet and on top of magazines. The potential for a fire freaks me out, so I gave her oven mitts to place her things on, which I thought was terribly clever. But when she rolled up her flat iron in the oven mitt and tossed it into her carry-on bag, I witnessed true genius. ​Instructions:​ Wrap flat irons and curling wands in heat-resistant oven mitts or potholders for heat protection.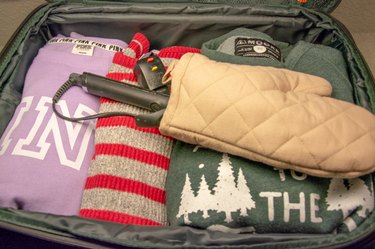 10. Create Space for Accumulation
Never pack to capacity. Inevitably, you will find the perfect gift for yourself or a loved one while gallivanting through Greece. ​Method:​ Cordon off a small area of your bag to be used later as a space for souvenirs, laundry or other accumulation. You can leave this space empty, especially if it's your bag's unused vertical space, or fill it with clothing and other items that you will use during trip, but don't mind leaving behind or donating before returning home. ​Tip 2:​ Bring a gift for some lucky person you meet while traveling and then use the space for souvenirs on your return trip.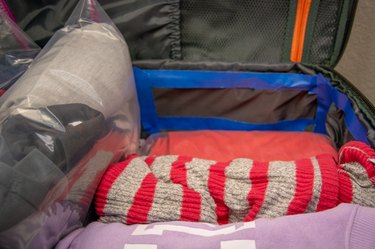 Some documents you can't leave behind, but there are many travel papers that can be stored digitally and accessed remotely. Using the cloud helps free up space in your luggage and lessens the risk of important documents being lost or stolen. ​Instructions:​ Store digital documents as PDFs, and take photos of everything from lodging receipts and maps to drivers licenses and passports. Store all of this vital information in a single, easily-accessible folder either on Dropbox, Google Drive or iCloud. Email a shareable link to yourself, a travel companion and your emergency contact.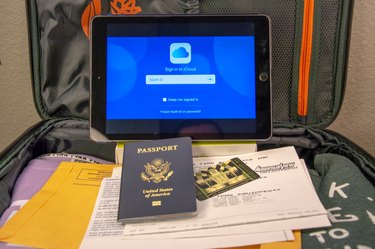 While this bit of globe-trotter wisdom may not seem like packing advice, it's actually going to save you lots of space and give you an opportunity to become a better traveler. ​Instructions:​ Instead of bringing things like soaps, shampoos, extra socks and toothpaste — buy these everyday items at your destination. This is especially good advice for international travel because it encourages you to get out of your comfort zone, and it helps you understand the daily lives of the people you're traveling amongst.