Did you know that our feet contain around 250,000 sweat glands? Now, that's a whole lot of sweat that can turn into a whole lot of stink! Keep your shoes smelling fresh and clean with this all-natural ‌sole‌ secret that will change your life. Take your shoes from foul to fresh with this simple, budget-friendly hack.
Essential oil (we used lavender)
Rubber bands
‌Watch the full video below:‌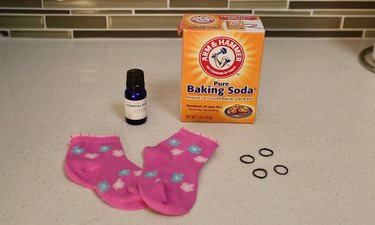 1. Carefully fill the baby socks
Carefully fill the baby socks halfway with baking soda.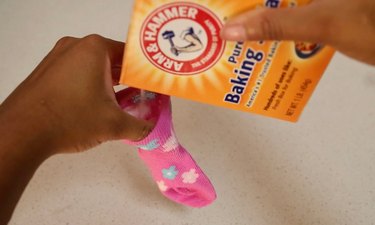 Add a few drops of essential oil to the baking soda.
3. Secure the socks closed
Secure the socks closed with rubber bands and lightly shake the baking soda around to evenly distribute the essential oil.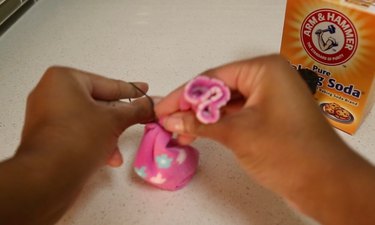 4. Insert the scented socks into the shoes
Insert the scented socks into the shoes and let sit whenever you're not wearing them. Say farewell to that foul stench!
In my experience working at Sketchers, I wished our customers took better care of their shoes. Customers would often come in with smelly shoes. Deodorizing smelly shoes naturally is a safe and effective way to keep your footwear fresh. Here are some options to achieve this:
‌Air Them Out‌: Remove the insoles and laces from your shoes and let them air out in a well-ventilated area. This helps to evaporate the moisture, which is often a cause of odor.
‌Sun Exposure‌: Place your shoes in direct sunlight for a few hours. The sun's UV rays are effective in killing bacteria and eliminating odors.
‌Use Baking Soda‌: Sprinkle a generous amount of baking soda inside each shoe and let it sit overnight. Baking soda absorbs odors and moisture. In the morning, tap out the excess baking soda.
‌Freeze the Shoes‌: Place your shoes in a plastic bag and put them in the freezer overnight. The cold will kill most odor-causing bacteria and fungi.
‌Use Cedar Shoe Inserts‌: Place cedar shoe inserts or cedar balls in your shoes when not in use. Cedarwood naturally absorbs moisture and leaves a pleasant scent.
‌Dryer Sheets‌: Place a dryer sheet in each shoe and leave them overnight. The sheets will absorb odors and leave a fresh scent behind.
‌Use a Vinegar Solution‌: Mix equal parts of water and white vinegar in a spray bottle. Lightly spritz the inside of your shoes with the solution and let them air dry. The vinegar will help neutralize odors.
‌Citrus Peel Trick‌: Place fresh citrus peels (like lemon or orange) inside your shoes and leave them overnight. The citrus peels will absorb the odors and leave a fresh scent.
‌Essential Oils‌: Add a few drops of your favorite essential oil (such as lavender, eucalyptus, or tea tree) to a cotton ball and place it inside your shoes. This will not only combat odors but also leave a pleasant fragrance.
‌Alternate Your Shoes‌: Give your shoes time to air out by not wearing the same pair two days in a row. This allows moisture to evaporate and reduces the buildup of odor-causing bacteria.
‌Maintain Foot Hygiene‌: Lastly, ensuring that your feet are clean and dry before putting on shoes is crucial. Odor is often caused by bacteria on the feet, so maintaining good foot hygiene can prevent smells from developing in the first place.
Remember to be cautious with materials like leather or suede, as some methods (like using vinegar or freezing) might not be suitable for them. Always check the care instructions for your shoes before attempting any cleaning or deodorizing methods.