Give the holly jolliest gift in an adorable Rudolph-wrapped box that lights up. Sure, that old familiar face is known for guiding Santa's sleigh, but his glowing nose will also brighten your holiday gathering with all the festive feels. Gift recipients are sure to squeal, "Oh, deer!" with delight.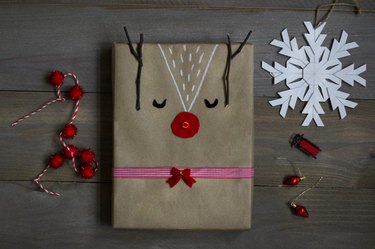 Things You'll Need
Gift box

Brown craft paper

Scissors

Tape

LED tea candle

Red craft paint

Paintbrush

Duct tape

Felt or cardstock (black and red)

Hot glue gun


White colored pencil or paint pen

Twigs

Ribbon and bow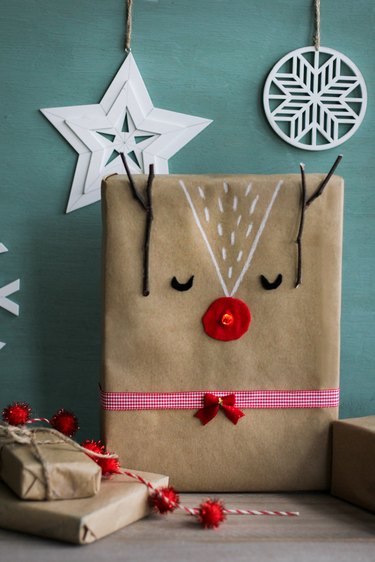 Step 1
Wrap the gift box in brown craft paper. Be sure to wrap the top and bottom separately, so you can access the top, which will house the candle.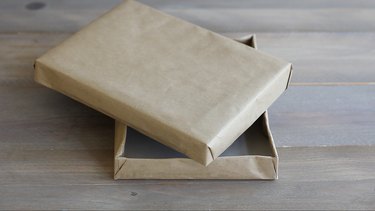 Step 2
Use the tip of the scissors to poke a hole in the center of the top portion of the box.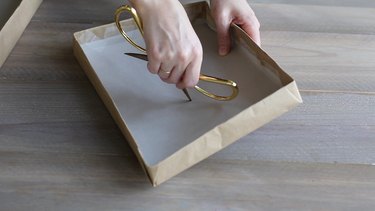 Step 3
Lightly paint the flame part of the LED candle with red craft paint. You don't want to use too much paint, as it'll be too opaque, and the candlelight won't be able to shine through. Allow the paint to dry completely.
Step 4
Poke the flame of the candle through the hole you made in the top portion of the box.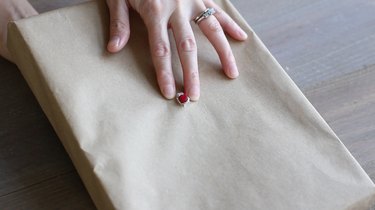 Tape the candle in place inside the box with duct tape.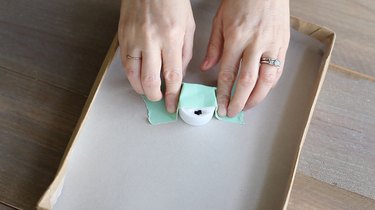 Step 5
Cut out the eyes and nose for Rudolph's face from either felt or cardstock. You'll need to cut two small U-shapes for the eyes and a circle for the nose.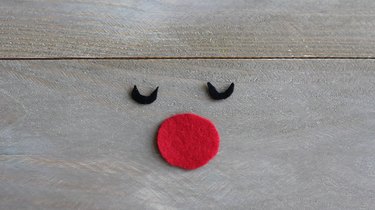 Step 6
Cut a 1/2-inch slit in the center of the nose.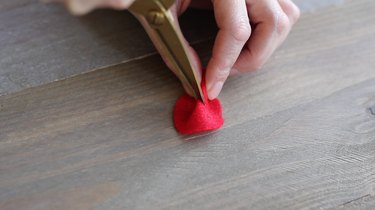 Slide the nose over the flame on top of the box. Glue the nose and eyes in place.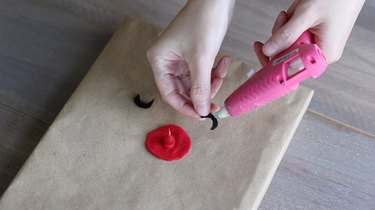 Step 7
Use either a white pencil or paint pen to draw a V-shape above Rudolph's nose, and then draw little white lines inside to create the illusion of reindeer fur.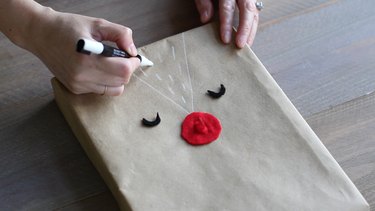 Step 8
Glue twigs in place on the top of Rudolph's head to serve as antlers. If you can't find twigs that have a natural antler shape, simply glue two twigs together.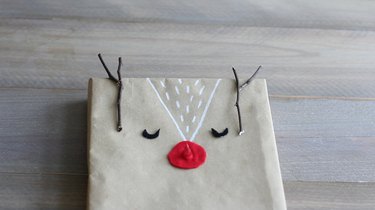 Step 9
Top the gift box off with a ribbon and bow taped a few inches below Rudolph's nose. It'll make it look like he's wearing a cute little collar.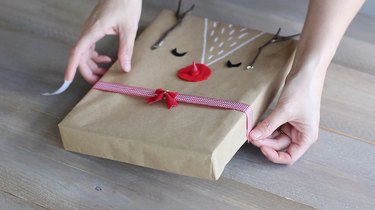 Now all that's left to do is wait impatiently until it's time to open presents. Simply switch on the candle right before you place your Rudolph-wrapped gift on the present pile, and watch the recipient's face light up with joy and wonder!