There is just something so satisfyingly delicious about a good 'ole fashioned potato skin. It's the world's best bar food, that makes for the world's best at-home snack. It's perfect for parties, especially those with good friends, good beer, and a good game on. This recipe is even better than the original and you can even add your own flare. Want some guacamole, or some chipotle sauce? Do it. Make them your own!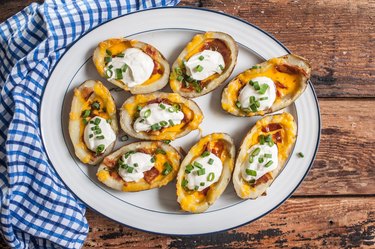 Things You'll Need
4-6 medium/small sized Russet Potatoes

2 tablespoons olive oil

1 teaspoon salt

3 tablespoons melted butter

3 cups shredded cheddar cheese

6 slices bacon, cooked and chopped

1 cup sour cream

1/4 cup chopped green onions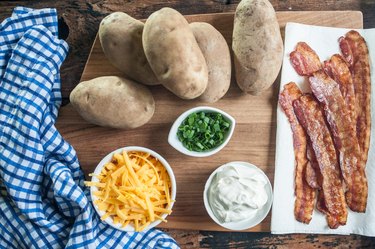 Step 1: Oil & Bake
Preheat the oven to 400° F. Rub the potatoes with oil, place on a baking sheet, pierce each a few times with a sharp knife. Bake for 30-45 minutes or until the potatoes are fork tender.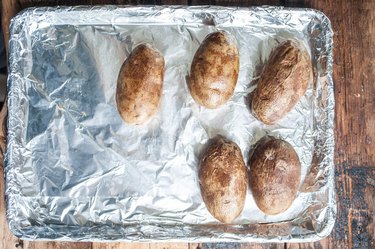 Step 2: Slice & Scoop
Once the potatoes cool enough to handle, slice in half lengthwise. Then scoop out the middle with a spoon, leaving about 1/2 inch of the walls intact. Return to the baking sheet, scoop side up.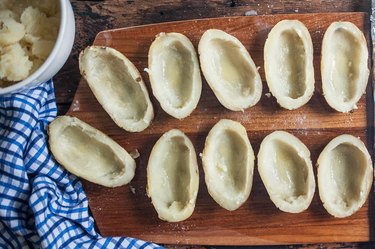 Step 3: Fill & Bake
Sprinkle the inside of the potatoes with salt and brush with melted butter. Then fill with cheese and bacon. Return to the oven until the cheese has melted, 6-8 minutes.
Step 4: Top & Serve
Top with sour cream and green onions, then serve immediately and enjoy!
Tip
Need to make these in advance? No problem! Just make them until they are ready to hit the oven the second time (filled with cheese and bacon), but instead of popping them in the oven, cover them and pop them in the fridge. The next day, uncover and bake until the cheese has melted (it may take longer because everything is cold), then top and serve!