Be the talk of the ski chalet when you show up carrying your winter gear in this cute and cozy bag made from an old sweater. When someone sidles up next to you to ask which exclusive ski boutique sells them, you can proudly tell them that you made it yourself! All you need is an old sweater from your closet or the nearest thrift store, some curtain grommets from the notion section of the fabric store, and an old belt to make this bag in under an hour.
Things You'll Need
Sweater

Sharp scissors

Pins

Measuring tape

Curtain grommets

Marking pen

Belt

Leather needle (110/18)

Cord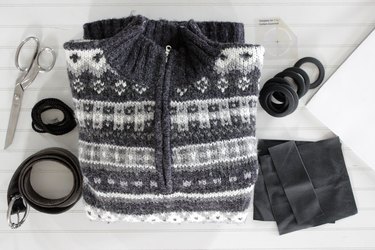 Step 1
Cut off the bottom of the sweater.
Step 2
Turn the bottom of the sweater inside out and pin the raw edges together.
Step 3
Sew a 1/2-inch seam along the pinned edge of the sweater.
Step 4
Line up the bottom seam and the side seam to create a right triangle. Measure 4 inches in from the corner and pin straight down from this point. This will become the stitching line.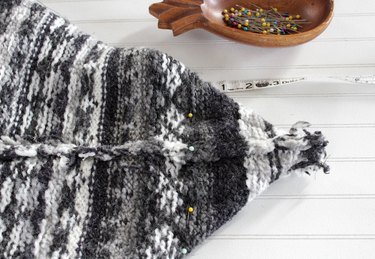 Step 5
Sew along the pinned line. Be sure to remove the pins as you sew.
Step 6
Trim a 1/2 inch away from the stitching.
Step 7
Use the tape measure to measure and space the grommets evenly about 2 to 3 inches below the top edge.
Step 8
Use the template that comes with the curtain grommets to mark the grommet cutting hole with a marker.
Step 9
Cut the grommet hole with a sharp pair of scissors.
Step 10
Place the bottom of the grommet under the hole and the top of the grommet over the hole and snap the grommet together, catching the edge of the sweater between the two grommet pieces. Repeat this process for all of the grommets.
Step 11
Place the end of the belt on the side of the bag and slowly sew in place with a leather needle (110/18). You may need to use the hand wheel of your machine to sew the belt handle to the bag.
Step 12
Thread some cord through the grommets to tighten up the top of the bag.
Now you're ready to add some serious winter style to any outfit!