Cheese and bread make a dynamite combo whenever paired together. There are several places that come to mind when I think about my favorite cheese and bread combos, but one in particular stands out the most: Domino's. Domino's Cheesy Bread is the ultimate of cheesy breads out there. And with a few easy steps you can make it right in your own kitchen. It's irresistible!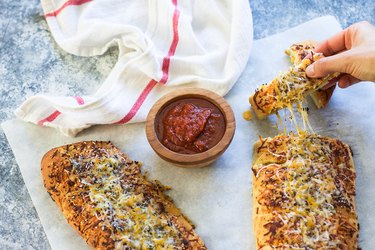 Things You'll Need
1 packet dry yeast

2 tablespoons honey or sugar

3/4 cup very warm water

4 tablespoons olive oil

2 cups all purpose flour + extra for dusting

1 teaspoon salt

1 cup shredded cheddar cheese

1 cup shredded mozzarella cheese

1/2 cup grated parmesan cheese

1 teaspoon garlic powder

1 teaspoon dried parsley

2 tablespoons cornmeal

Parchment paper


Marinara sauce for dipping
Step 1: Activate Yeast
Activate yeast by combining 2 tablespoons of honey or sugar with warm water and then sprinkling yeast over top for about five minutes until bubbly and foamy.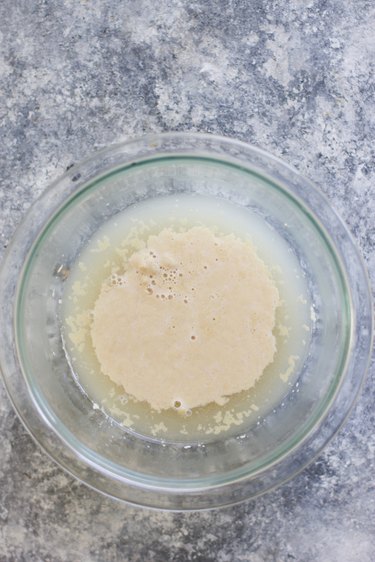 Step 2: Add Olive Oil to Yeast and Mix in Flour
Add 2 tablespoons of the olive oil to the water and yeast mixture, and stir to combine. In a separate bowl combine flour and salt. Slowly pour the yeast mixture into the salt and flour and stir with a wooden spoon until it forms a shaggy dough.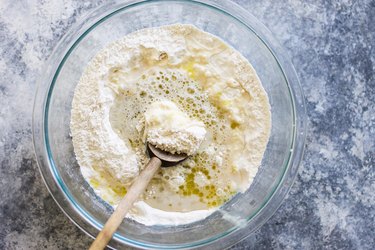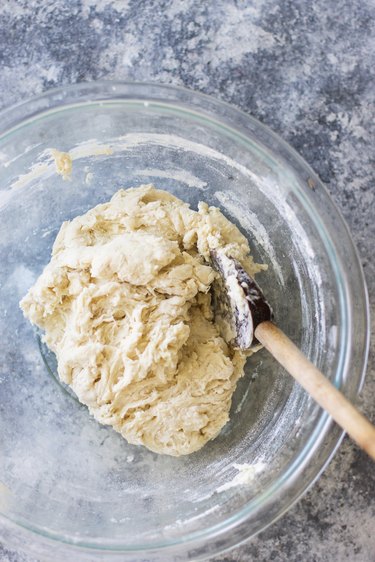 Step 3: Form a Dough Ball
Turn out the shaggy dough onto a floured and clean surface and knead until it forms a smooth ball (about 5 minutes). Oil a large bowl with 1 tablespoon of oil and place the dough ball inside, and then cover tightly with a kitchen towel. Set somewhere warm for 1 hour until the dough doubles in size.
Step 4: Make Cheese Mixture
Combine the cheeses, garlic powder, and dried parsley into a large bowl and stir to combine.
Step 5: Divide the Dough and Roll Out
Once the dough has risen, divide it into two portions. Place one portion at a time (leaving the other covered) onto a floured surface and form into a large rectangle, about 1/8" to 1/4" thick. Then repeat with the second half. Place the dough onto cornmeal dusted parchment paper and then brush the edges of the dough with olive oil. Sprinkle about 1/4 of the cheese mixture onto one side of the dough. Fold the other side of the dough over the cheese and seal the edges together by crimping with your fingers. Repeat with the second half of the dough.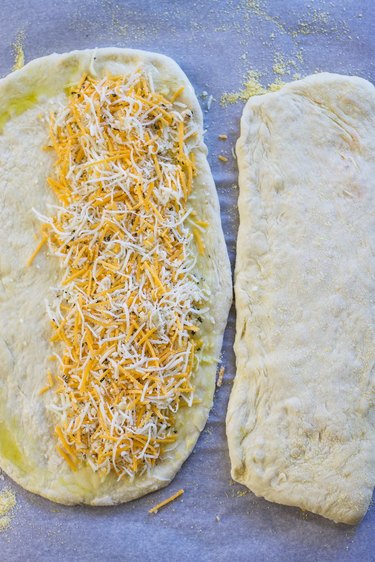 Step 6: Make Slices in Dough and Top with Cheese
Without cutting all of the way through, slice the tops of each rectangle into eight pieces so that it makes it easy to pull the cheesy bread apart. Brush the tops of each rectangle with a light layer of the remaining olive oil and then top with the remaining cheese.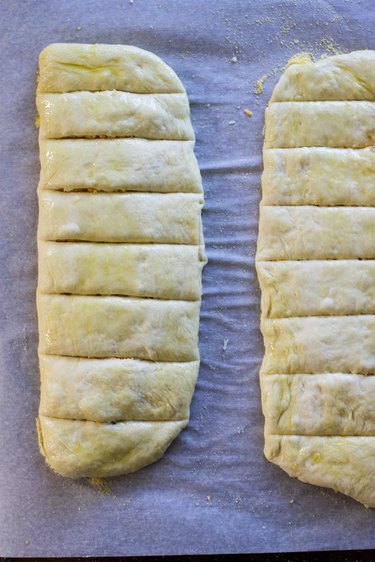 Step 7: Bake
Bake the cheesy bread for 15 to 20 minutes at 450 degrees until the bread has cooked and the cheese has melted. Serve immediately with marinara.
You won't be able to resist making this cheesy bread recipe any time the craving hits!