Many of us think of homemade jams and jellies as a classic breakfast accompaniment. However, wine jellies are a wonderful complement to cheese and crackers (especially brie!) Champagne jellies are often sold in the cheese section at local grocery stores. This recipe costs a fraction of the price when you factor in the total yield, and the active cook time is very brief. It's a great recipe to have on hand if you love to entertain (or simply love cheese).
Things You'll Need
1 1/2 cups champagne (sparkling wine may be substituted)


2 cups 100% pomegranate juice


1 tablespoon fresh squeezed lemon juice


Optional: 1/2 teaspoon unsalted butter


1 package (1-3/4 ounces) powdered fruit pectin


5 cups granulated sugar

Step 1: Gather Your Ingredients
The butter is technically optional; pectin has a tendency to foam up as it boils. You'll want to skim the foam before the jelly sets. Butter helps to reduce the foam, so it's a nice shortcut. Keep in mind that altering the amount of sugar can prevent jelly from setting.
Also, the recipe technically won't be pomegranate "champagne" jelly if you substitute sparkling wine, but you can easily get away with swapping the two ingredients to save money.
Step 2: Combine the Ingredients
In a Dutch oven or heavy bottom saucepan set over high heat, whisk together the champagne, pomegranate juice, lemon juice, butter (if using), and pectin.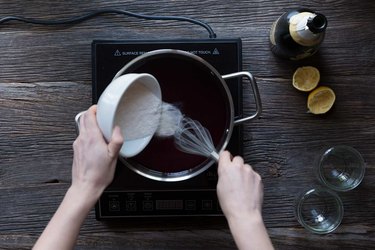 Step 3: Bring to a Rolling Boil
Bring to a full rolling boil over high heat, whisking constantly (or almost constantly.)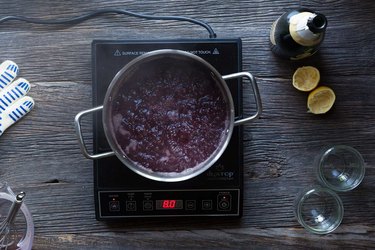 Step 4: Add Sugar
Whisk in the sugar, then return to a full rolling boil.
Step 5: Continue Whisking
Once the mixture is boiling, whisk for an additional 2 minutes.
Warning
The rolling boil is what activates the pectin. Anything less may prevent the jelly from setting properly.
Step 6: Remove from Heat
Remove from the heat and allow to cool briefly. Skim off any foam.
Step 7: Transfer to Jars
Ladle into four sterilized pint-sized jars. It should begin gelling as it comes to room temperature, but sometimes jellies can take anywhere from 12 to 24 hours, so be patient and keep that in mind if you're planning on serving it to guests in the near future.
You don't technically need to can jelly; just know that it must be chilled and the shelf life will be dramatically reduced. Canned jelly can be stored indefinitely at room temperature. If it's left unsealed, refrigerate and consume the jelly within one month.