Just because the sun goes down doesn't mean the fun and games have to end. Using just recycled water bottles and glow sticks, you can create three fantastic glow-in-the-dark games that are guaranteed to entertain both kids or adults well into the night. Great for camping, parties, or just everyday backyard fun!
Things You'll Need:
Recycled water bottles

Glow sticks

Rubber ball

Tip: For the glow sticks, I used an assortment of glow-in-the-dark bracelets and swords (with the handle removed). Necklaces would also work for the hopscotch rings. If you use bracelets or necklaces for the bowling or ring toss bottles, add two or three to each bottle for a brighter glow.
Glow-in-the-Dark Bowling
Fill six empty water bottles 3/4 full with water.
Activate glow sticks and add them to the water bottles.
Place caps on the water bottles and line up six "pins."
Use a rubber ball to bowl the pins over.
Glow-in-the-Dark Hopscotch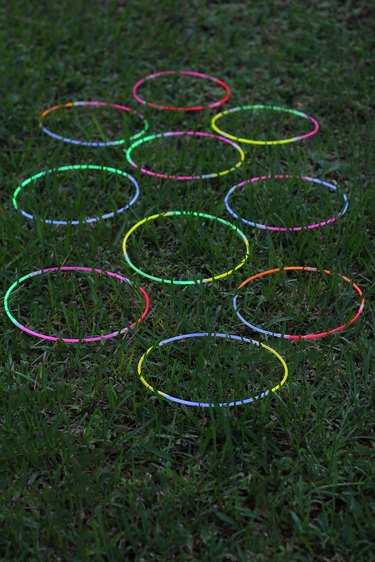 Join four glow stick bracelets (or two necklaces) together, using the connectors to form a large loop.

Set up 10 large loops to form a hopscotch board.
You can use a bracelet to form a small loop to act as the marker, but this version is also fun to try hopping through the board without catching any of the rings on your feet.
Glow-in-the-Dark Ring Toss
Use three of the bottles from the bowling set (or make three new ones using the same method) to act as "pegs."

Use the loops from the hopscotch board to toss on the bottles (or make new ones using the same method).
Have players stand at least 4 feet from the bottles and toss the rings, trying to land them around the bottles.