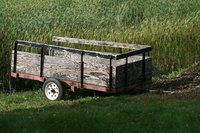 The state where you plan to become a utility trailer dealer will determine the specific requirements, but there are some basic requirements that are across all boards. In addition to education and experience, you should be willing to travel if necessary, interact well with others and have good salesmanship.
Location
If you plan on working for a company, don't worry about finding a location to store utility trailers. However, if you want to start your own dealership, consider where you plan on operating the business. Demographics play a vital role in how successful the dealership will become. In order to become a utility trailer dealer, your place of business must be large enough to securely store the utility trailers. It must also have visible signs with the dealership name. Once you secure a location, your state's law enforcement agency must complete an inspection of the business. You will receive a letter with approval or denial.
Surety Bond
Surety bonds are contracts that secure deals with clients and other businesses. Anyone interested in becoming a utility trailer dealer must secure a surety bond from a third party to ensure all duties are fulfilled with other parties involved in the dealership. Visit a surety bond company in your area to request a quote for a bond on your utility trailer dealership.
Dealer Education Seminar
In most states, you are required to enroll and complete a dealer education seminar. Visit your state's Department of Revenue to obtain a seminar application and pamphlet. Most seminars are four to six weeks in length for five days a week.
Register Your Dealership
You must register your utility trailer dealership with your state's Department of State. In order to obtain your dealership license, you must pay certain licensing and registration fees. Be prepared to submit photographs of the place of business and utility trailers to be sold when you apply to register your dealership. Most applications can be approved in seven to ten days from the date of application submission.
Note: The state where you operate your dealership will perform a criminal background check on you before you can register your dealership and participate in seminars. Download a "Request for Criminal Background Check" form from your state's Highway Patrol Headquarters.