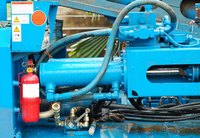 Hydraulic circuits are composed of four components: pump, feed line, actuator and return line. When installing, maintaining or troubleshooting hydraulic circuits (or a hydraulic system), understanding all four components allows you to quickly pinpoint what needs attention. What's important to understand about a hydraulic circuit is there is no "important" or "sub" system involved. All four components have equal importance to make the hydraulic circuit operate properly.
Pump
Hydraulic systems use a non-compressible fluid to induce actuated motion. Whether powering a piston, lifting a bulldozer blade or spinning a roller in a giant paper-making machine, all hydraulic systems require pressure to move the machine. Pumps of various sizes and capacity move the fluid in controlled and steady flows to increase, decrease or maintain the hydraulic fluid pressure. Externally powered by either electric, internal combustion engines or even other hydraulic sources (a water wheel can drive a hydraulic pump in some hydro-electric installations), the pump can be either a rotary or piston design. Hydraulic pumps also are controllable through the velocity of the pumping action to increase and decrease hydraulic fluid pressure.
Feed Line
The feed line is a high-pressure line supplying pressurized hydraulic fluid to the actuated installation. Feed lines are either annealed steel tubing or high-pressure hose depending on the circuit's rated pressure capacity. Both feed lines types, tubes and hoses, require a static installation allowing as little vibration or movement as possible. Although the feed line supplying certain installations (power cylinders on heavy machinery for example) require movement to keep pace with the machine, the entire line should be secured with clamps or other fasteners to reduce the vibration moving high-pressure fluid generates. Also, all coupling and fittings should be pressure rated to withstand the hydraulic circuits rated performance.
Actuator
The actuator is whatever does the work. These include cylinders for lifting and turning various pieces of equipment, rollers on manufacturing machines, presses and even other motors doing work with hydraulic pressure for a power supply.
Return line
Return lines return the hydraulic fluid to the pump after doing the work to move the actuated machinery. Return lines are low-pressure lines but "low" relative only to the pressure in the feed line. They may still contain significant pressurized hydraulic fluid returning from the actuator. Return lines should be installed and maintained identically to feed lines no matter the rated pressure. Return lines also include the filters needed to clean and strain hydraulic fluid before returning to the pump. Operating identically to the way an oil filter works in an automobile, filters require replacing on a regular basis in order to ensure the hydraulic circuit's optimum operation.