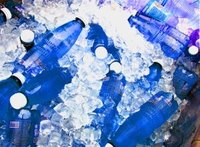 Believe it or not, selling spring water can be a profitable small business venture. Older children as well as adults can make decent money selling bottled water to thirsty customers. Thirst is an overwhelming sensation that compels people to purchase a beverage at their earliest convenience. Of course, people will always look for a free alternative such as a water fountain when they have the chance. That is why the key to selling bottled water is setting up in the right spot. Finding a captive market is essential if you want to make a solid profit.
Sporting Events
One of the best places to sell bottled water is at high-school sporting events. Gyms and stadiums are both prime locations. The crowd is your captive audience. People are in the stands, reluctant to move in fear of missing a big play, but thirsty from the heat and all the cheering. Talk to your school officials or team coaches about selling water at games as a private business or a fund-raiser.
Another option is to sell at tailgate parties. College and professional sports teams draw large crowds outside the stadiums on game day. Walk around the tailgate party in the parking lot with cold water and you'll be sure to find thirsty fans willing to pay for spring water.
In the Park
Depending on the size and popularity of a city park, you can make good money selling spring water to joggers and families enjoying a sunny day at the park. Parks often have drinking fountains, but you can get around this in one of two ways. One option it to set up shop somewhere with no drinking fountains or extremely long lines for a single fountain. The other option is to advertise your product as "ice cold" and "cleaner" than the nearby fountains. Thirsty children and adult joggers will often opt to buy a bottle of cold, clean water instead of chugging lukewarm water from a park fountain.
Major Intersections
Major intersections with lots of traffic are prime spots to sell water, especially during rush hour or on particularly hot days. Individuals and families will be driving along in their cars, parched and with no way to get a quick drink since they are stuck in traffic. Prowling up and down major intersections in the summer is a good way to sell a large amount of spring water. It's an impulse buy on the part of the customer, and you are the only vendor in the area supplying the product. This approach can be risky because of accidents, so sell with care and never wade into traffic.