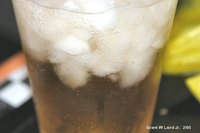 Vomiting and diarrhea are two common symptoms that people of all ages experience now and then. The symptoms usually clear up after two to three days but there can be a danger of becoming dehydrated, especially if you have a fever or are already in poor health. Treatments for these conditions are based on preventing dehydration.
Vomiting
Hold off on eating for a period of two to four hours after you have vomited. If you eat too soon, you may trigger another vomiting episode. Lie down in a dark room where you will not be disturbed and have a basin by your side so you do not have to get up to vomit. Don't try to prevent vomiting. It is better to get it out of your system so you can begin recovery. Do not eat or drink milk products within 24 hours. Do not take medications that contain aspirin or ibuprofen.
Two hours after vomiting, try to eat ice chips for hydration. If you do not vomit within 90 minutes, then work up to taking small sips of water, diluted apple juice or broth. If vomiting occurs, wait two hours, then begin with ice chips again. For 18 hours after vomiting, consume only liquids at room temperature like Gatorade, Jell-o and flat ginger ale. Try to take in two ounces every 15 minutes. The next day, gradually add applesauce, bananas, soup, crackers, rice, boiled potatoes or toast to your diet. When you can keep down these foods without vomiting, slowly return to your normal diet over the course of two to three days. This will allow your stomach lining time to heal.
Diarrhea
Drink plenty of fluids when you have diarrhea to keep from becoming dehydrated. Choose from water, Gatorade, ginger ale, broth or diluted juice. If your diarrhea lasts longer than six hours, consider taking an over the counter medication like Imodium AD. The next day, gradually add solid foods back to your diet such as rice, potatoes, pasta, bananas and broiled fish. Do not consume dairy products for one week after an episode of diarrhea so your bowels can recuperate. Also avoid citrus juice, raw vegetables, fried food, spicy food, alcohol, and coffee for up to five days. Eat small meals evenly spaced throughout the day instead of one or two large meals.
Call Doctor
Call your doctor if you suspect you have become dehydrated, if your diarrhea lasts longer than four days or vomiting that lasts longer than 24 hours and you are unable to keep down liquids. Signs of serious dehydration include yellowing of eyes and skin, dark yellow urine, little or no urine, feeling dizzy, extreme thirst and profound weakness.