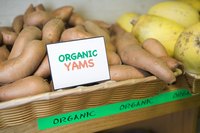 The body releases cortisol in response to physical and emotional stress to increase energy levels. But chronically high cortisol levels trigger accumulation of hard-to-lose abdominal fat, suppress the immune system, increase the risk of illness and infection, and raise insulin levels, which can lead to diabetes. There are natural ways to lower high cortisol levels, including diet changes, certain herbs and stress-reduction techniques.
Diet
Some foods, such as refined carbohydrates (e.g., white rice, potatoes and pasta) release sugar rapidly into the blood stream, raising insulin levels. Eating low-glycemic foods, which release sugar slowly into the bloodstream, lowers insulin secretion and cortisol levels, according to the Advance Health and Life Extension. Examples include lean meats, whole-grain carbohydrates, fruits and vegetables. Visit the Healthy Weight Forum online for a description and list of low- and high-glycemic foods.
Foods rich in antioxidants, omega-3 fatty acids and folate also lower cortisol. High-antioxidant foods include pumpkin, sweet potatoes and berries. Salmon, tuna and other oily fish, and ground flax seed, walnuts, soybeans and pumpkin seeds are good sources of omega-3s. Dark, leafy vegetables, beans, legumes, asparagus, brussels sprouts, beets and okra are folate-rich.
Coffee increases cortisol production, but green tea, which is high in antioxidants can help lower it. Take vitamins and minerals such as magnesium and vitamins C, B5 and B6 and phosphatidylserine.
Herbs
Many herbs include antioxidants and may help reduce stress and, thus, cortisol levels. Examples include magnolia bark, epimedium, theanine, banaba leaf, beta-sisterols and vanadium, says Janet Hull, a toxicologist and professor. Other herbs that may also help include Siberian ginseng, Manchurian thorn tree extract, hawthorn extract, echiopanax elatur amd schisandra.
Lifestyle Changes
Because the body responds to stress by increasing production of cortisol, you need to figure out what raises your stress levels then do what you can to reduce them. Stress-reducing activities may entail listening to music, doing things that will make you laugh, yoga and stretching, or taking hot baths. Relaxing activities will improve your mood and help you stay calm. Ward off illness and infection as well since those are physical stressors that can raise cortisol levels. Wash your hands frequently, get plenty of sleep and exercise regularly.
Tests
To learn whether your cortisol levels need to come down, get them tested every three to six months, as recommended by Janet Hull. Tests of blood, saliva or urine can be conducted to measure the amount you're producing.