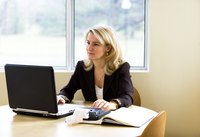 Adjusting entries are used in accounting to prepare general ledger (GL) accounts for month- or year-end accounting reports. The accrual accounting method, the most popular accounting method in the U.S., uses adjusting entries to recognize revenues and expenses as they are earned or spent. In some cases, companies pay or receive cash for items before services are complete; adjusting entries are posted to the GL recognizing this unearned revenue or expense for financial and tax purposes.
Accrued & Deferred Revenue
Under accrual accounting, companies adjust their revenues to a calendar financial reporting method. Each month, accountants post entries that will accrue or defer earned revenue, depending on the revenue recognition situation. It is possible that accruals and deferrals alternate during the calendar year, although one situation usually occurs for different revenue items.
Accrual entries are used when companies earn revenue that will be paid over a few months; although the cash is not received, companies will accrue the revenue to show the revenue on their financial statement. For deferrals, cash is received for services not yet complete; accountants set up the initial payment as unearned revenue and make entries each time the service is completed from unearned revenue to sales revenue.
Prepaid Expenses
Many times companies will prepay for assets that they intend to use over a specific length of time. Insurance policies, retainer fees, and computer maintenance contracts and licenses are items that may be amortized over the item's usage period. Accountants take the total amount of the policy or contract, divide it by the total number of months (usually six or 12 months), and post the amount into the GL each month. This allows companies to avoid taking large hits on their income statement from expensive items, creating a smooth picture for net income throughout the calendar year.
Accrued Expenses
Companies usually have accrued expenses, mostly from rent or employee payroll. As companies incur these expenses throughout the month, they recognize the expenses in the proper account and set up an offsetting payables amount. When the cash is paid out, the offsetting payables account is zeroed out and the company's cash balance is reduced.