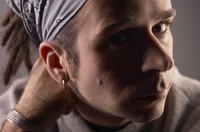 New earrings cannot be inserted into the piercing until the initial swelling from the piercing has subsided and the healing process is under way. Earlobe piercings generally take six to eight weeks to heal completely, and cartilage piercings take anywhere from six months to a year. Some people heal more slowly than others, depending on their immune system and factors such as diet and exercise. The healthier the piercee is, the quicker the piercing will heal. Follow the instructions of your professional piercer to determine if your jewelry is ready to be changed.
Removal
Consult with your professional piercer about the length and width of jewelry that is appropriate for the first time you change your earrings after your healing period. The first pair of earrings a piercer uses has extra length to allow for swelling and exuding of fluids, which is not necessary once the healing period is completed.
Purchase the recommended jewelry from your piercer. This article describes initial and replacement earrings with balls that screw onto the front of the shaft.
Wash your hands and dry them with a clean paper towel. Do not touch the faucets or any other surface after washing your hands to avoid new bacteria. Clean the jewelry in your ears with warm water and soap. Push the jewelry from the back to expose as much of the stud as possible. Remove any crust from the stud by gently washing the shaft section of the piercing. The crust consists of dried fluids that are sharp and will rip or tear the inside of the piercing when removing the jewelry.
Once all of the crust is removed, remove the ball from the front of the earring by turning it to the right. The threads of the ball will appear as it becomes loose. Place the ball in a plastic baggie or container. Pull the shaft of the earring out from the piercing by holding the disk on the bottom of the stud. Place the stud in the plastic baggie. Remove the earring from the other ear the same way.
New Jewelry
Cover or close the drain in your sink in case you drop a part of the jewelry. Unscrew the ball from the new earrings. Flip the pierced skin up to see the hole on the back of the ear. Place the shaft in the hole from the back, pressing the disk into the back of the piercing. Grip the disk with two fingers, pushing it forward, and screw the ball onto the front. Place the threads of the ball into the hole in the shaft, and turn the ball to the left. The ball is completely secure when threads are no longer visible. Repeat for the other ear.