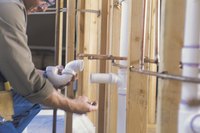 Insulating water pipes is especially important in cold temperatures to keep your pipes from freezing and bursting. By insulating your hot water pipes, your water heater will not be required to run as often, and will save money on your utility bills. This can be a do-it-yourself project that can be done for a fraction of the expense of having a plumber or contractor do the work.
Used Newspaper to Insulate Pipes
The most inexpensive way to keep your pipes from freezing is to wrap them in 1/2 inch of old newspapers, then securing the paper with masking or duct tape. Make a layer of newspaper about 1/8 of an inch and wrap around your pipes, which should create a layer of about 1/2 inch when wrapped around the pipe several times. When wrapped, tape at 6-inch intervals to secure the paper. Follow by covering with aluminum foil and tape and your pipes should be safe from freezing in temperatures below freezing. For pipes that are close to exterior walls and are in a cold or drafty area, make sure these are well-insulated also.
Foam Tubing to Insulate Pipes
Another inexpensive way to insulate your water pipes is to purchase pre-slit foam tubes, specifically designed to fit over pipes, at your local hardware store. The foam tubes are available in 3- to 6-foot sections that can be cut to size easily and fit over water pipes. These tubes will keep your hot water pipes warm, and eliminate condensation from forming off of your cold water pipes and seeping onto the floor or items beneath the pipes.
Measure off the section of pipe you want to cover and cut the foam tube to fit. If you are working with a section of pipe several feet long, place sections of the tubing side by side with the slit side facing down. Wrap the ends of the tubing with duct tape to form a bond between the section and run a strip of duct tape along the slice to seal the tube. Seal the tube, leaving a little flexibility between the pipe and the foam. Cut sections to shorter sizes as needed to finish the project. For curves and angles, take short sections and duct tape along slit and adjoining tube to seal.
In cases where the pipes are exposed to outside freezing temperatures, such as a mobile home, the foam will only slow the freezing temperature and other methods such as heat tape may be required to avoid freezing water pipes.
Prevent Pipes from Freezing
If you are caught unprepared in freezing temperatures or if you have a property left unattended in the cold, leave a water spigot running slowly. If the water pipes freeze when they begin to thaw, this will allow the water to flow out of the pipes instead of the pressure bursting the pipes.