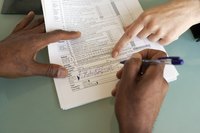 Tax records are some of the most important financial documents. Maintaining accurate tax records will assist with budgeting and calculating deductions. Knowing what was done in the past may affect future tax calculations. When we lose tax records, though, recovery can be a process of making phone calls, writing letters and paying fees for copies and research. Although most state and local tax records emulate federal returns, getting state records can be important because of how the individual state tax codes vary from IRS regulations.
State tax agency
Depending on the age of your tax records, contacting the tax agency in your state is the best place to start to get old state tax records. Different states, though, have different time limits on how long they will maintain copies. Contact the state agency and ask for information on getting old records, what will be on file and how much retrieval and copies will cost. It's important to remember the state tax agency is not a filing service for you to use if you lose documents. Getting copies of old records is a service, and you should expect to pay a nominal fee. Also, ask your state tax agency if the documents are available through an online database. Some states have started digitizing old records and make access to the public available online. You can use this service to research, find and make hard copies of your records from your computer. Again, though, this may be a fee-based service.
Accountant or tax preparer
Ask your accountant or tax preparer if old state tax records are kept in their files or archives. Many accountants will keep these documents not only for future reference but also to ensure past invoices are paid. It's hard to collect on a bad debt without proof the work was completed. Having copies of the tax records for clients is in the best interest of both the accountant and the client. Also, depending on your tax preparer, there may be a fee for retrieving and producing the copies. These archived documents are what an accountant has in stock for trade. Don't assume you can just get a copy because you've done business in the past. Producing paper files is what many people do for a living and you should expect to pay a nominal fee for their service. After all, they have your records and you lost your copy. Asking for more should be taken for granted.