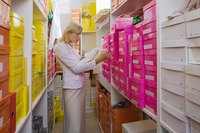 As with virtually all industries in the 21st century, the shoe industry has gone global. Shoe manufacturers fight for dollars on a worldwide landscape, with companies from Asia to the Americas joining the competition. Economic conditions have also shaped the shoe industry in the past decade with consumers now buying more casual shoes, athletic shoes and shoes with a smaller price tag. To succeed in the second decade of this century, shoe manufacturers must not only pay attention to market conditions and customer trends, but also adapt to price pressures and find ways to lower the cost of manufacturing.
A Global Game
The shoe industry is now a global enterprise, with shoe manufacturers poised for success across the globe. According to the article "Economics of World Shoe Production Trends," the shoe industry has become a global partnership with "American styles popular in Europe, Italian experts upgrading Chinese leather production, U.S. suppliers participating in Asian joint ventures, and firms from everywhere pursuing new markets such as Russia and newly developing markets in the Far East." One of the rising markets has been the Far East, particularly China. With low wages and low production costs, China's annual output has exceeded 10 billion pairs, accounting for 66 percent of global manufacturing total, according to a February 2008 Global Footwear article. The new emphasis on price and cost reduction has placed stress on companies from the U.S. to Europe. In fact, several U.S. manufacturers have been forced to close the doors of domestic factories, looking for cheaper production overseas. Successful companies will need to adapt to price sensitivities from the consumer and will need to seriously examine their manufacturing costs from where they locate their factories to how many jobs they can maintain if they want to compete in this global environment.
Casual Styles
Across the globe, people are wearing more casual styles, according to hoovers.com. The spread of such days as "casual Fridays" and the more casual atmosphere of the workplace overall has led to a greater consumption of casual and athletic shoes. This has been a boon for such industry leaders as Nike and Reebok. According to hoovers.com, cross-training and walking shoes are the top-selling categories of athletic footwear, with more and more customers leaning toward less expensive brands. The increase in casual shoes, however, has spelled trouble for the high-scale European and Italian brands that rely on high-end customers. With price and comfort showing more popularity over style, shoe companies need to be adaptable in their offerings, providing a range of shoes that can be worn at work, at play and at home.
Licensing and Shoes
Since 1990, shoe manufacturers have seen how successful a branded shoe could become, as evidenced by the popularity of the Air Jordan line of athletic shoes. From Spider-Man to John Deere, licensed shoe products can be seen dominating the aisles. Shoe manufacturers cannot ignore the popularity of licensed footwear and, while huge licensing deals might be out of reach for many companies, smaller licensing deals with known properties or up-and-coming stars could make an impact on a shoe company looking to make a name.
Less Metal
With heightened airport security and a greater sensitivity to cost, hoovers.com reports that shoe manufacturers have been pushed to find substitutes for steel shanks (the metal strip that supports the heel and ball of the foot) for the men's dress shoe market." Steel toes and metal grommets for eyes are also seen as due for replacement. This means manufacturers need to look for alternative materials with a smaller price tag to accommodate a changing market.