Like adults, many children in the United States have difficulty managing their weight. If you're concerned about your child's weight and health, taking steps together to make better food and lifestyle choices can help both you and your child. Consult your pediatrician before making changes to your child's diet.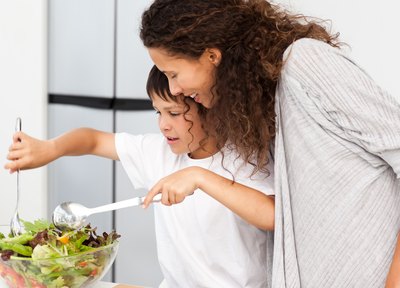 Balancing Calories
When trying to help your child get to a healthier weight, you need to find the right balance of calories. The goal is to slow the rate of weight gain so that your child grows into his weight. Children should not be placed on a reduced-calorie diet to promote weight loss without the direction and supervision of a doctor.
Calorie needs for children depend on age, gender and activity. Your doctor or dietitian can help you determine your child's specific calorie needs to help promote growth without excessive weight gain. In general, children need 1,200 to 2,200 calories a day to maintain a healthy weight.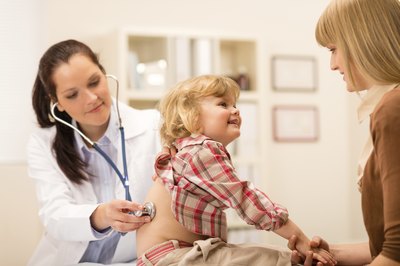 Kid Nutrition
What children need to eat for good health and a healthier weight isn't all that different from adults. Create healthy meals for you and your child using the foundations of a nutritious diet, which include fruits and vegetables; whole grains; lean protein such as poultry, fish and beans; and low-fat or fat-free dairy.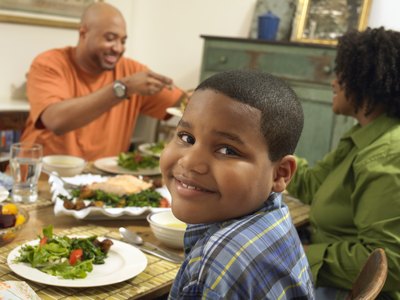 Family-Focused Health
While your goal may be to help your overweight child get to a healthier weight, the focus shouldn't be on the weight or the child. Make it a family affair. Work on improving everyone's diet and lifestyle choices. This way your child doesn't feel singled out. Also, it helps set you up as a good role model, which may encourage your child to make better choices.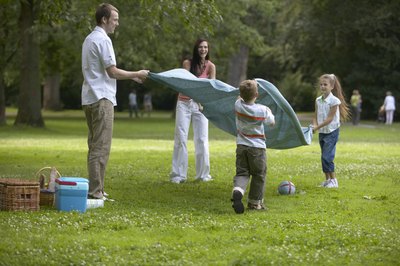 Healthy, Family-Friendly Meals
There's no need to count calories when you offer your family nutrient-rich foods at meal and snack times. You can easily keep calories under control by making low-calorie fruits and veggies the focus of most meals. Also, offer small portions and give seconds only if your child asks for more because she's hungry.
Whole-grain cereal with fat-free milk and fruit makes a healthy and easy breakfast for everyone. If you have the time, make whole-grain pancakes filled with sweet fruit such as blueberries or bananas, and use fresh fruit compote or a small amount of real maple syrup as your topper. Round out the meal with fat-free milk or yogurt.
For lunch, a peanut butter and banana sandwich on whole-wheat bread with carrot sticks and grapes is both kid- and adult-friendly. Or, toss spiral whole-wheat pasta with some of your child's favorite veggies, diced low-fat mozzarella cheese and low-fat Italian dressing, and serve with fresh fruit and fat-free yogurt.
Veggie-focused stir-fries, bean burritos, spaghetti and turkey meatballs all make healthy dinner options the entire family might enjoy. Include a salad with dinner to up nutrient intake and satisfy hunger.
Stock your refrigerator and pantry with healthy kid-friendly snack options, such as grab-and-go fruit like apples and pears, carrot and celery sticks, low-fat string cheese, fat-free yogurt, whole-grain crackers and whole-grain low-sugar cereal.
Be Active Together
In addition to diet, you also want to be more active as a family to help promote a healthier weight. That doesn't mean you all have to join a gym. Go for a walk or a bike ride as a family or play a game of tag or basketball. If you're stuck inside, create an obstacle course with stations that require everyone to do an exercise such as jumping jacks, jump rope or sit-ups. Also, if you want to be more active as a family, turn off the television.